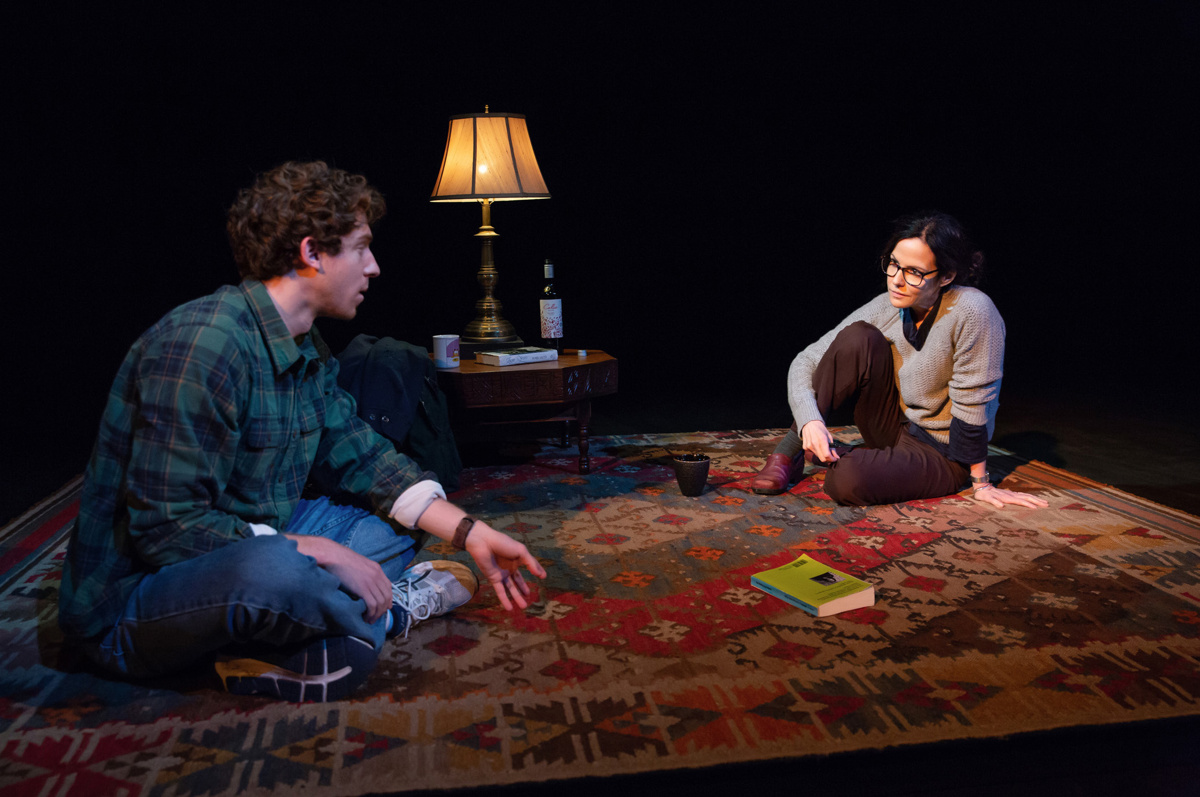 We sometimes, more often than we would like, wonder the why and how certain shows make it to Broadway.  Transferring a small intimate production into a much too large commercial space more often than not does not work.  But with the right director and the right actors and the right creative team – not to worry.
As is the case with the superb, fresh, new, original, compelling, mysterious, intriguing 90 minute two character play by Adam Rapp that has just opened at Studio 54.  Incredibly it works beautifully under the astute and careful direction of David Cromer, himself a fine actor.  He knows how to coach and direct and lead actors to the heights.  He is a master and his work on THE SOUND INSIDE simply proves it.
This production is chock full of unexpectedness.  And that is a very good thing.  A pleasure to hear the educated thoughts and words – serious and darkly humorous – of playwright Adam Rapp spoken aloud – as an extraordinary Mary-Louise Parker as Bella Baird narrates this suspenseful Hitchcockian tale both in the present and past tense.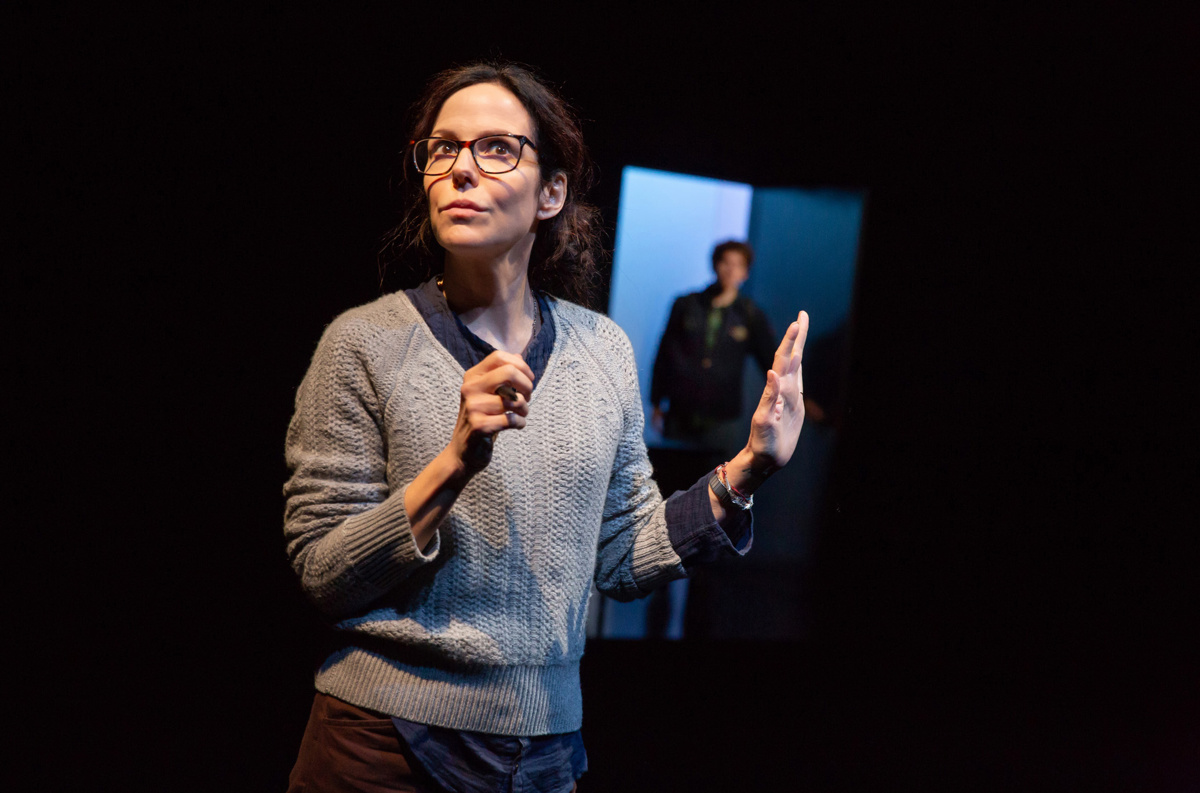 After all she is a writer.  A successful writer who now teaches in an Ivy League school.  Writing notes on a pad as she thinks of just the right words for…who knows?
David Cromer has picked up on this aspect and visually brings this concept to vivid life.  It's almost like hearing an audio book – live on stage.  This happened and then it does as dialogue takes over in the present.  It's a fascinating concept that might confuse some audience members.  Just go with it and you will be justly rewarded.
Bella is 53.  A loner.  She loves books.  Loves words.  And teaching.  She has cancer.  Barging into her office – without the usual necessary appointment arrives Christopher.  He is a freshman who wants to write and needs to connect with Bella.  He is brash.  He doesn't follow protocol.  But likeable and strange and aloof and testy.  You can't help but pay attention to him.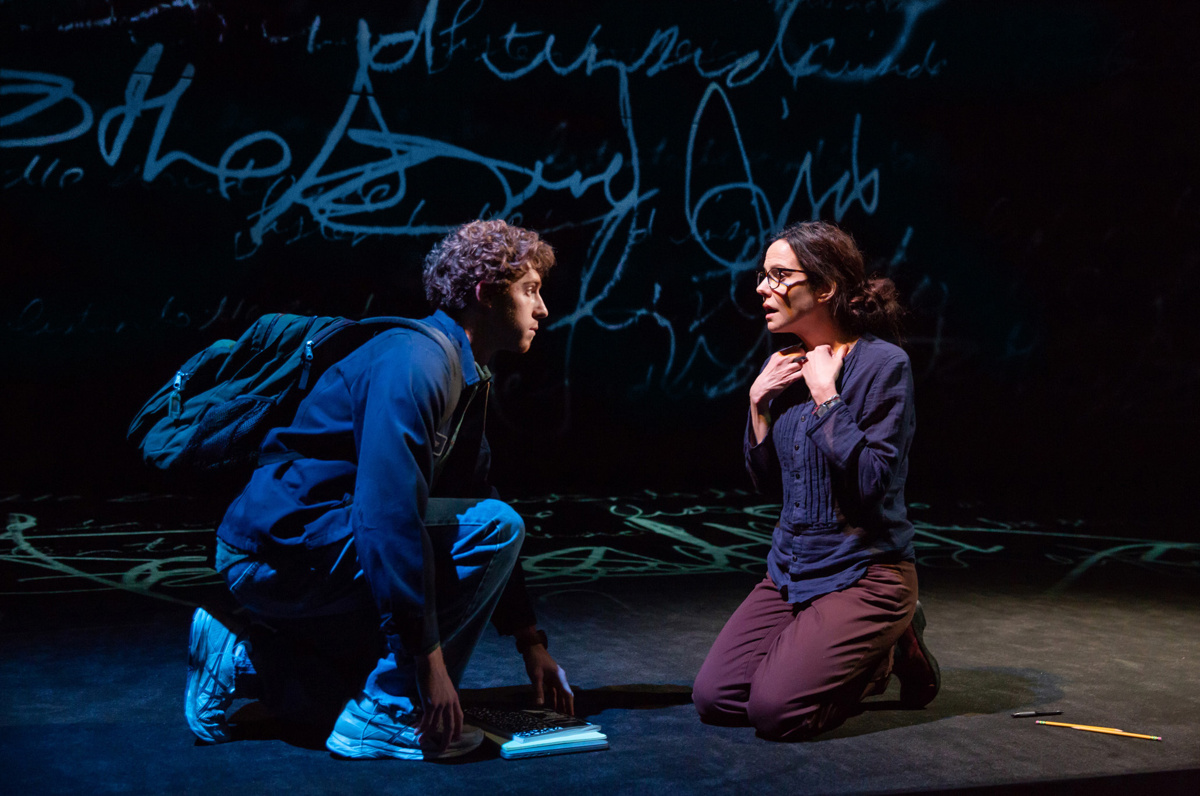 His name is Will Hochman, making his Broadway debut as Christopher.  He will have an important career.  In the words of David Cromer – Will Hochman is "compelling, fascinating and strange."  That's why this relatively unknown actor has made it to Broadway with the already established Mary-Louise Parker who has met her match in THE SOUND INSIDE.
Many famous authors are discussed as their relationship develops, as he writes his novella and she mentors Chris.  The foremost is Dostoevsky and his classic Crime and Punishment.
Bella has decided that she wants to end her life, her way.  And askes Chris to assist her in administering the three drugs necessary to accomplish this.  In a quid pro quo he asks her to honestly read and evaluate his manuscript.  She accepts and what follows is why we go to the theater.
Please do not miss this riveting and emotional production.  Mr. Cromer has collected a fine creative team to enhance his vision:  Alexander Woodward (scenic design) David Hyman (costume design) Heather Gilbert (lighting design) Daniel Kluger (music and sound) and Aaron Rhyne (projection design) – Everyone should be remembered at award time.
And last but not least, be there to say that you saw Will Hochman in his auspicious Broadway debut.
NOT a Roundabout production
Photos:  Jeremy Daniel
Visit www.TalkEntertainment.com
Tags: No Comments