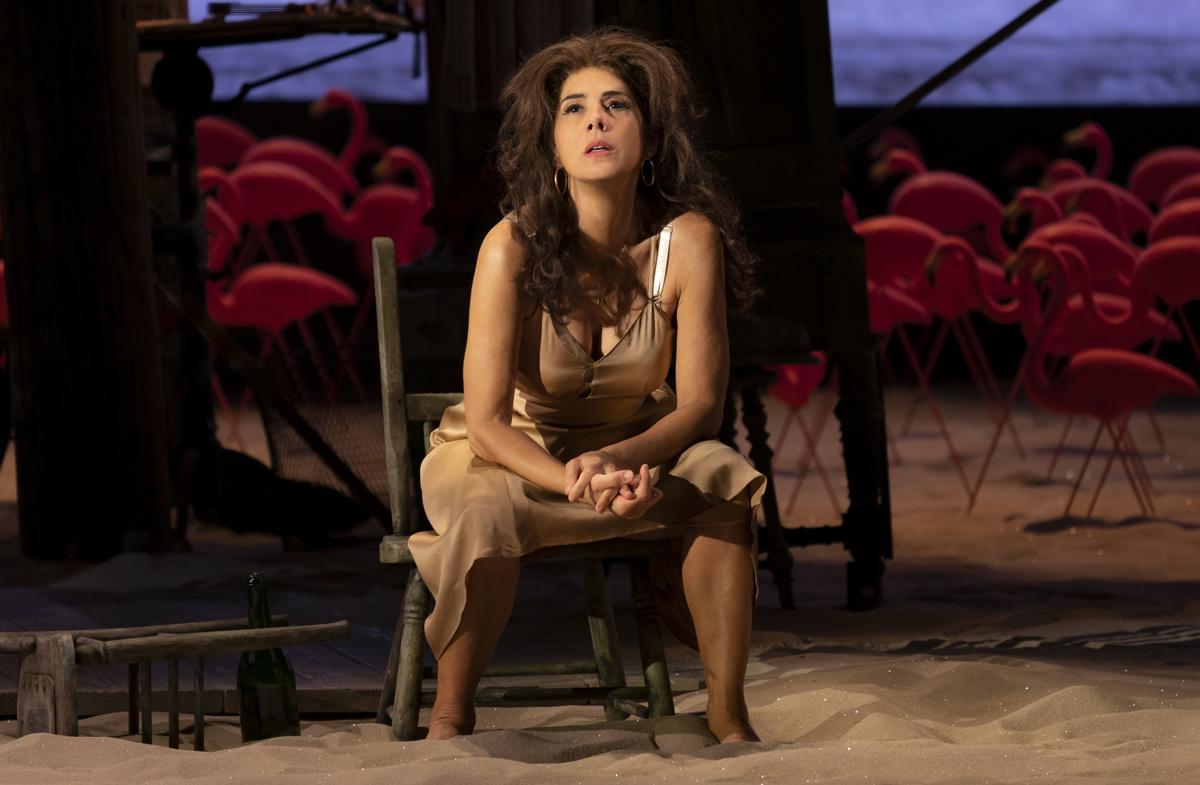 Director Trip Cullman has taken it upon himself to turn Tennessee Williams slight 1950 romantic-comedy into a Sicilian commedia dell'arte, Fellini inspired burlesque show.  Thickening the atmosphere is occasional not unpleasant guitar music and vocals.
There is nothing subtle about this Roundabout production at the American Airlines Theatre where true to its name the seats are as uncomfortable as those when one flies.
But I digress.  There is a flock of pink plastic flamingos that share the stage with its main draw – Marisa Tomei – who awaits the return of her handsome, hunky and supposedly hung husband, Rosario.  He hauls bananas.  He has a rose tattoo on his chest.  They have sex nightly.
However, underneath the bananas are drugs.  This is to be his last trip.  As indeed it is.  Serafina becomes a widow that very night.  Three years later she is a mess.  She has discovered her Rosario has been with other women.  One in particular, The Lady in White Estelle Hohengarten (Tina Benko) with an over-the-top Southern draaaawl.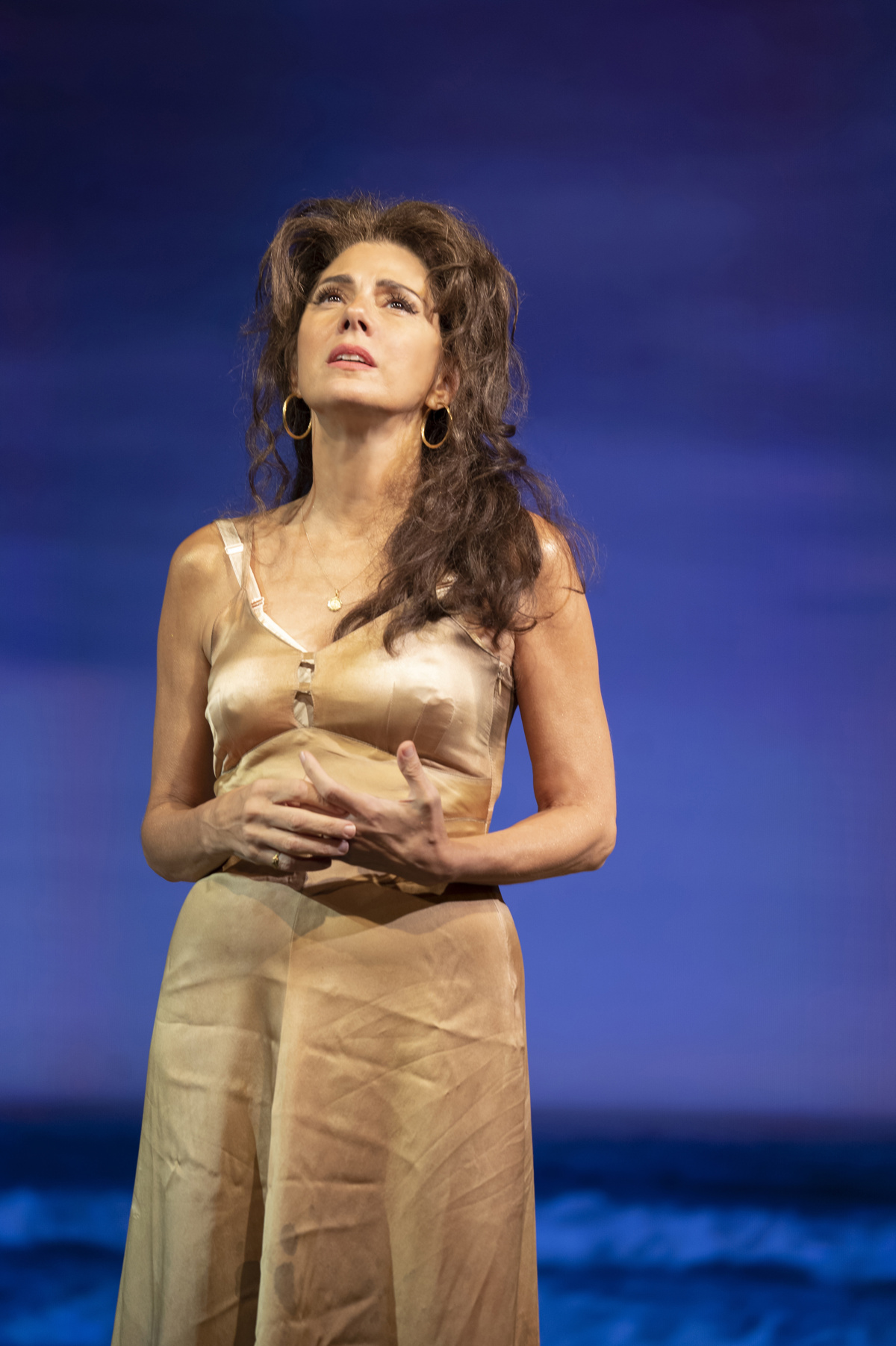 Serafina is now a loner.  A sexually frustrated woman who wants her daughter to be exactly like her.  When Rosa dates a sailor named Jack (Burke Swanson) who unfortunately comes across as Gomer Pyle – she has him swear to not have intimate relations with her 15 year old daughter.
With a projected panoramic seascape; with its soft waves gently caressing the Gulf Coast – somewhere between New Orleans and Mobile, 1950, phallic symbols abound.  The telegraph pole.  The gigantic palm tree.  The infamous bananas.  All on a bed of sand.  Along with her bare bones living quarters.  The set by Mark Wendland doesn't quite work.
THE ROSE TATTOO, when first produced in 1951, must have raised a few eyebrows with its sexual innuendos juxtaposed with the religious Sicilian community where Serafina Delle Rose (Marisa Tomei) – a seamstress raising her daughter Rosa (Ella Rubin) who is on the cusp of discovering her own sexuality prays intently to Our Lady for omens and signs with the ashes of Rosario in an urn along with the tower of votive candles.
It is a large cast with the neighboring chorus of women dressed in black, children scurrying hither and yon, clients looking for their garments.  If you survive the melodramatic Act I you will suddenly find yourself in I LOVE LUCY land in Act II.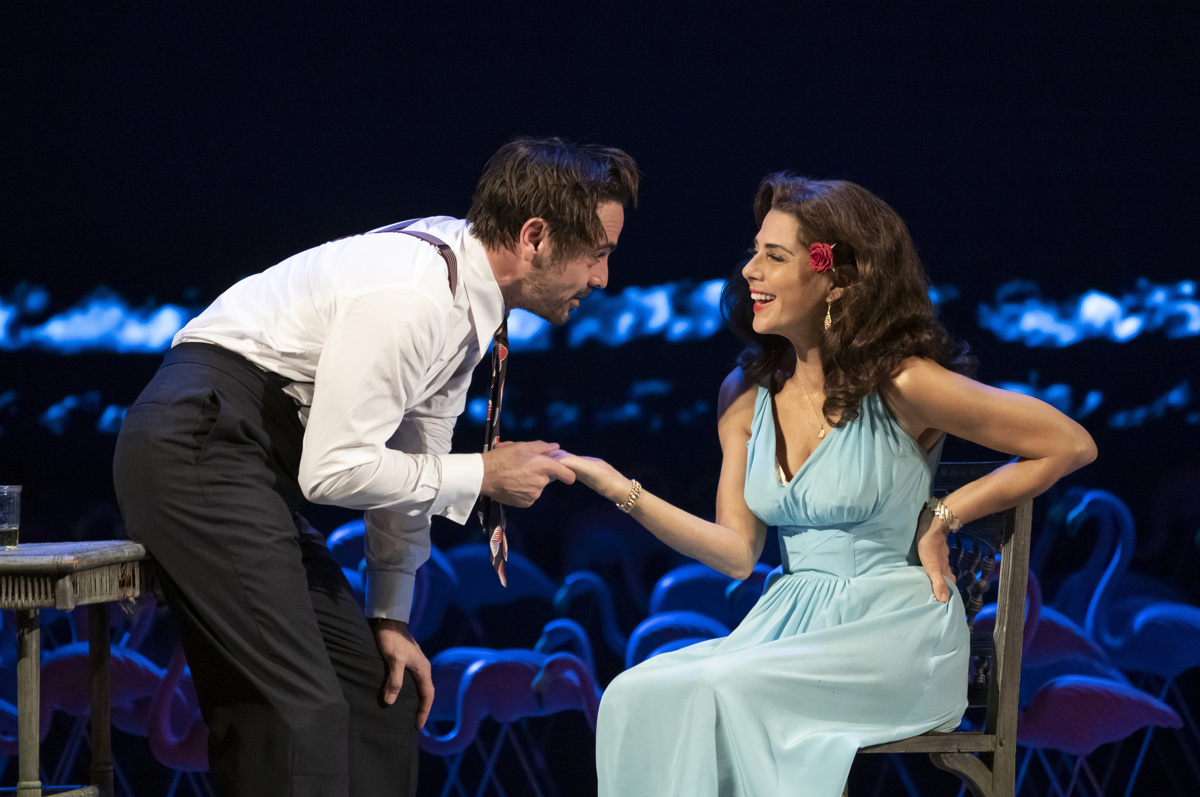 Where mild laughs become guffaws as Serafina meets her new banana man.  Emun Elliott as Alvaro Mangiacavallo – loosely translated as "eat the horse." To Serafina's delight he is Rosario reincarnated – with her husband's body and the face of a clown.  A French Sex Farce ensues.  With Italian accents and over the top hand gestures to swat away imaginary flies.
They go for broke in the sex department.  And most of the audience eats this up.  They want their money's worth and they get it.  All at the expense of the play that could and should have some heart and bittersweet tenderness.  All absent.  Only the daughter Rosa brings some sincerity to her role.
If you want a wild evening, with stereotypical characters and outlandish performances THE ROSE TATTOO might be the answer.  Through December 8.  2 hours 30 minutes – one intermission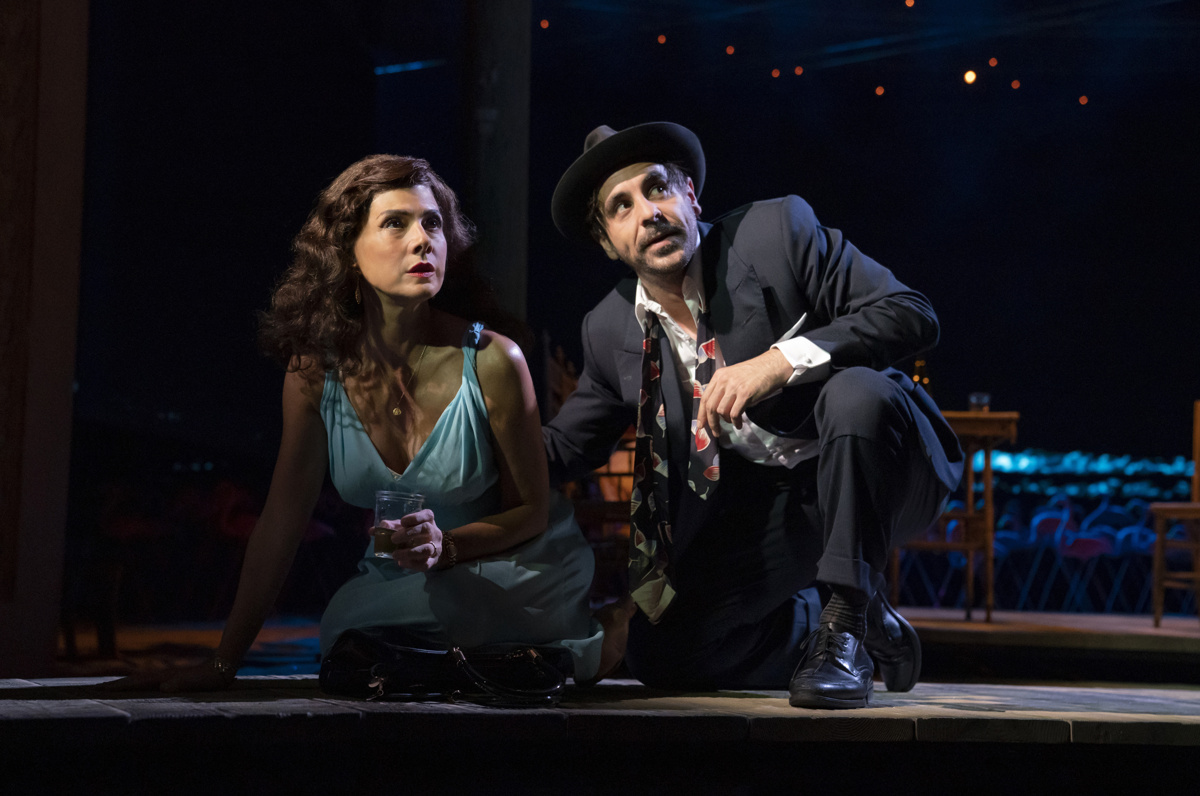 Photos:  Joan Marcus
Visit www.TalkEntertainment.com
Tags: No Comments