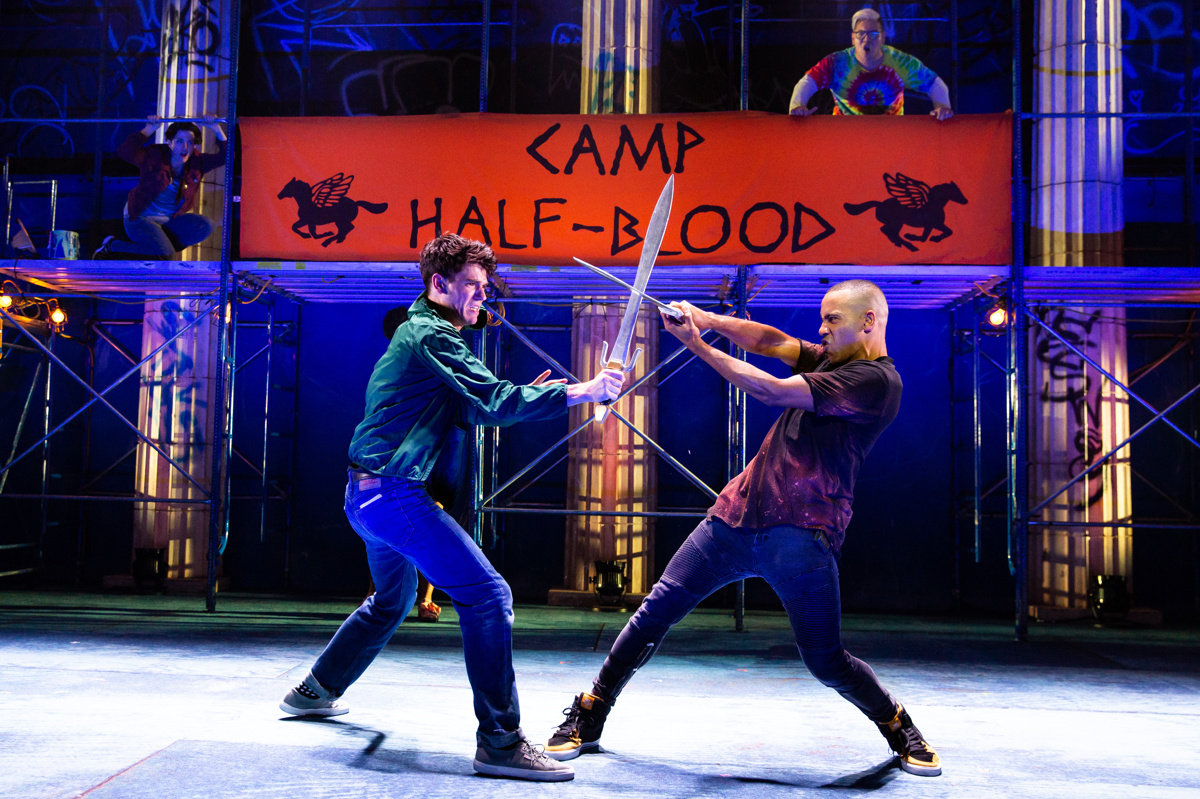 I survived the matinee performance on October 30th, 2019.  Barely.  Resulting in what was called in the 60's – an Excedrin Headache Number so and so.  It is deafening loud.  So loud that one cannot distinguish one word from another.  The sound mixer must have abandoned his board.
Balance between the instantly forgettable music (Rob Rokicki) and the screeching singers is non-existent.  You will get snippets of dialogue every now and then.  Forget the lyrics (Rob Rokicki).  I seriously thought of writing this review IN ALL CAPS to overpower the noise battle still echoing in my head.
For many reasons this young adult, tween, teenybopper musical THE LIGHTNING THIEF, the Percy Jackson musical simply should have stayed off-Broadway or continued on its lucrative tour across America – maybe not even that.
First and foremost, the astronomical cost of tickets.   Off-Broadway the TheaterWorksUSA production was a trim one hour and FREE.  The bloated, bare bones show now at The Longacre Theatre runs over two hours with a top price of almost two hundred dollars each.
Coming in at a close second is the hawking of water (SIX DOLLARS) and candies (FIVE DOLLARS) before the show starts.  A circus sideshow in itself.
The hawker, with his patience waning, told the rambunctious kids that the high prices were due to capitalism.  Did they get it?  Whatever.  I found it criminal.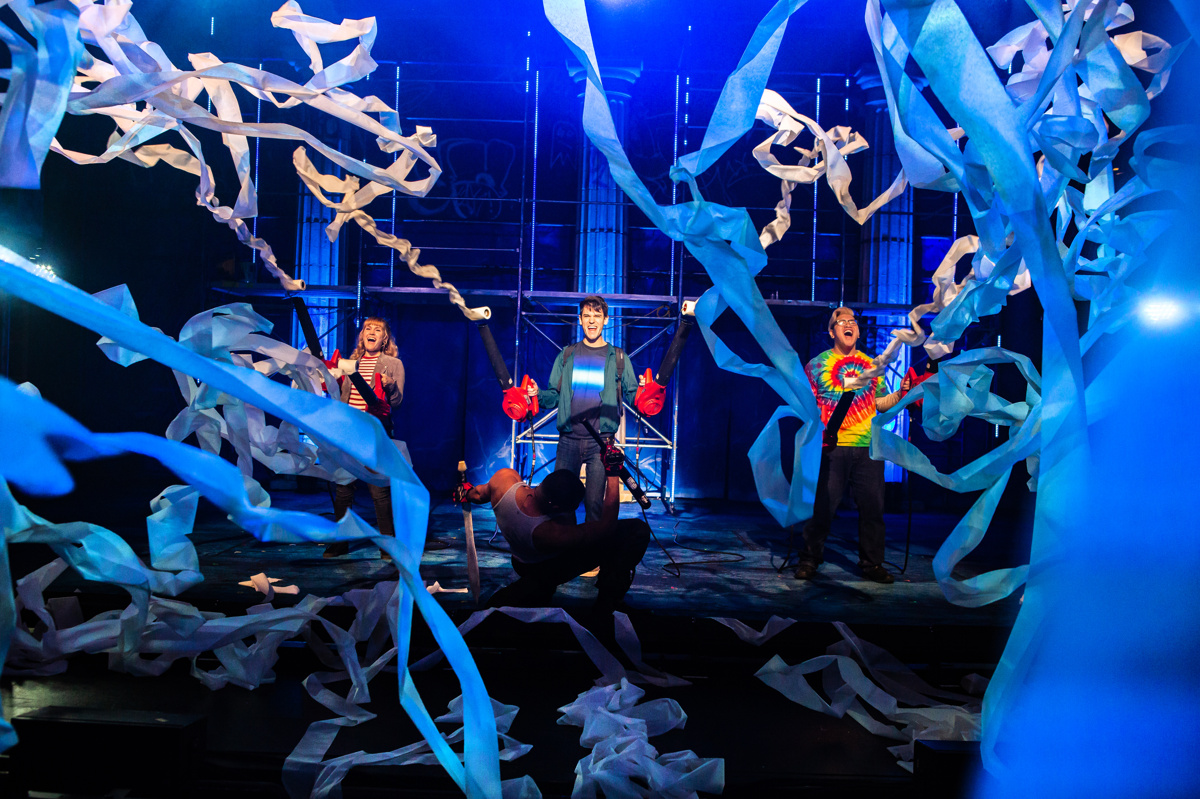 Even more confusing is the Olympian convoluted plot that follows – engaging the cast of seven to spread themselves way too thin playing gods and demi-gods and humans as Percy (Chris McCarrell) looking like a young Michael Urie without his requisite charisma is expelled from school in this Mythology 101 chock-full-of-characters surrounded by noise, flashing lights, frenetic sword fights, falling confetti and toilet paper being blown in our faces.  Throw in a trip to Hades and to California; add an informative squirrel into the mix and you've got an Excedrin Headache.  Lucky Medusa gets her head chopped off.
Perhaps this Poseidon disaster can be partially explained by the fact that the director (Stephen Brackett) book writer (Joe Tracz) Ryan Rumery (sound designer) and Vocal Coach (Amanda Flynn) were also responsible for that short-lived BE MORE CHILL similar looking and sounding show that evaporated quickly on Broadway not so long ago.
Under all this over-the-top business lurks a story of sorts.  One that isn't new at all.  These poor kids are angst ridden.  Even as demi-gods.  Parents absent.  The gods just have too many kids!  Feeling that they don't belong.  Not feeling normal.  Until we are told "normal is a myth."  Perhaps better parenting is the answer.  Not expensive substitutes.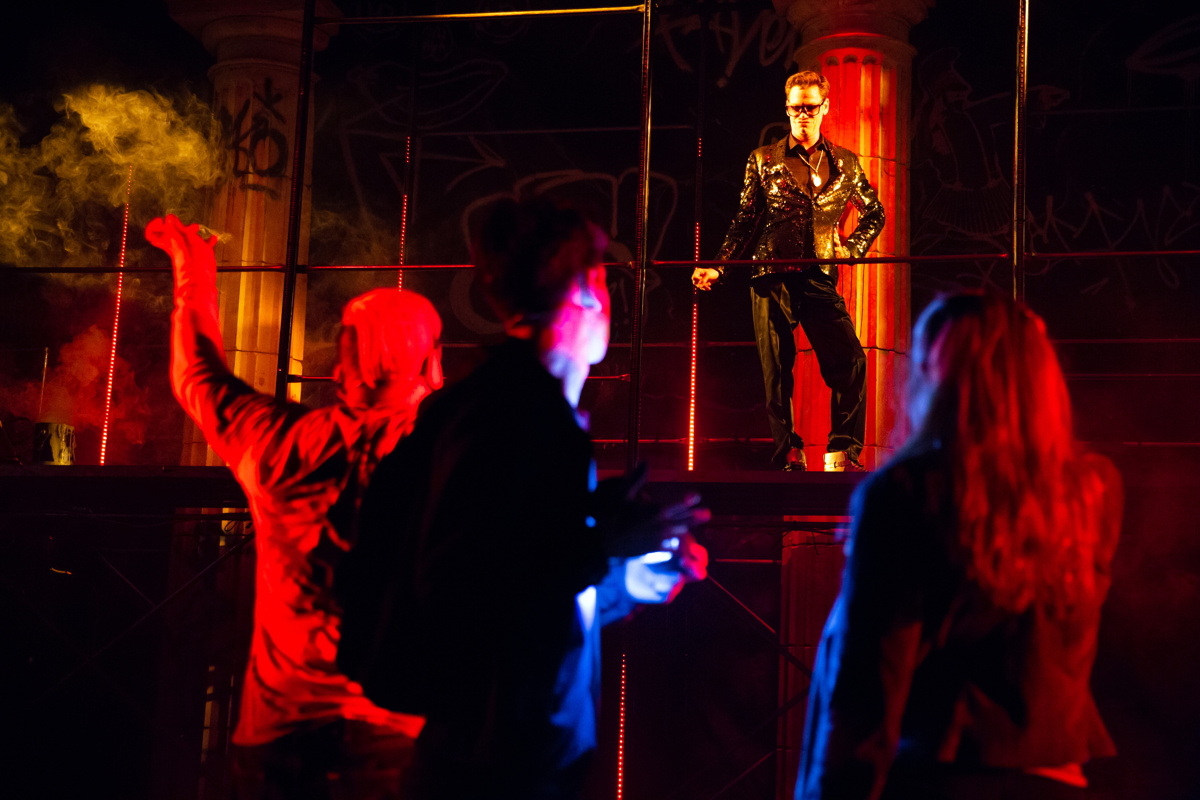 There is one bright spot however, that saved the day for me.  Ryan Knowles making his Broadway debut.  Playing a variety of roles including Chiron (a centaur) to the max.  That's a good max.  With his terrific voice and diction nary a word was missed.  Great comedic timing.  And believable in this mythological frenetic fantasy.
Sad to say the theater was a sea of empty seats.  THE LIGHTNING THIEF is supposed to run through January 5th.  But that could just be another myth.
Photos:  Jeremy Daniel
Visit www.TalkEntertainment.com
Tags: No Comments