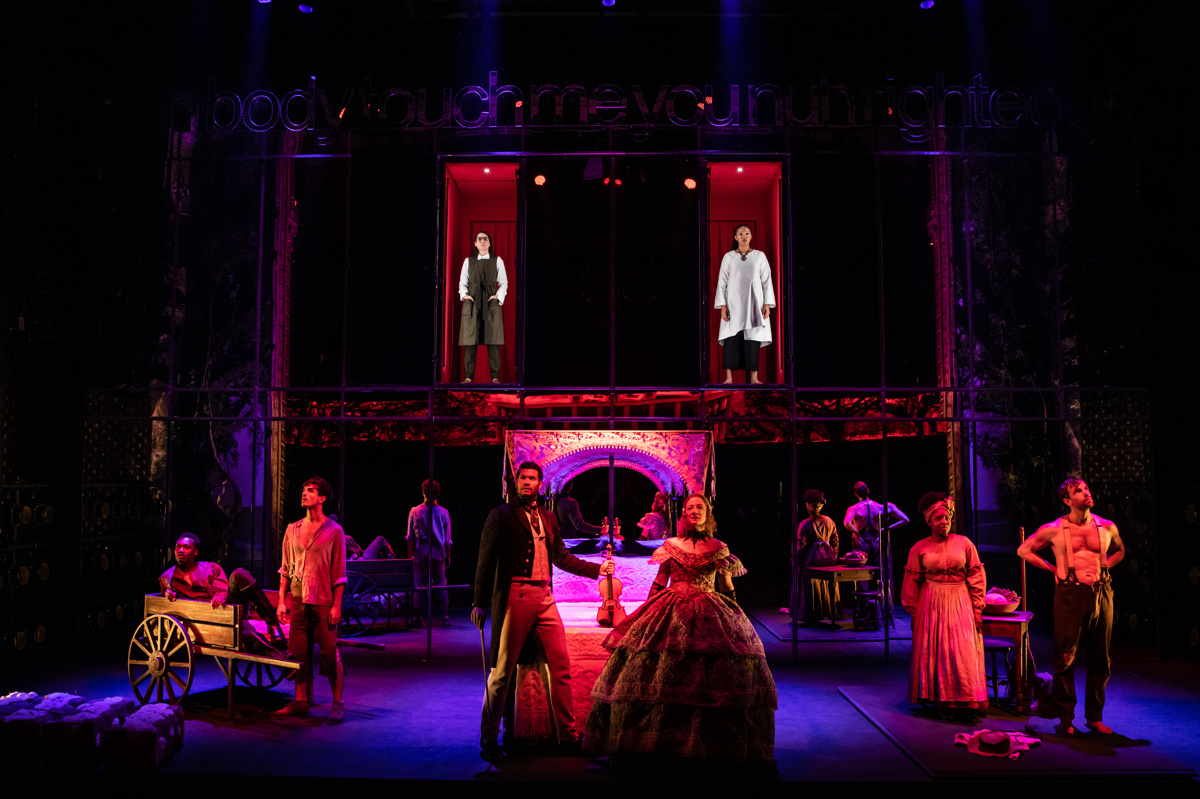 The flavor of the moment on Broadway appears to be controversial playwright Jeremy O. Harris who along with director Robert O'Hara have been anointed masters of "pushing the envelope" when it comes to SLAVE PLAY – a fantasia of sorts.  Part porn.  Part psycho-babble.  Part satire.
And satire, to paraphrase George S. Kaufman –"is what closes on Saturday night."  If you get too intellectual thinking, people tune out.  But not when, as in this case, blatant, off the wall kinky sex acts are portrayed that are once again in the all too capable hands of Claire Warden – intimacy and fight director.
The envelope starts being pushed as we enter the Golden Theatre as loud, irritating music is assaulting our ears.  Could that be a calliope?  Whatever, it continues on as we sit staring at ourselves staring back at us in the full-across-the-stage mirrored panels that also reflects a panoramic view of the McGregor Plantation where the action – and I do mean action in the sexual sense takes place – in "the Old South" where Master and Slave have their well-defined positions in place.
Then our bladders start to thinking too much about the length of SLAVE PLAY.  Two hours plus WITHOUT AN INTERMISSION.  Be forewarned!
The final push comes when well into the first part of a three part construction we wonder what the hell is going on.  Dressed in appropriate antebellum costumes three pair of lovers cavort as they are introduced separately.  How brave these fine actors are.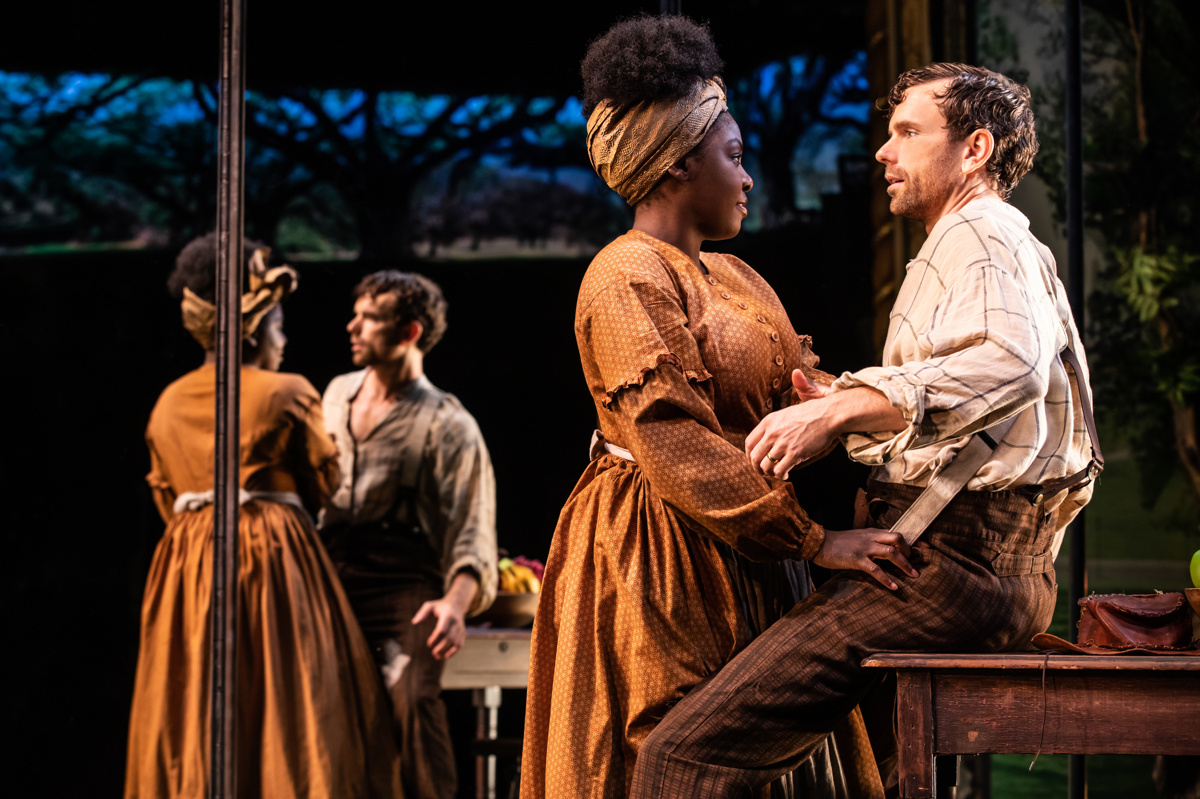 Behind the mirrored door number three emerges Jim (Paul Alexander Nolan – bravest of all) whip in hand to oversee Kaneisha, the black woman sweeping up (Joaquina Kalukango).  Mistreating her and humiliating her after she unexpectedly goes into some native dance that has aroused Jim he forces her to eat a watermelon that is a cantaloupe and then…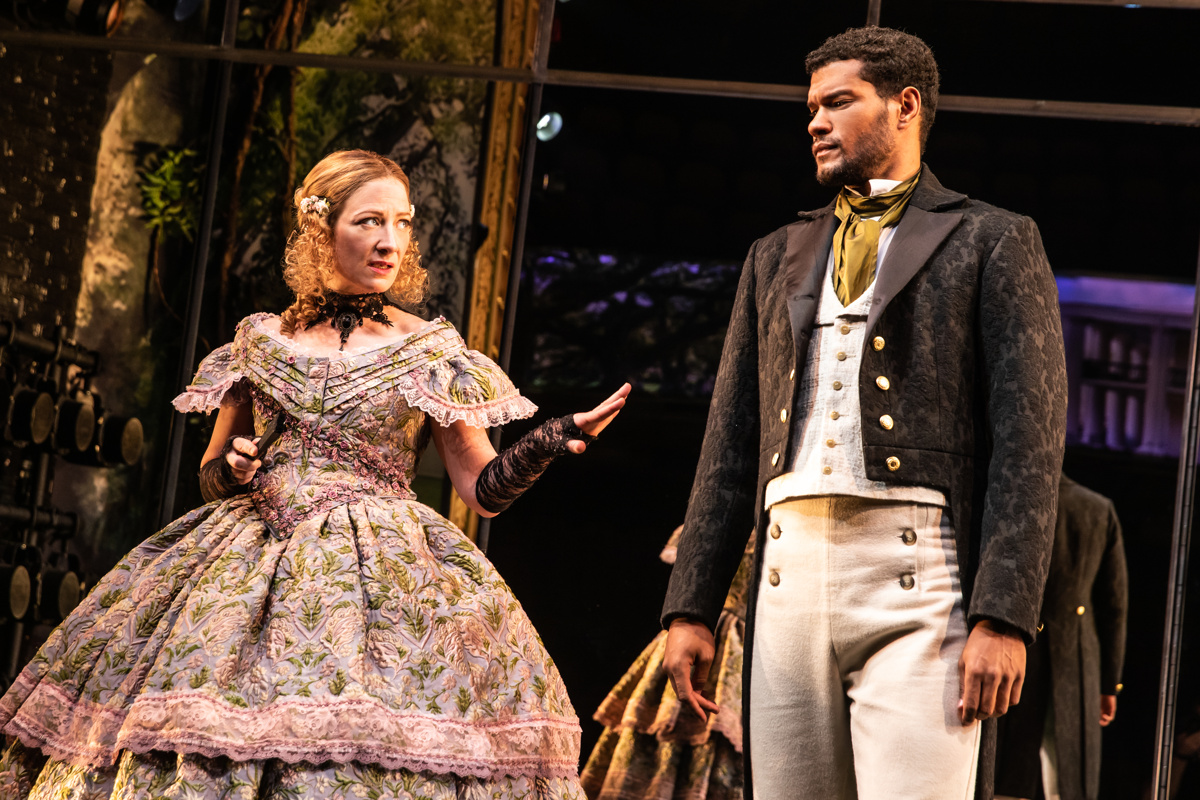 Behind the mirrored door number two, center stage, emerges a four poster bed with its mistress in full antebellum hoop skirt Alana (Annie McNamara – the nuttiest) and her tall dark and handsome servant Phillip (Sullivan Jones).  She is older and hot to trot.  She drops her hoops to reveal a leather dominatrix outfit and after some foreplay with his violin takes charge and has her way with Phillip from the rear with a large black dildo – that has been passed down from generation to generation by its white ladies – its owners, keepers and users…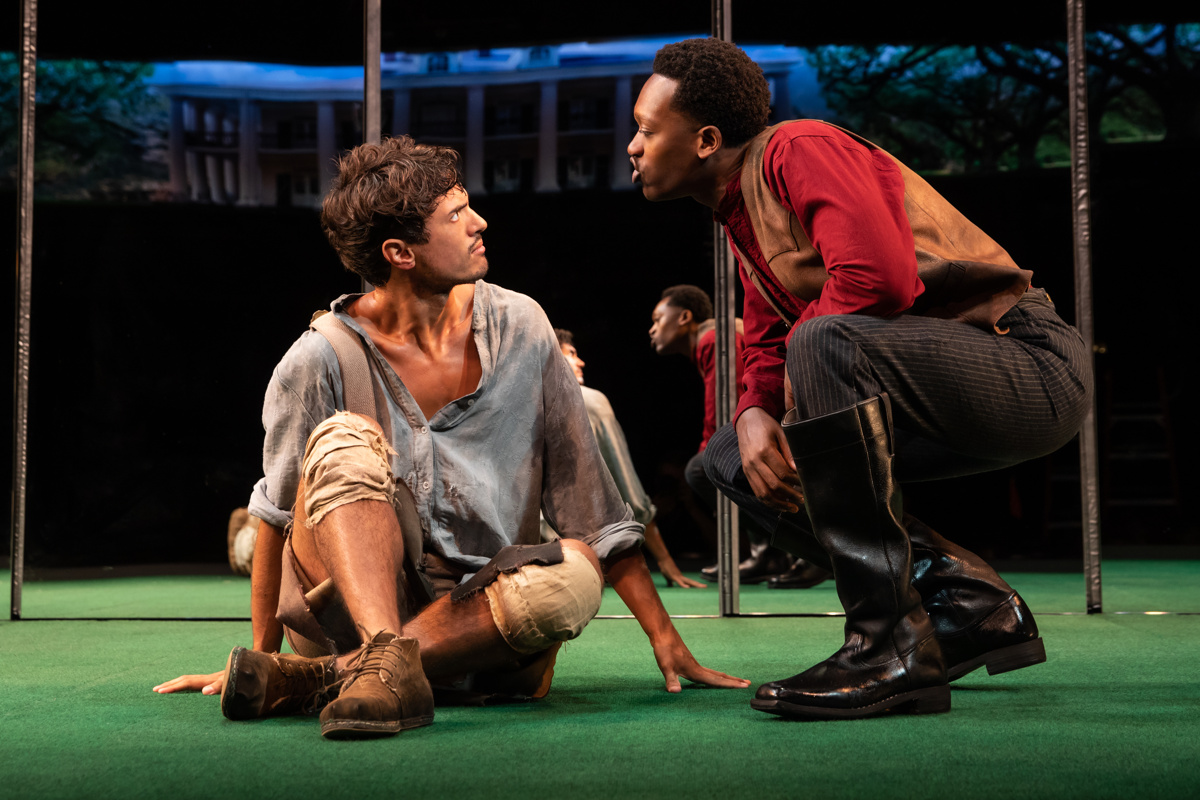 Last but not least we meet Dustin (James Cusati-Moyer) – a white indentured servant working on bales of cotton.  Not for long.  Gary enters from door number one.  He is black.  Both are handsome and in great physical shape.  We soon learn who is in charge in this duo soon after they have had a strip/fight/game foreplay scene (where we notice Calvin Klein on his undies) Dustin is forced to lick the boots of Gary as…
Back to Jim and Kaneisha who in the midst of a sexual climax he yells STARBUCKS! (another product placement?) – as two new characters – Tea (Chalia La Tour) with lengthy dreadlocks and Patricia (Irene Sofia Lucio) her white counterpart – interrupt and proclaim that it would be good to have a break here and come back in ten or so minutes.  No such luck.  No intermission.
Now all of the above is greatly acted and quite amusing in a deranged sort of way if that is what turns you on or off as the case may be.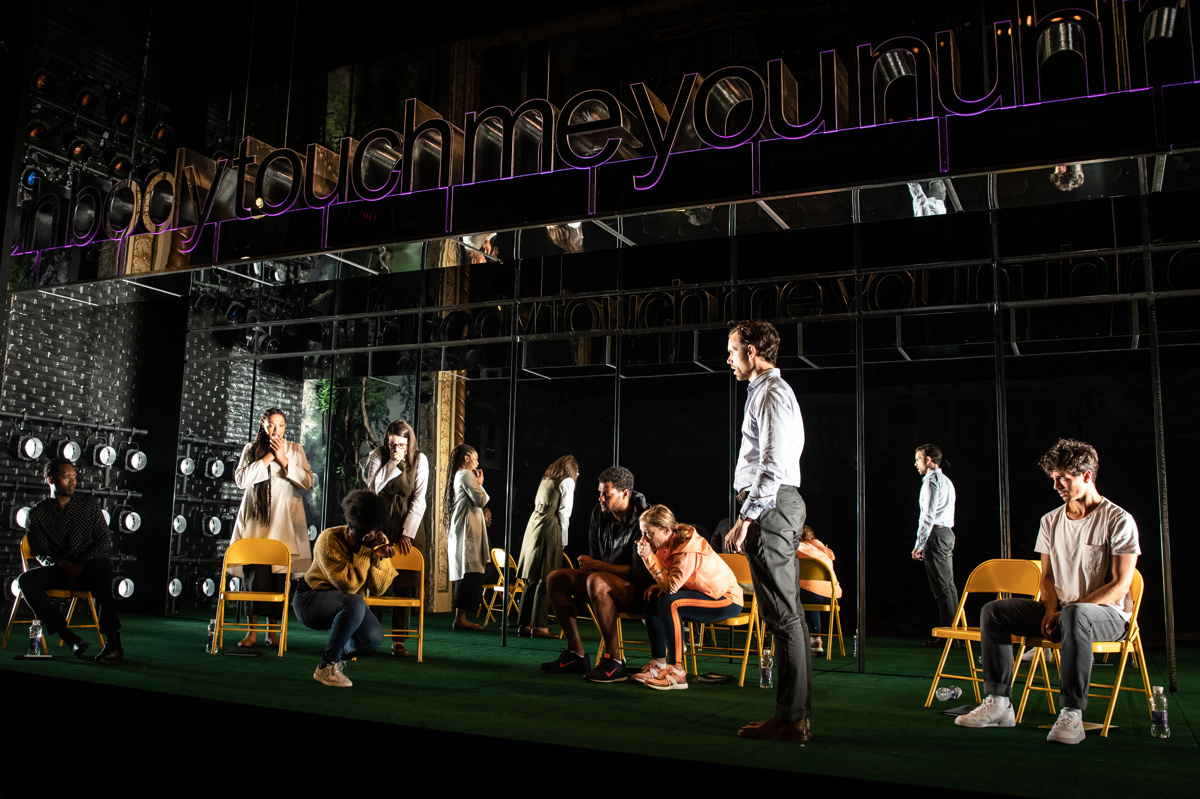 In part two – an all too long meditation on what we have seen and what it all means we discover that these people have been for four days involved in a "Antebellum Sexual Performance Therapy" session "to help black partners reengage intimately with white partners from whom they no longer receive sexual pleasure."  I found the two in charge who are also a gay couple have just as many issues as the participants and they are looked at in a most satirical manner so we do not take them too seriously.  Harris defeats his own intentions here.
Jim reverts to his original British accent.  An Obsessive Compulsive Disorder victim Kaneisha is mostly quiet.  We learn about all the participants.  Alana refers to her notes.  Phillip is still handsome and low key.  Dustin is an actor and has a terrific monologue.  His lover Gary sulks.
The two psychologists Tea (Oprah for me) and Patricia (Dr. Ruth to me) go on and on and recap and reaffirm and hand out tissues when needed.  We get it.  We hear you.  No need to repeat and repeat.  It is here that the bladder starts to act up as we lose interest.  I will cut to the chase as this is far too long already.
In part three we return to Jim and Kaneisha.  The mirrors have been reconfigured so that we can see front, behind and above. Jim in all his naked glory as he rapes Kaneisha.
And so SLAVE PLAY ends.  To recap…No I won't do that to you.  If interested you have until January 19, 2020
Photos:  Matthew Murphy
Visit www.TalkEntertainment.com
Tags: No Comments