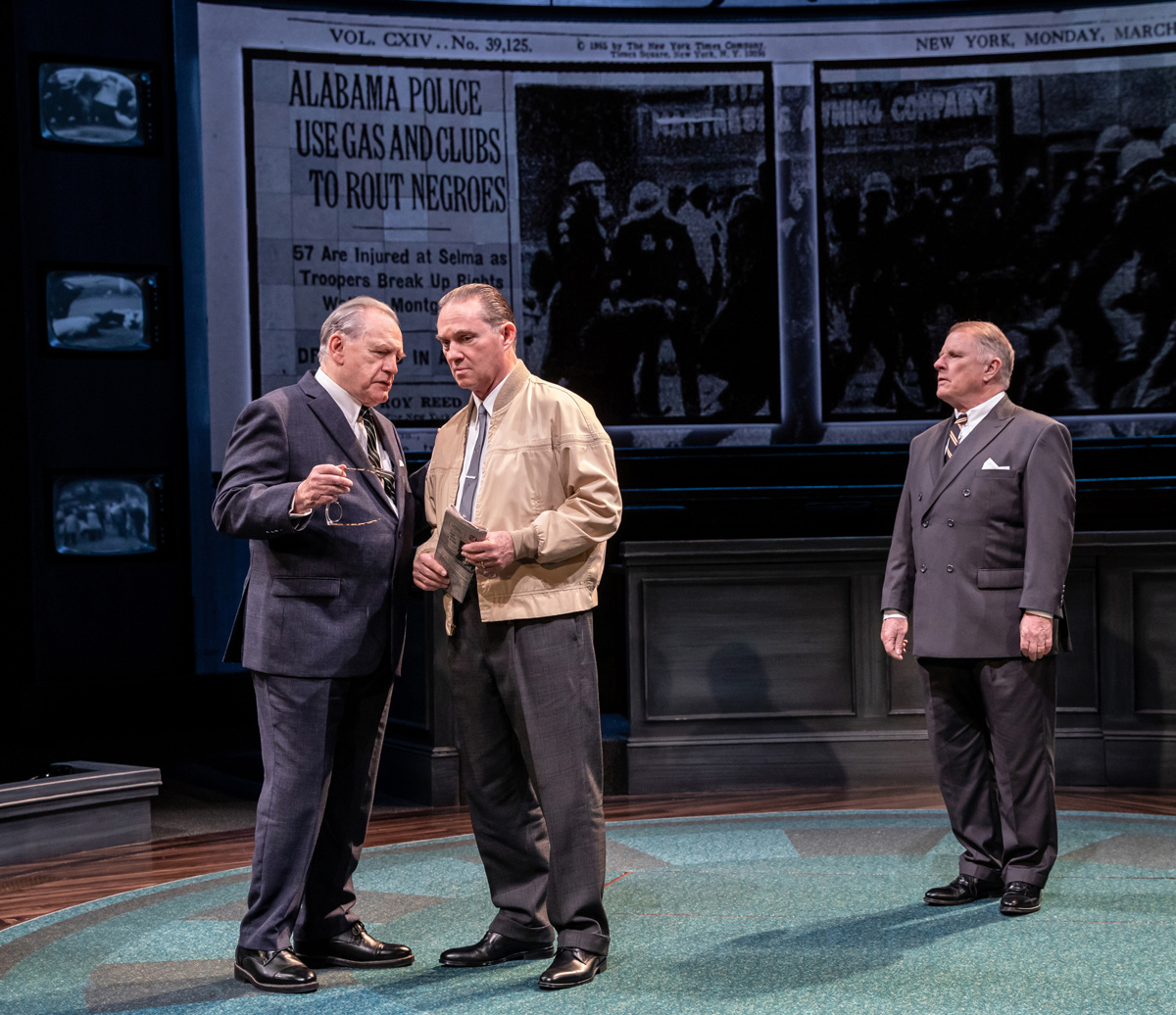 Just the facts, Ma'am.  Just the facts.  A misquoted phrase from the 1950's TV show Dragnet that swept the nation, is unfortunately what playwright Robert Schenkkan delivers in his follow up quasi documentary to ALL THE WAY (2014) that starred Bryan Cranston about Lyndon Baines Johnson – 36th President of the United States.  That production was wonderful as directed by Bill Rauch.  Not so with THE GREAT SOCIETY, starring Brian Cox also directed by Mr. Rauch.  With a set looking very much the same.
What one might take away from this almost three hour production (thankfully one intermission) besides a numbing headache is that not much has changed in Washington D.C. since LBJ was running and/or ruining our country.  It's politics as usual.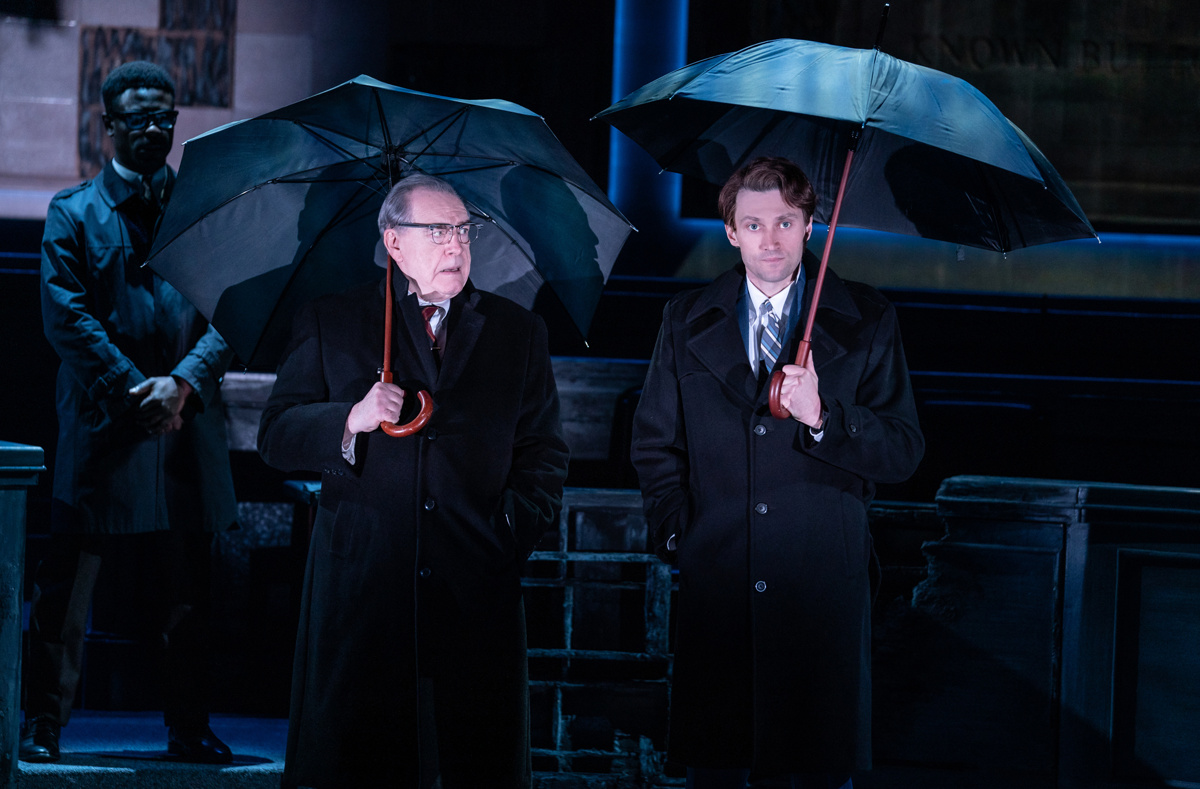 Attempting to get bills passed.  International vs. Domestic issues.  Behind closed doors negotiations and deals.  Schmoozing.  War.  Medicare.  Voting.  Blacks vs. Whites.  Discrimination.  And the list goes on.  Blah, blah, blah.  As does Mr. Schenkkan.
There is just too much of everything to digest.  When one actor portrays four or five characters with just a change of wig or jacket or voice, confusion takes over.  THE GREAT SOCIETY becomes a play about exits and entrances between the avalanche of details and facts.  It's numbing, resulting in that we give up on caring about the participants.  At least I did.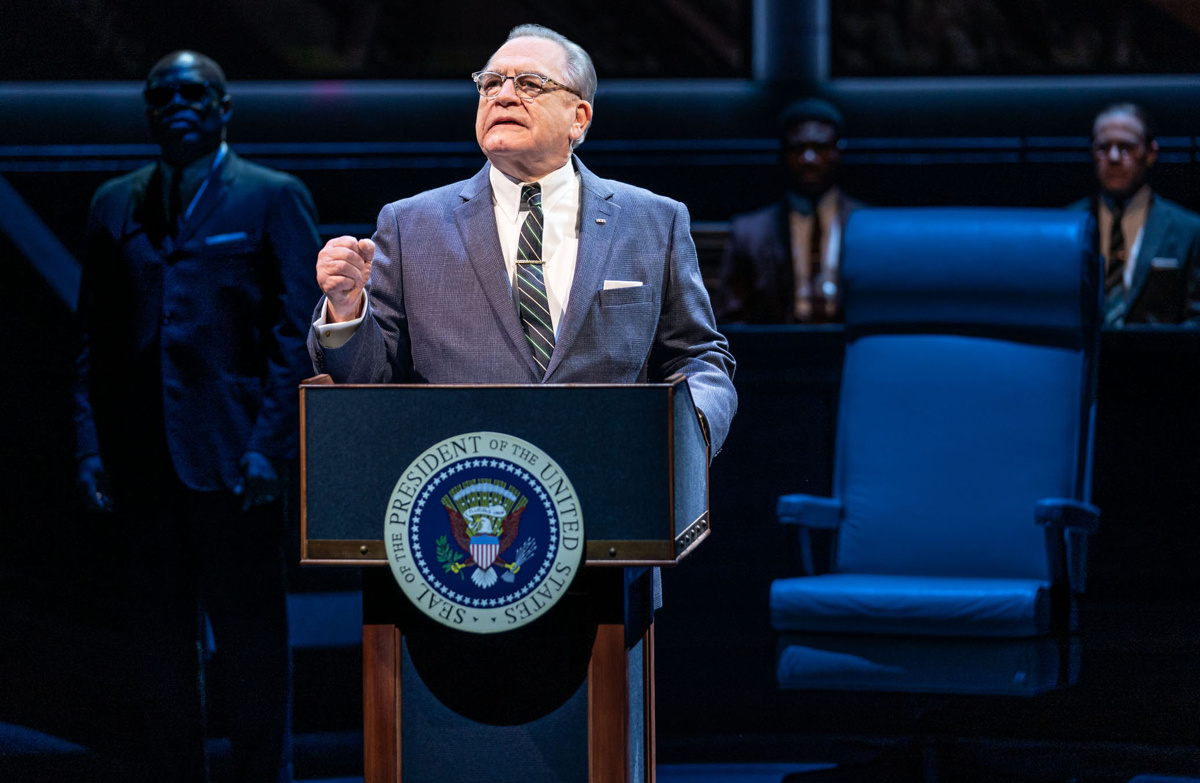 The arena-like set (David Korins) utilizes video screens and projections (Victoria Sagady) that at times either add or detract from the story.  LBJ's story.  Brian Cox is not Bryan Cranston who we believed wholeheartedly as LBJ.  Charming, charismatic, and cunning.  Mr. Cox doesn't come close.  He is loud and bombastic.  And then louder.  It's a one level performance.  Nothing to remotely bring LBJ to life.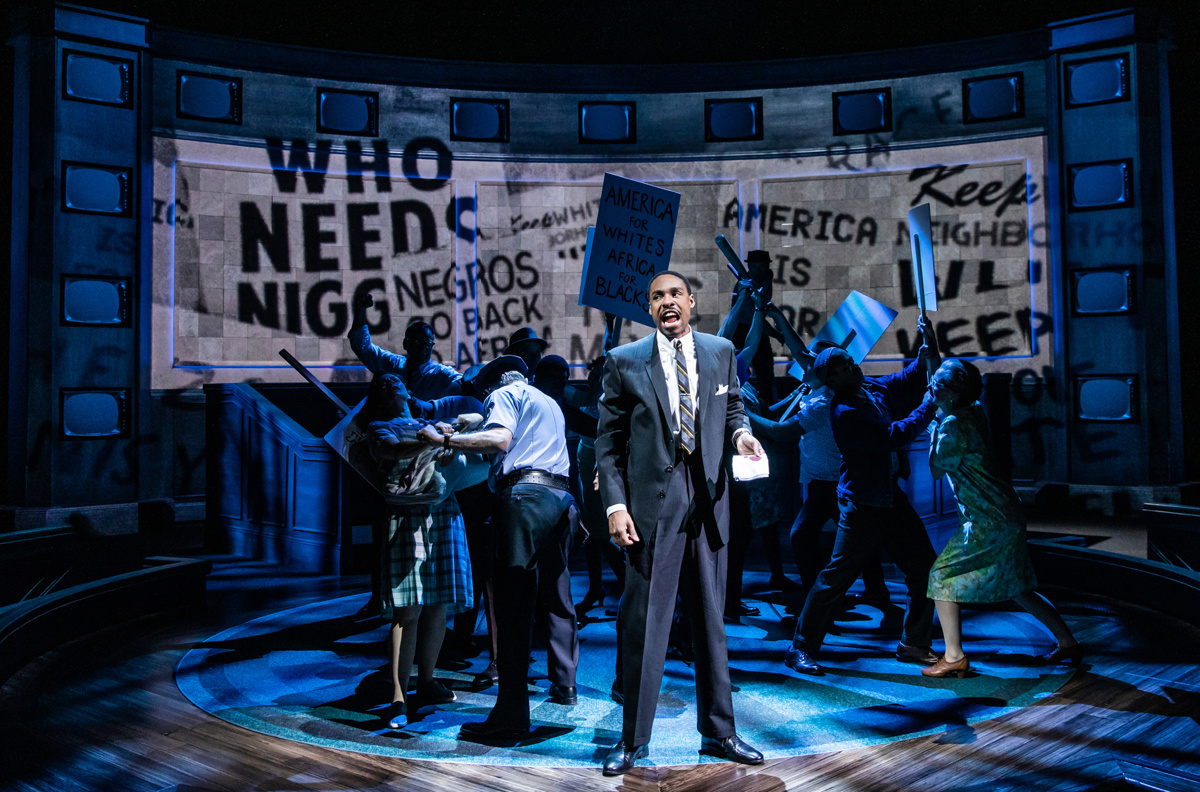 The production is too big.  Too loud.  Too academic.  With little emotion.  Or humor.  At the helm is Bill Rauch who seems to be a traffic coordinator without much feeling for the characters.  It's all too superficial.  Hitting all the headlines and co-players of his days in office.  The Viet Nam war and its increasing casualties.  Selma, Alabama.  Rev. Martin Luther King Jr.  Robert Kennedy.  Hoover.  VP Humphrey.  McNamara and Westmoreland.  Nixon.  Wallace.  And briefly Lady Bird to name but a few.
Surprisingly, it is Nikkole Salter as Coretta Scott King and Sally Childress (Secretary and gatekeeper to LBJ) who shines in this over stuffed production.
There is an insert – a double sided listing of all the characters and actors.  You may find yourself referring to it throughout when your interest wanes.
At the Vivian Beaumont Theater at Lincoln Center.  Through November 30.
2 hrs. 45 minutes.  One intermission.
Photos:  Evan Zimmerman for MurphyMade
Visit www.TalkEntertainment.com
Tags: No Comments