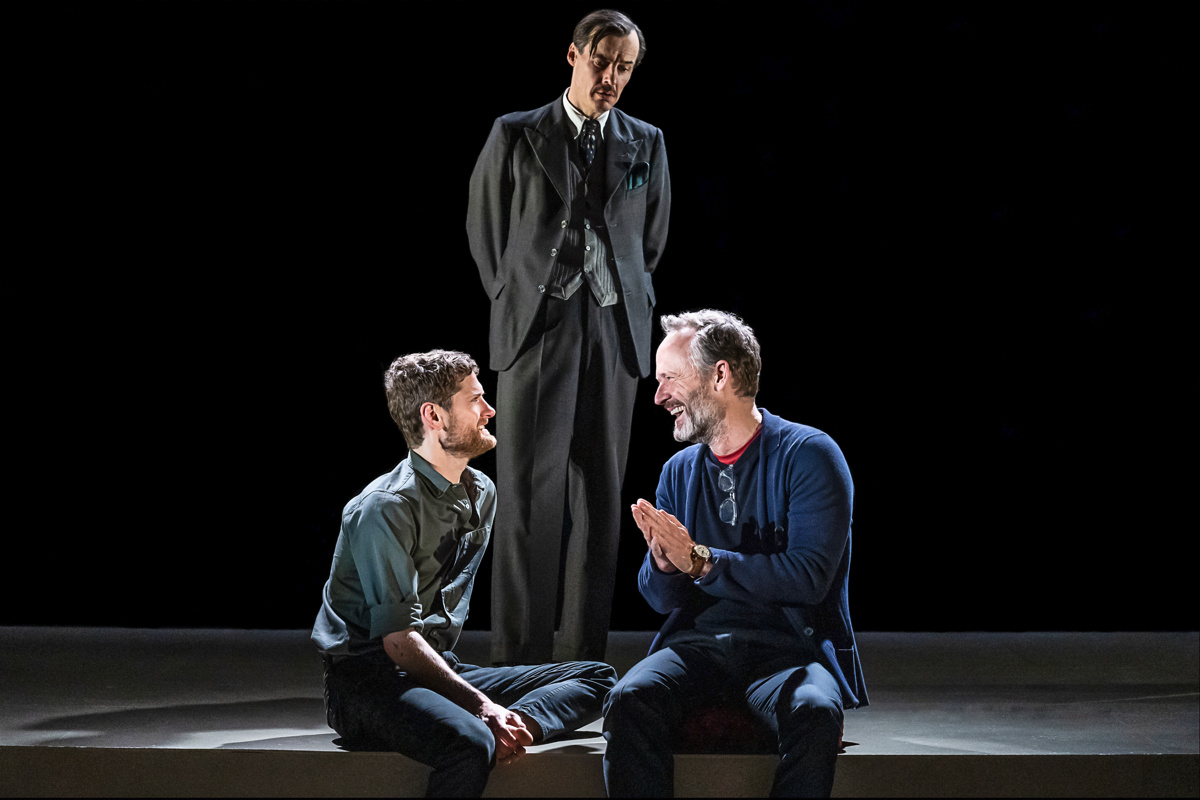 Matthew Lopez certainly has a lot to say.  Too much in fact.  Almost seven hours' worth of words.  In two parts.  With 28 characters portrayed by 15 onstage performers in his sprawling tangled gay web saga woven around his inspiration from E. M. Forster's HOWARDS END with a dose of Angels in America, Love! Valor! Compassion! And The Normal Heart thrown in for good measure.  Oh, and Boys in the Band.  I suggest not seeing both parts in one days' sitting as THE INHERITANCE – uncensored and uncut – is a lot to digest.
Your head might be spinning, as mine was, from this intense, emotionally draining, cramp inducing gay history overload: self-hate, self-pity, unnatural acts graphically described, the searching for love and acceptance, AIDS, Fire Island, tops and bottoms and discarded young men – even with several intermissions and a dinner break.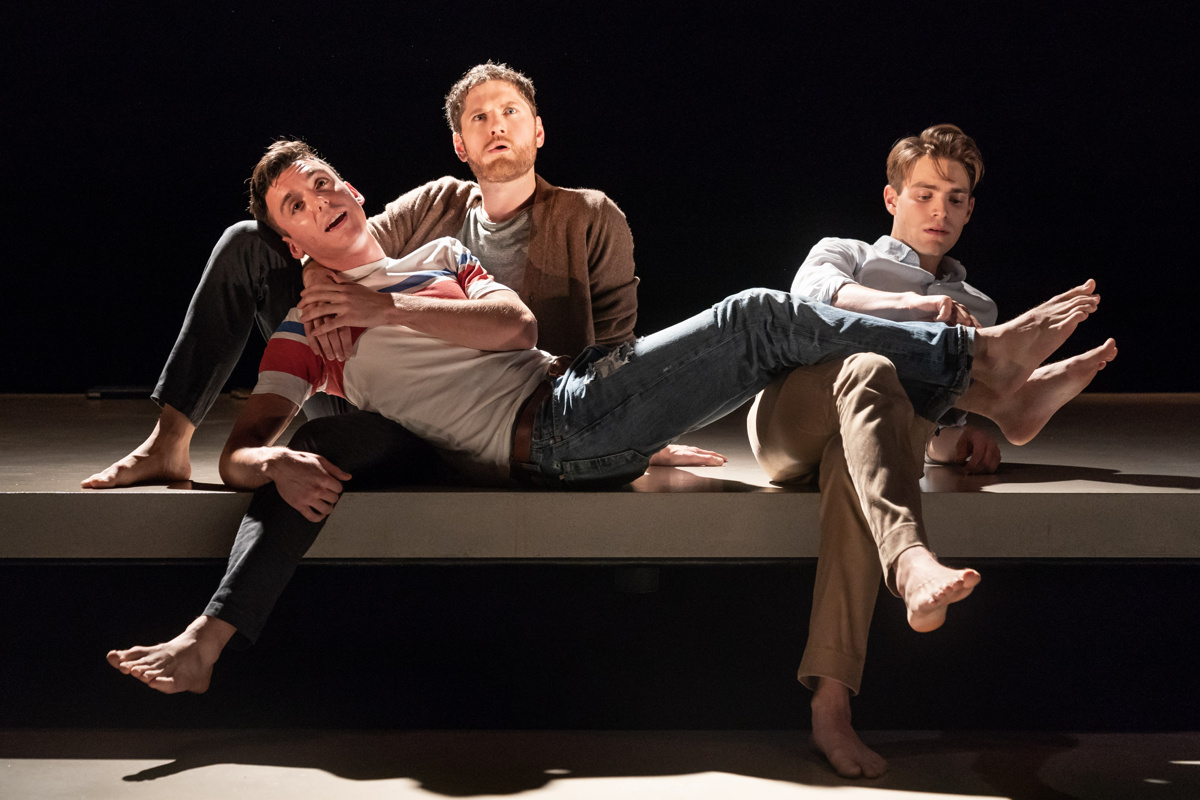 Nothing new is exposed here.  From the restrictive times of Edwardian England to the Summer of 2015-Spring 2017 (Part One 3hrs 15) to Spring 2017 to Spring 2018 (Part Two 3hrs 10) New York City and its environs.  However, lots of bare feet are.  It's a foot fetishist's dream come true.
A good friend suggested that I should read HOWARDS END before seeing the show.  I declined.  It is up to the playwright to make clear what his intentions are and he cannot expect the viewer to do research to help him clarify his work.  What you see is what you should get.
After the fact, I think that reading Forster's novel would just have confused me more.  As is, I went home to make a chart of the characters and their relationship to one another.  Yes, it is a tangled gay web woven by Mr. Lopez.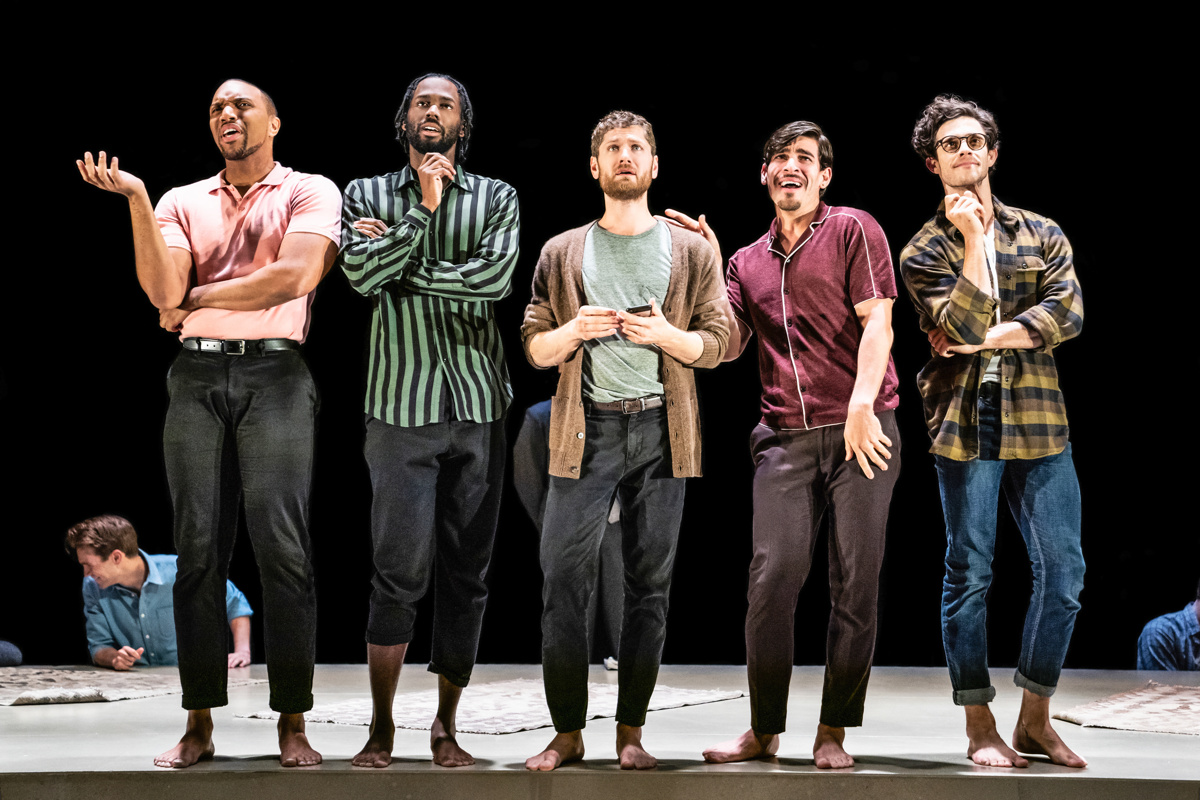 Verging on the cusp of being a soap opera.  With a lot of highbrow intelligence, campy humor and raunch.  But much too long.  If you decide to see this production I highly recommend PART ONE.  With the exception of a monologue by Lois Smith PART TWO has diminishing returns as it ventures off into Clinton's loss and Trump's triumph with the main thrust of the story losing its way until a series of false endings.  PART ONE is very good and that should suffice.  Date of closing 3/1/2020.
I am offering my chart to help decipher the characters and their connection to one another.  Some actors double.  There is a gay man's Greek chorus that helps narrate the story along with Morgan (E."M" Forster – Paul Hilton) who is also Walter Poole – the long-time companion/lover of the bi-sexual wealthy businessman Henry Wilcox (John Benjamin Hickey).
Eric Glass (Kyle Soller) lives with his lover Toby Darling (Andrew Burnap).  Toby is a writer and Eric is a busy bottom who pays $575.00 in his rent controlled (grandparent's) apartment that the landlord wants to evict him from.  Toby writes a successful novel that becomes a hit Broadway play.  But Toby does martinis and drugs and is self-destructive.
Into their arms arrives Adam, a naive actor (Samuel H. Levine).  But not for long.  He gets to star in the show.  Now Toby splits from Eric and pays for sex with look-alike Leo (Samuel H. Levine) who will show up at the wedding of Henry and Eric.  Henry and Eric?  Yes.  Walter had died and wanted to leave his and Henry's home in the country with an infamous cherry tree to Eric.  No dice.  As it turns out – Henry has also paid for Leo's services.  I told you it was a tangled web.
At the height of Toby's success and from the depth of his drug induced despair he writes a new very lengthy play, submitting it to his agent who tells him that no audience should be expected to have to sit through a seven hour play to which the audience who has been doing just that explodes in ironic laughter.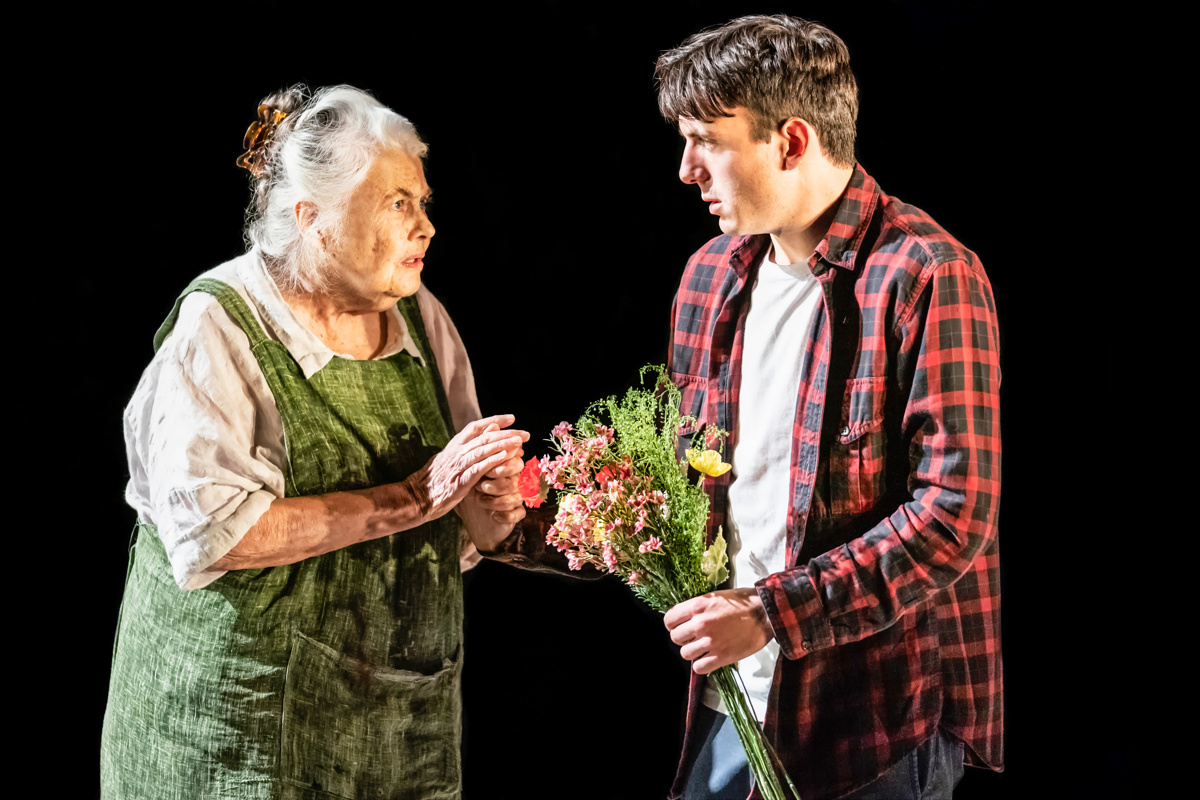 To make a too long story shorter I'll cut to the chase.  The Cherry Tree Manor (as I refer to it) becomes a haven/hospice for AIDS victims as Walter intended.  Margaret (Lois Smith) is its caretaker.
The conclusion of PART ONE is a very moving tearjerker and beautifully directed by Stephen Daldry – as is the entire production that is presented on a stark platform unit set by Bob Crowley.  All the actors are exceptional.
I hope this helps.  I think that I want to read Forster's MAURICE – a homosexual love story published after his death.
At the Ethel Barrymore Theatre 243 West 47 Street – The Young Vic Production
Photos:  Matthew Murphy
Visit www.TalkEntertainment.com
Tags: No Comments