You think you've got problems?  Meet the Healys in what is billed as "our new musical" – a hybrid of songs written by Alanis Morissette from her skyrocketing 1995 album of angst and pain and pills with an original story culled from the songs by Diablo Cody creating characters and a plot to sort of fit Morissette's lyrics with music by co-composer Glen Ballard with additional music by Michael Farrell & Guy Sigsworth.
Back to the Healys.  From Connecticut.  The perfect family.  Or so it seems as they pose for their annual Christmas photo.  All smiles.  But lurking beneath all the joy their problems are simmering.  Waiting to explode.
Steve Healy (an extremely likable Sean Allan Krill) is a very successful lawyer.  A workaholic.  He has come to rely on porn to fulfill his sexual needs that his wife Mary Jane (a phenomenal Elizabeth Stanley) no longer supplies.  She has had a car accident and because of the excessive pain she relies more and more on excessive amounts of pain medication.  She is in denial of a past event and a perfectionist.  And wants everyone else to follow suit.  They can no longer communicate with one another – something that Steve longs for.  It is only in Act II when she agrees to "marriage therapy" that the production gets on the right track.
Their son Nick (Derek Klena) is the "golden boy" and pride of the family.  Early admission to Harvard.
Everything seems to be going his way until the "inevitable" party scene where he is the sole witness of the rape of his semi-unconscious friend Bella (a compelling Kathryn Gallagher) by Andrew (Logan Hart) – Think Supreme Court Justice…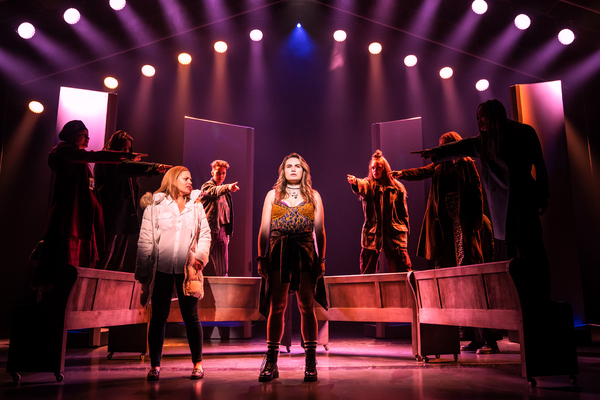 Then there is Frankie (a terrific Celia Rose Gooding) – the adopted black daughter trying to find her way in the lily white land of Connecticut and her attraction to Jo – (a show-stopping powerhouse LAUREN PATTEN) a smart and very droll lesbian until Frankie finds herself in bed with Phoenix (Antonio Cipriano) rising.  Resulting in Jo seeing them.  Resulting in Phoenix escaping said bed across the first row of the theatre and up the aisle.  Resulting in Jo's gut wrenching number "You Oughta Know" in Act II which is far better than Act I.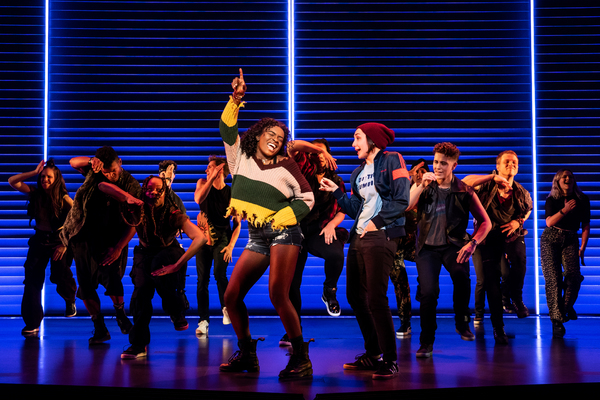 Problems.  Problems.  Problems.  Do we really need to be darkly entertained with a family (and friends) so troubled with deep set problems, anxieties, addictions and confusion?
It's ironic that the final number is "You Learn" – we obviously haven't as the same problems still plague us today:  Racism, white privilege, opioids and date rape et al.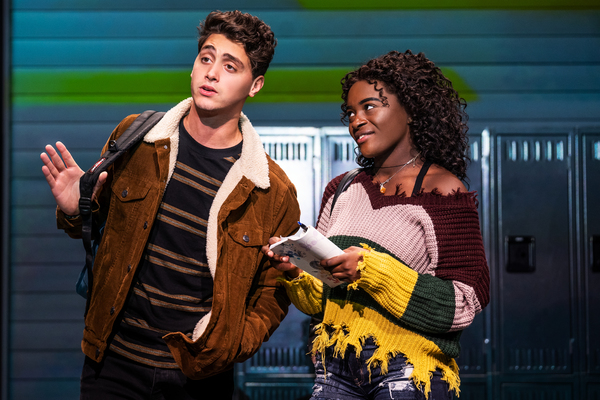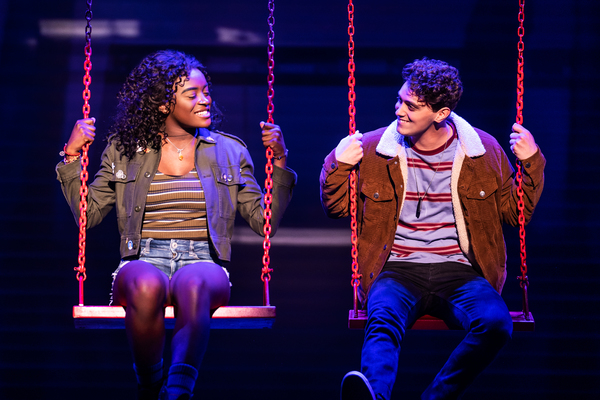 I would attempt to describe the music but I cannot remember any of it.  It's loud.  Very loud.  And similar sounding.  Almost to the point of being monotonous.  But you either love Morissette's tunes or you don't.  And there was a full house of fans obviously relishing each number as the many storylines untangle under the strong and unique direction of Diane Paulus and terrific synchronized body movement/choreography by Sidi Larbi Cherkaoui.
Everything but the actors are on rollers.  The sets.  The desks.  The church pews.
Twisting and turning in every direction giving us the feeling of being high and dizzy on drugs.  With blurred projections aiding and abetting by Lucy Mackinnon.
The lighting by Justin Townsend is more than outstanding and should be rewarded at Tony time if he doesn't win for his lighting design for Moulin Rouge!
Back to the Healys.  Elizabeth Stanley's downward spiral is incredibly sad to witness climaxing in the most memorable number in the show – when MJ overdoses on black market pills and duets with herself (the dancer – Heather Lang – slithering around as MJ sings) winding up in a hospital bed.  It is quite special.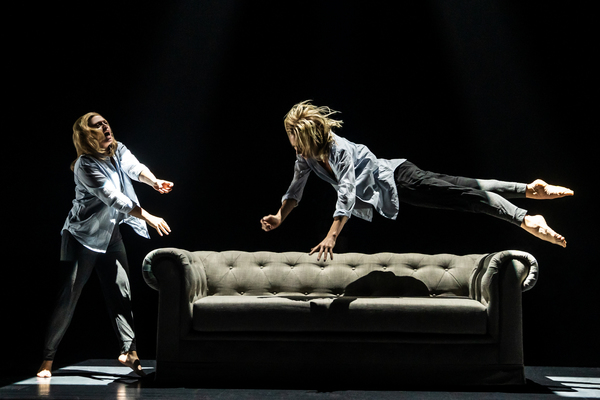 Will she recover?  That's a rhetorical question.  It's a musical!  At the BROADHURST THEATRE  – an American Repertory Theater production.
Photos:  Matthew Murphy
Visit www.TalkEntertainment.com
Tags: No Comments