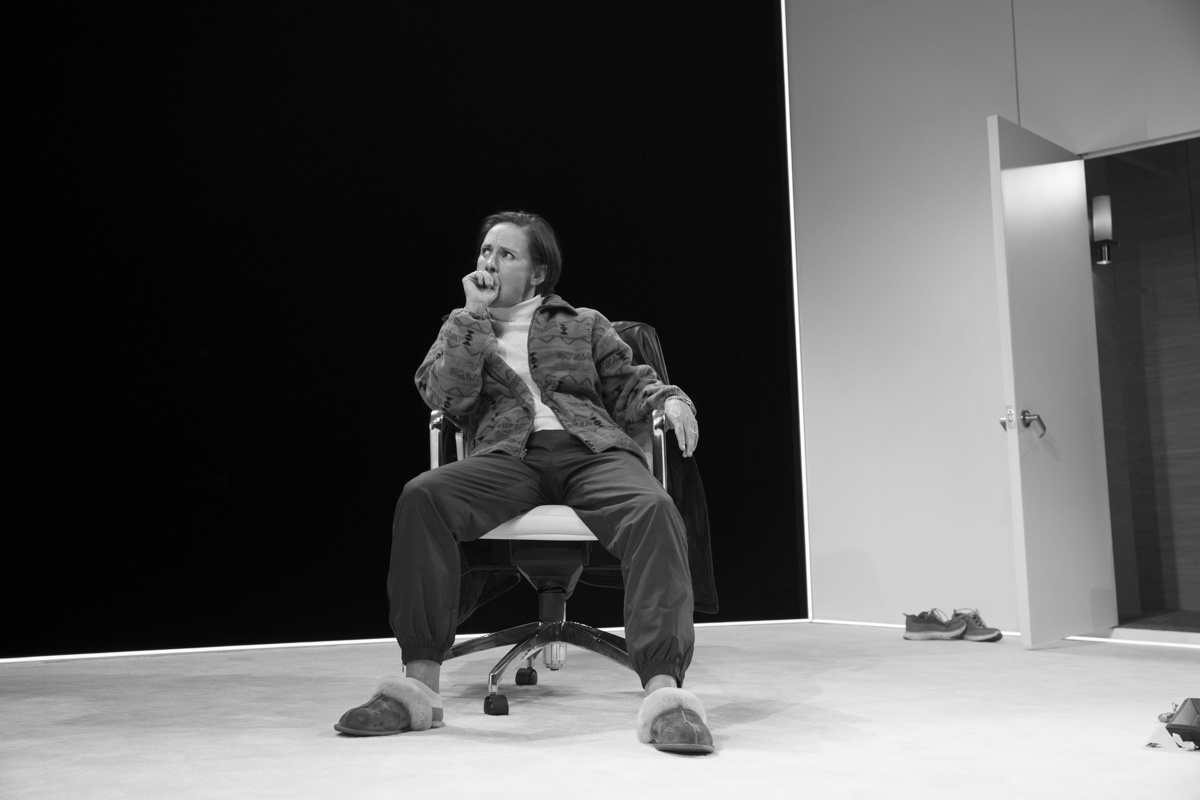 A momentous moment in the life of Hillary (Laurie Metcalf) – January 8, 2008.  New Hampshire Democratic Primary.  Also for Clinton (John Lithgow) and Mark (Zak Orth), campaign manager for Hillary's run for President against her rival Barack (Peter Francis James).  Last but not least the United States of America.  It's cold.  A coldness that also permeates HILLARY AND CLINTON's imagined private relationship in this peek behind closed doors.
Captured by Lucas Hnath, an original thinking out of the box playwright.  Master of terrific dialogue, conflict, humor and setups.  Character studies that reveal the essence of the characters without imitating real life.
As we are informed by a wanting-to-win Laurie Metcalf as she steps up to a free standing microphone that someone somehow forgot to place a mic (a bit of theatricality here) so that she goes and gets one to give as a bit of bizarre, almost twilight zone setup – that there are infinite universes and that the Hillary in this play although named Hillary is a Hillary in an alternate universe although she sounds a lot like the Hillary that shares her life with the ex-President of the United States, Bill Clinton.
She then switches on the lights and we are in a cube of a hotel room (Chloe Lamford) where we will see the before Act I straight into the Act II goings on between the participants with a black backdrop that accentuates the characters as they enact the tactics that went into her run for the presidency to finally emerge from the shadow of her man Bill.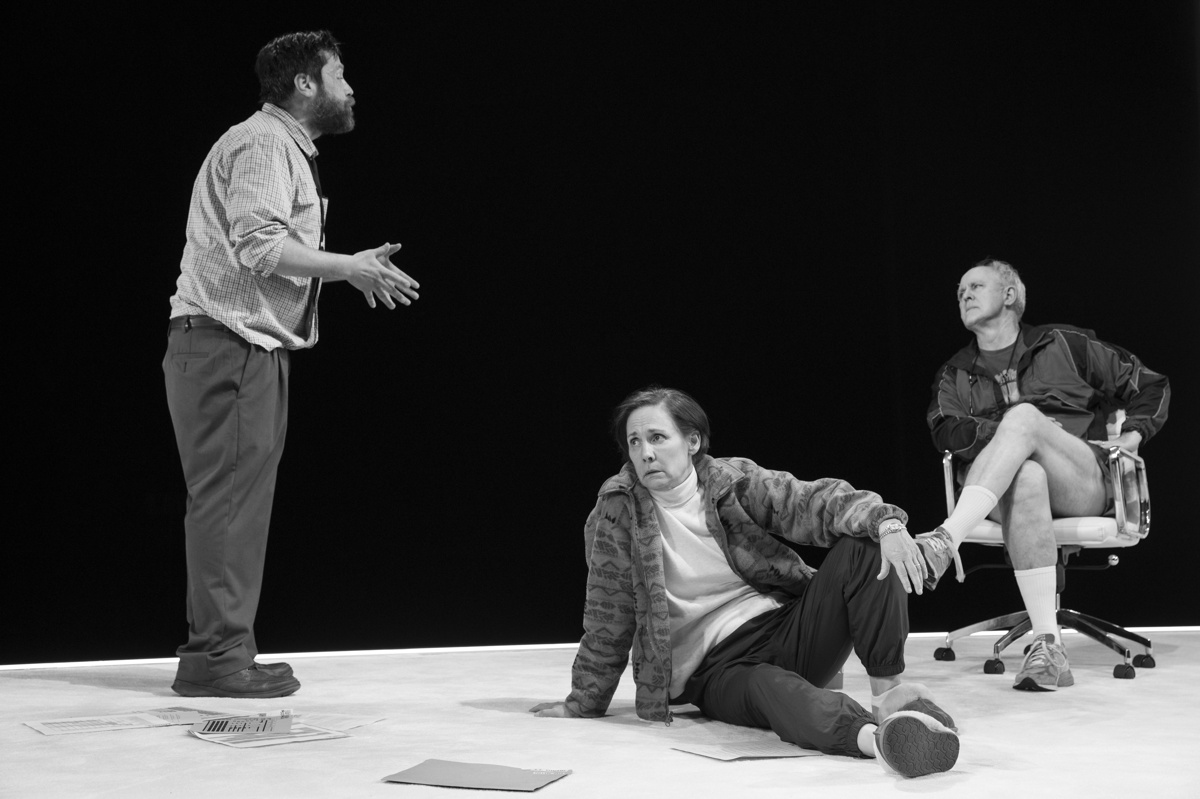 Bill the charmer who wants to be in charge.  As usual.  After Mark warns Hillary not to call him.  She does.  She needs funding.  Funds that Bill has plenty of but they will come with certain conditions.  He is at odds with Mark.  Hillary is confused and exasperated and fed up with having to deal with Bill but you know how it is when you can't live with someone and you can't live without that same someone…
Before the results she is ready to accept an offer from Barack.  After she unexpectedly wins she gives Barack a counter offer.  It's the first time we see her smile.  The first time we see the personality she need to summon to win.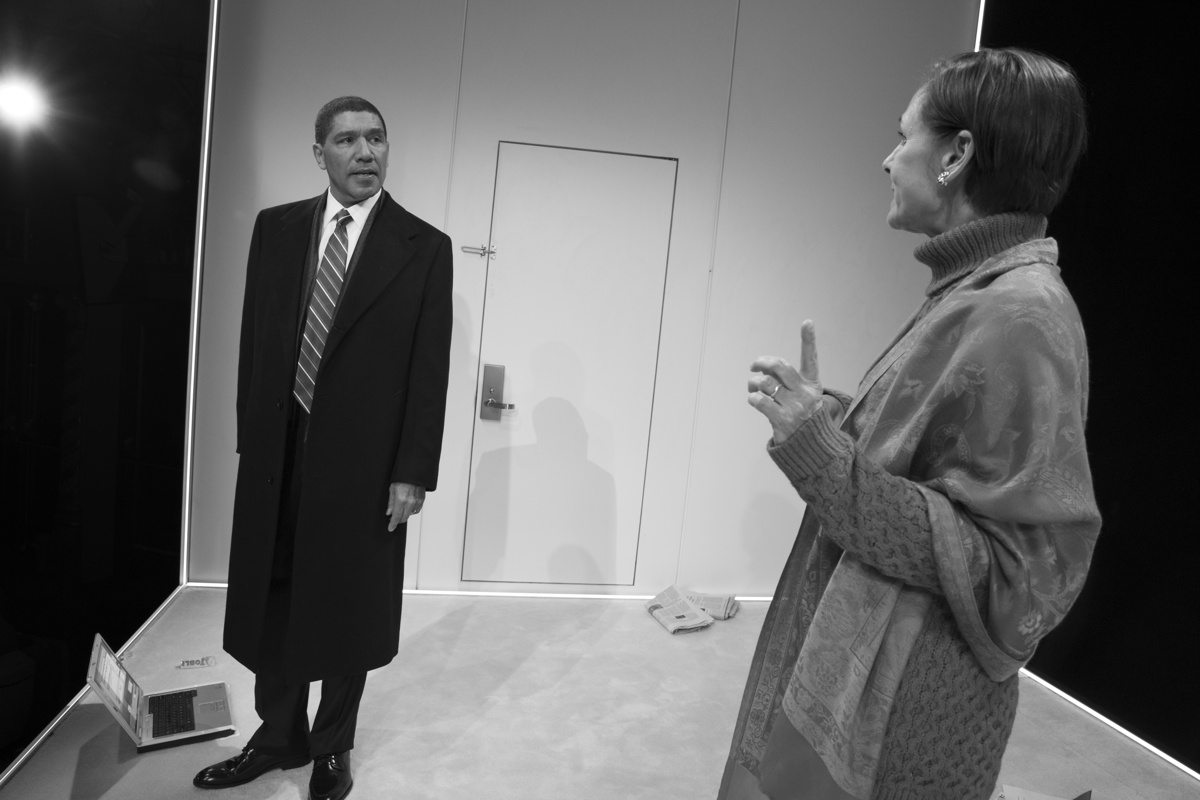 Well, we all know what happened.  But it is the fine acting of all that keeps us enthralled and the expert craftsmanship of the playwright that holds our attention.
There is no intermission.  It runs an hour and a half.  Just right.
It is finely directed and coached by Joe Mantello – he who is a fine actor himself.  Taking the time.  A look.  A pause.  Or do nothing.  Details that make all the difference in this universe or any other.
It's bizarre seeing Hillary prone of the floor as Bill and Mark go at each other as if she is the net in a tennis match.
There isn't much meat on the bones here but what meat there is, it is fun to chew on and completely digestible in this most original theatrical exercise.
Their coldness thaws a bit towards tenderness.  Feigned or not, they remain together in this other imagined universe at the Golden Theatre through July 21, 2019
Photos:  Julieta Cervantes
www.hillaryandclintonbroadway.com
Visit www.TalkEntertainment.com
Tags: No Comments