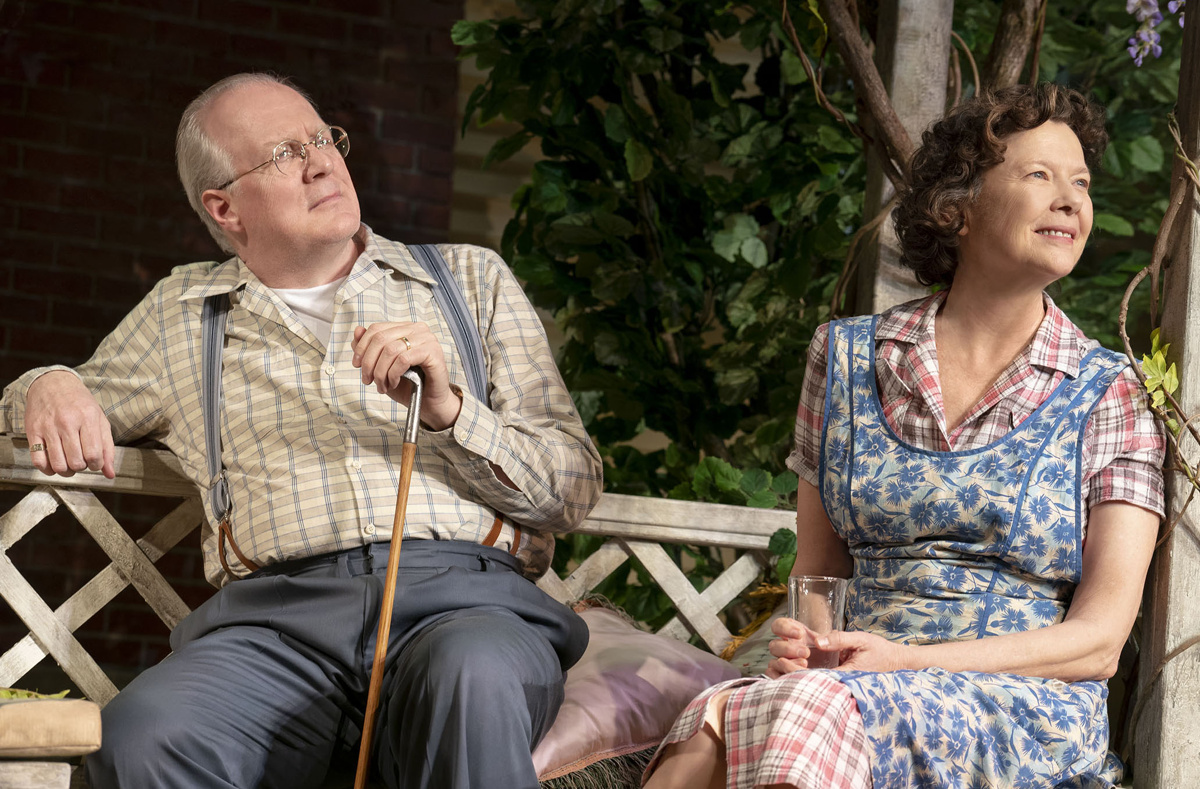 Director Jack O'Brien immediately grabs our attention with a fierce thunderstorm erupting at the American Airlines Theatre as a projection of a fighter aircraft going down, against what will be the backyard property of Joe and Kate Keller, shows through the scrim, circa 1947.  It's clean-up time.
Lights up on the house and trees.   A small covered arbor.  It's a hot August day in a rural Midwestern American town.  Sunday as usual.  But not for long.  Joe (an excellent Tracy Letts) is reading the paper and talking to a neighbor, Dr. Jim Bayliss (Michael Hayden). All is calm after the previous night's storm that struck a valued tree, breaking off a limb – a premonition of things to come.
Arthur Miller's post World War II confrontational 3 act family drama is played to the hilt.  Based upon a true story which Arthur Miller's then mother-in-law pointed out in an Ohio newspaper about a company that knowingly shipped damaged aircraft engine cylinder heads from a factory to the military causing the deaths of 21 pilots.
Joe Keller owned such a factory.  Still does.  But now they produce a variety of products including pressure cookers.  This drama simmers along as it heads towards an obvious tragic outcome.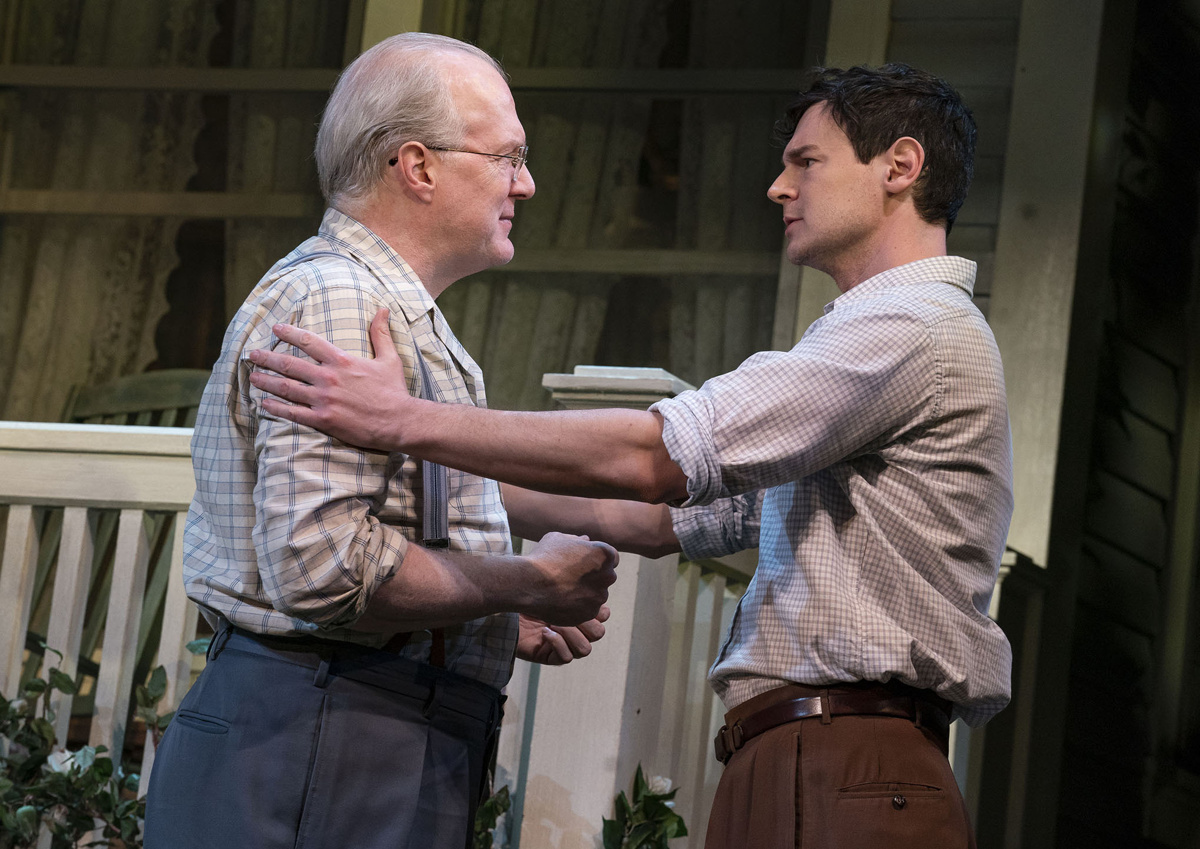 The Keller's two sons went off to fight the war.  Only one returned.  Chris – Benjamin Walker does a fine job as one who is conflicted and confused and trying to find his own way despite loving both his parents – AND in love with his brother's ex-girlfriend who has decided that she must also move on.
His brother Larry hasn't been heard from in three years and is presumed dead.  Only his mother Kate (Annette Bening – giving an award winning performance) refuses to accept his death.  Keeps his room as it was expecting any moment to have him come walking into the yard.  She is strong, delusional and can say horrible things to people with a charming demeanor.
She has even asked Frank Lubey (Nehal Joshi) another neighbor to work up Larry's horoscope for the day he died hoping to prove that is was a favorable day and therefore he is still alive.  Somewhere.  Some superstitions are worth believing in.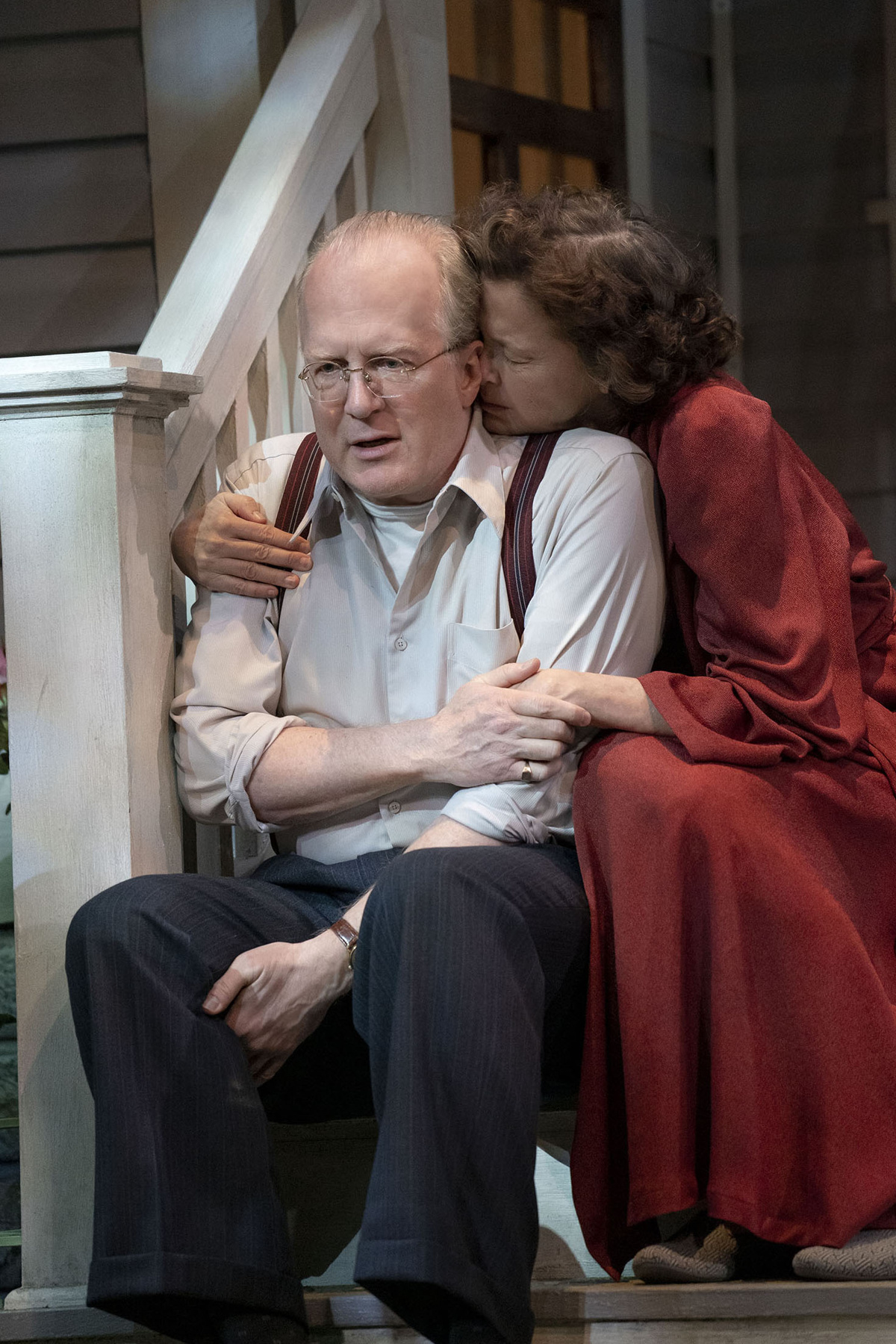 Coupled with the fact that the tree damaged was planted in honor of Larry.  Proves it's a sign. In addition his ex-girlfriend Ann Deever (Francesca Carpanini) has arrived from New York and is staying in his old room as Chris prepares to ask for her hand in marriage.
I won't describe further what happens as Arthur Miller is extremely clever in keeping the plot close to his chest with many humorous observations surfacing as he dishes out the drama bit by bit as we discover the multiple motivations of each character and their inter-relationships.  As we discover what it is that makes this family tick until it explodes like the thunderstorm that opens the drama.
A master of dialogue and construction.  Slyly incorporating how money rules the roost; how dishonesty and corruption, covering up and blaming someone else for your actions results in the ruination of those around you – unnecessarily.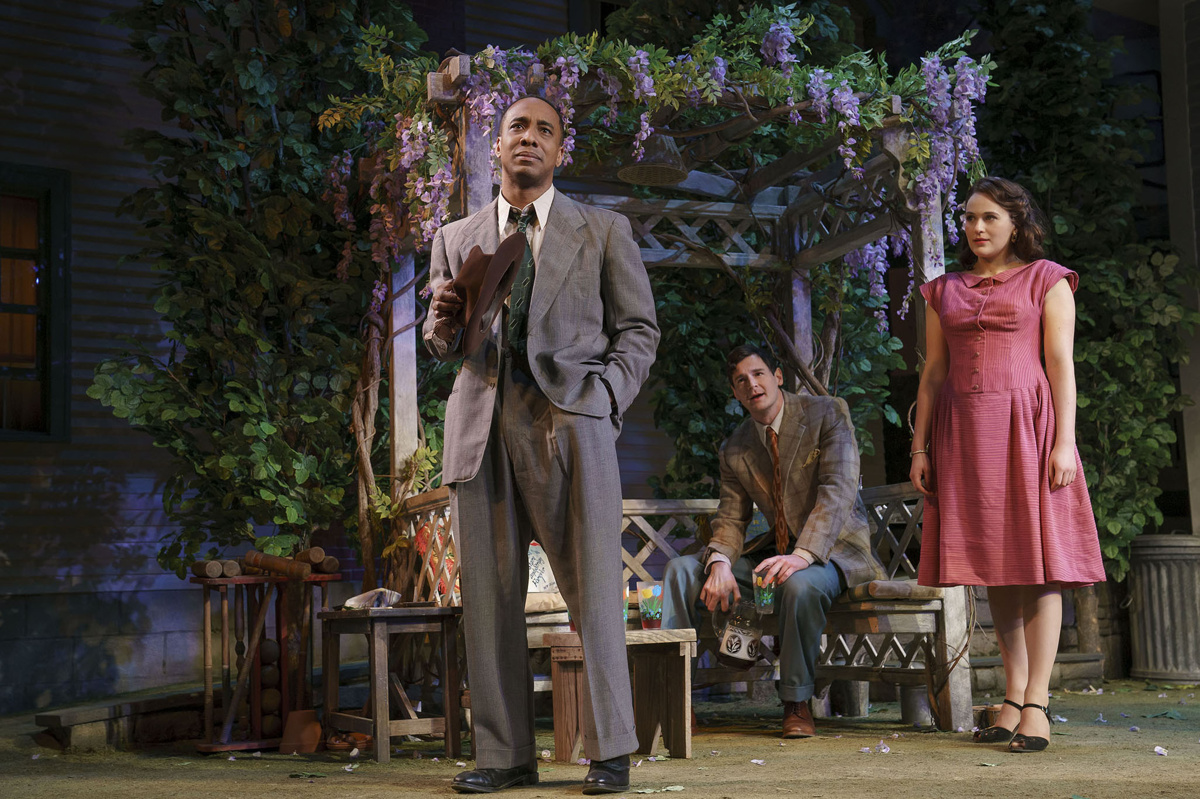 I will however, make note of one jarring factor.   Ann's brother George, who arrives to prevent her from marrying Chris is of a different color.  She is white.  In this day of color blind casting sometimes it works and sometimes it doesn't.  Don't ask me why it's just like that.
Despite Hampton Fluker's fine performance it was just jarring to see him arrive.  As we never see their father who is in jail serving time for what Joe has done and covered up – (he was the partner of Joe in the faulty aircraft cylinder heads scandal) he could also be of another race.  That's neither here nor there.  Just accept the casting choice and be emotionally moved by this fine, tight, beautifully acted production.
I am sure that in twenty years ALL MY SONS will still be performed as it deals with timeless topics that every family goes through in one form or another.  It's an extremely emotional experience and well worth a visit to the Keller's back yard.  Through June 23rd.  3 acts.  2 hours 15 minutes.  One intermission.
Photos:  Joan Marcus
Visit www.TalkEntertainment.com
Tags: No Comments