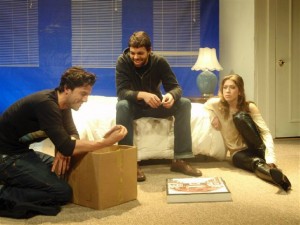 Not nearly ready.  Almost saved by a better if somewhat radically different second act, "When We Have Gone Astray" is being presented by The Seeing Place Theater through February 21st at the American Theatre of Actors' Sargent Theatre (314 West 54th Street, 4th floor).  Part of my mission as a critic is to nurture.  So this is a nurturing review.
 I sincerely believe that they are well aware of the productions shortcomings and plusses.  But bravely they go out there and do it.  Not waiting for perfection.  Just getting the work and the acting out there. 
"Getting started, in a small way," as Associate Artistic Director Anna Marie Sell stated, greeting the audience at Sunday's performance as if speaking to a full house – there were a mere four in attendance, including myself.  That might have dampened the spirits of some.  But not this company.  They gave a full out performance.  And the acting was terrific.  Kaitlin Colombo has coached her three actors into giving extremely truthful, engaging performances.  Less can be said of her staging.  But that leads me directly to the playwright Brandon Walker.  The writing could be more focused.  There is a lot going on with the three characters and their back stories – and cell phones and bathrooms are an easy excuse for getting a character out of the way for a while.  But not a long while as sometimes happens here.
Once we get past the far fetched factor of how these three windup together on New Year's Eve we get to know them and can finally feel for them in Act II – that is, if you come back for the second act – we lost one member of the audience to fatigue and/or confusion.
Ira, played by the author, is an unemployed actor who is ready to leave New York but decides not be alone on this New Year's Eve of 2008, so he hires a hooker for two thousand bucks.  Roxy arrives.  Only her name is Cassie (a sexy, funny and headstrong Heather Lee Harper).  Do they know each other from the past or not?  Yes.  Ten years ago.  They order a pizza.  Pizza Man shows up – Keith (Joseph Mancuso – you may see Joshua Rivedal on certain dates).  I won't go into details.  But a fresh look and a red pencil could work wonders.
Because of the economic turndown they all have problems.  That's why Cassie has turned to prostitution and Pizza Man is delivering pizzas – his dad lost all his money to Bernie Madoff and the unemployed actor is in AA having sold his expensive and prized guitar to pay for his New Year's Eve junket which doesn't turn out how any of them expect it to.
I was impressed with the high quality of acting.  So they have a good start here with this new company that, if you miss this show, try going to the next.  They mean well and I found myself truly moved in Act II – even though they blame everyone else but themselves for the situations they are in.  But "The play's the thing!
Tags: Brandon Walker · Heather Lee Harper · Joseph Mancuso · The Seeing Place TheaterNo Comments