VITAGRAPH, may call to mind but should never be confused with Lucy Ricardo's VITAMEATAVEGAMIN TV commercial.  Nor should it be mistaken for VITAPHONE, a sound system or BIOGRAPH, a rival silent film company.
Mr. Erish "an independent scholar of cinema" has made sure of this in his text book style treatise recreating the dawn of motion pictures in VITAGRAPH, America's First Great Motion Picture Studio published by University Press of Kentucky.  Spanning the years from 1875 to 1926 and beyond, there are forty eight pages of detailed footnotes!
Ken Burns take note.  This would make an excellent documentary.  While the text is interesting and informative it is almost drowned in financial details.  Showing actual clips from the silent movies would be a terrific addition.  After all, the book is about "moving" pictures.
Vitagraph was the combined brainchild of two young, ambitious and creative English immigrants in 1897.  Both twenty.  Both hungry – make that starving – to be part of the entertainment industry centered in Manhattan – consisting then of family friendly variety shows.
J. S. Blackton and Albert E. Smith. Both naïve. Both inexperienced and "easy prey" as the third wheel of the soon-to-be Studio – an older William T. "Pop" Rock described them in 1899.  Rock was an imposing figure.  He knew the ropes.  Was sharp.  And became a distributor of Vitagraph's vast output.  Especially Europe.
Smith a personable "High Class Prestidigitateur and Mimic" and Blackton a cautious and conservative artist whose work would lead to a fateful meeting with a scheming, litigation prone Thomas Edison that had long lasting almost disastrous results for the duo.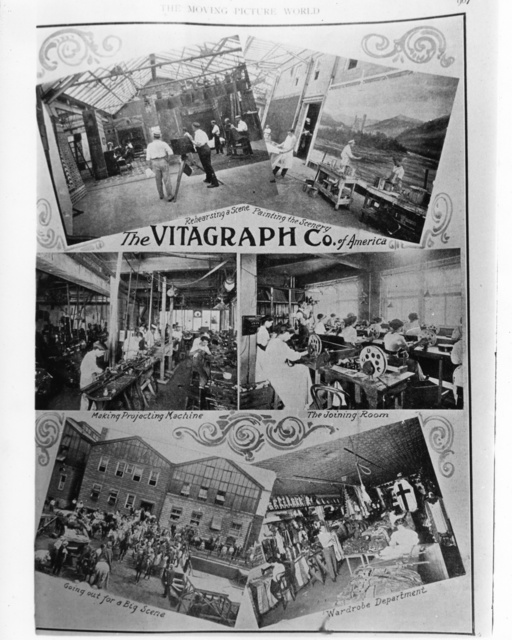 With hard work and determination, thrift, talent and a willing to learn, nerve and imagination they forged ahead to make VITAGRAPH the most influential and leading producer of motion pictures for much of the silent era.
Newsreels.  Westerns.  Lavish Historical Moments.  Comedies.  Crime and Chase. Special effects.  Animation.  Fast paced and profitable.
Creating stars:  Florence Turner, "The Vitagraph Girl" – Maurice Costello "a matinee idol" (whose daughter Dolores Costello married John Barrymore and was Drew Barrymore's grandmother) – "Jean" the Vitagraph dog – a collie and John Bunny – a W.C. Fields lookalike comedian.
Finally overcoming their harassment and intimidating troubles with Edison, Adolph Zukor of PARAMOUNT entered the picture – determined to "smash Vitagraph" through a divide and conquer strategy.  In the final reel, Vitagraph was sold to Warners in 1925.
A case of scientists, businessmen and lawyers vs. the artistic and innovative minds of Blackton and Smith with their hands on experience with every facet of filmmaking – from building their own cameras and projectors to writing, directing, editing, acting, developing the negatives and projecting the results to paying audiences.
Adolph Zukor never engaged in any of these activities.  He was a furrier who got involved like Mr. "Pop" Rock because it seemed like a good investment.
That's show-biz!
But there's a lot more to VITAGRAPH than meets the eye.
Available now.
Hardcover.  298 pages 46 B/W Photos published 6/9/2021 $34.95
Tags: No Comments