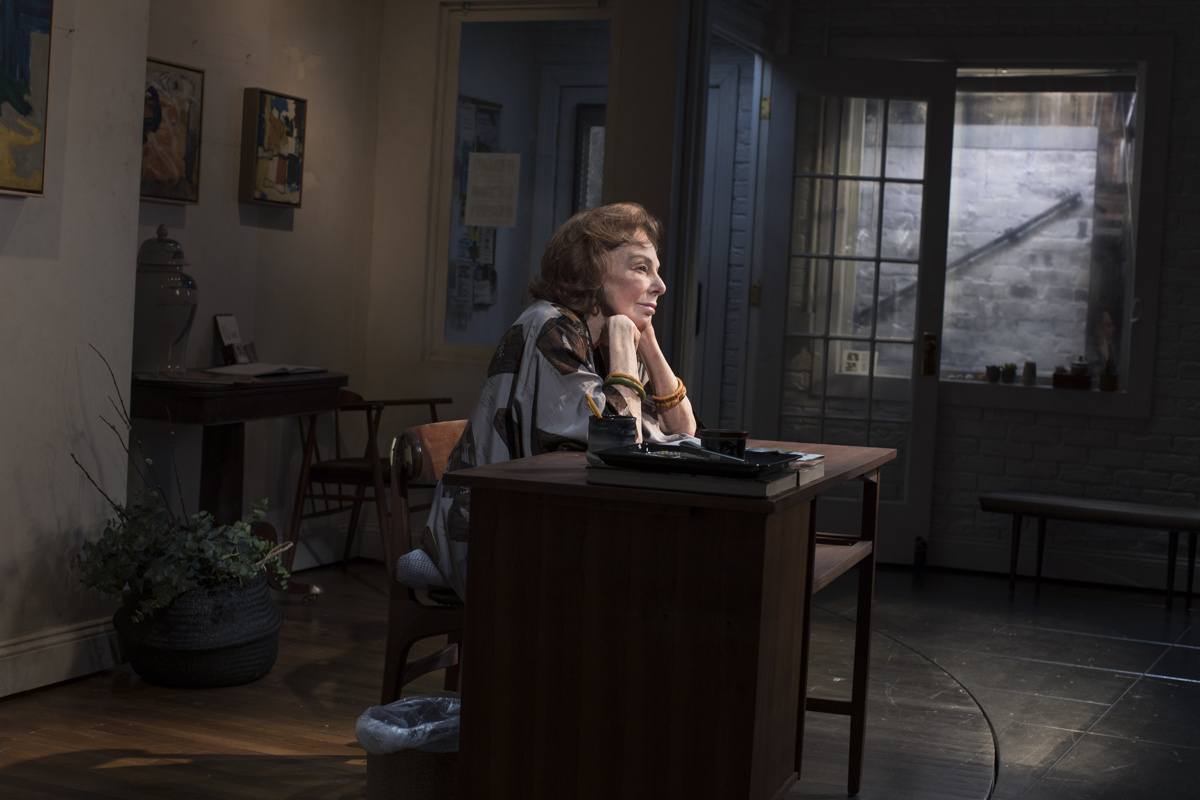 At the Golden Theatre, where "An Evening with Mike Nichols and Elaine May" opened 58 years ago, Elaine May – a spry 86 with all her faculties and comic instincts intact – is once again taking center stage in Kenneth Lonergan's loss of memory, memory play THE WAVERLY GALLERY first produced off-Broadway in 1999.
Suffering from dementia and Alzheimer's disease isn't at all funny.  The play is.  Particularly Act I.  By Act II we are deep in the depths of dealing with the disease both for victim and her caregivers as they ponder what to do; how to react.
Under the guidance of director Lila Neugebauer, the words of Lonergan and the artistry of Elaine May as Gladys Green, a former lawyer who is a bit hard of hearing and a bit shopworn, this tale unfolds in docu-drama style.  She lives for company and conversation.  She's a real non-stop chatterbox.  With plenty of money so she says.
Gladys has operated a small, quaint art gallery on Waverly Place in Greenwich Village New York and lives in the same building as her grandson Daniel Reed (an excellent narrator Lucas Hedges – somewhat shy with a splash of dry humor) a speech writer for the Environmental Protection Agency and her watchful neighbor down the hall.
Suddenly her landlord wants to replace the gallery with a café.  She's never had a lease and has a growing fear of not knowing what to do if she can't continue to sell some paintings.  And talk to people.
In walks an artist from New England.  Young and naïve with little money and nowhere to live, Don Bowman (Michael Cera – without his trademark tics) – more an optimist than a great artist.  They immediately bond.  Kindred spirits.  Like Harold and Maude. And Gladys (bringing to mind Ruth Gordon) offers to allow him to stay in a back space much to the dismay of her daughter Ellen Fine (Joan Allen) and her second husband Howard Fine (David Cromer).
They need to approve.
What follows is the decent into the abyss of Alzheimer's disease.  It's funny until it's not.  The patience needed to hear things repeated ad nauseam.  The frustration that is inevitable.  The not knowing how to cope.  The ordeal of it all.  The fear.
All the actors are first rate with Elaine May taking top honors.  She is still amazing.  There is an unseen dog that intrudes into the action as Gladys tries valiantly to over feed him.  And talk.
The scene changes are a tad too long with vintage videos projected of the changing Greenwich Village that Gladys cannot comprehend due to her slowly progressing terminal illness.
Through Jan 27th.  2 hrs and 15 minutes.  One intermission.
www.thewaverlygalleryonbroadway.com
Photos:  Brigitte Lacombe
Visit www.TalkEntertainment.com
Tags: No Comments