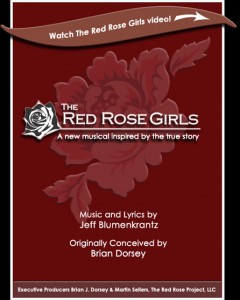 Pre-BroadwayVideoTrailer
Go To
www.RedRoseGirlsTheMusical.com
PRODUCER / ENTREPRENEUR
 BRIAN DORSEY
HAS COMMISSIONED A CAPTIVATING MUSICAL BIOGRAPHY
OF
"THE RED ROSE GIRLS"

PHILADELPHIA'S TURN-OF-THE-CENTURY
RENEGADE ARTISTS

THREE OF THIS COUNTRY'S MOST REVERED
CREATIVE GENIUSES

AND

THEIR WIFEBEING READIED FOR BROADWAY'S 2011-2012 SEASON

Inspired by Alice A. Carter's acclaimed and luminously illustrated Biography,
The Red Rose Girls,
producer/entrepreneur Brian Dorsey
has commissioned a musical event based on the lives of four of the most fascinating,
rule-breaking, determined, acclaimed, accomplished and renegade artists of the early 20th century.
Also entitled, "THE RED ROSE GIRLS",
the project's music and lyrics are being written by Jeff Blumenkrantz
whose wondrous assignment involves the musical foundation and interpretation
of the combined lives of four women who turned "turn-of-the-century"
Philadelphia upside down in their undaunted quest for the abject right to create immortal art.
 
            The first three were called Violet Oakley, Jessie Wilcox Smith and Elizabeth Shippen Green.  
They were about to become the most acclaimed artists and illustrators in the country; against all odds.
 
            The fourth was called Henrietta Cozens.
Tags: Alice Carter · Brian Dorsey · Jeff BlumenkrantzNo Comments