I'd like to propose a toast!  To celebrate!  Here's to the entire cast, from superstars Hugh Jackman & Sutton Foster to ensemble players to understudies; to all those backstage helpers, "mask up" ushers, designers, musicians and most of all director Jerry Zaks and choreographer Warren Carlyle that make this rejuvenated and  reinvigorated revival of Meredith Willson's THE MUSIC MAN one of the most joyous experiences in musical comedy folklore.  Ever.
This is not your run of the mill carbon copy revival.  This revitalized MUSIC MAN has an identity all its own.  It is simply sensational.
July 4th, 1912.  Professor Harold Hill, traveling salesman/con man extraordinaire, arrives via train in River City, Iowa pretending to be a band instructor; attempting to convince its citizens to contribute funds for instruments and uniforms by spreading the word that their young boys are being seduced into sin and vice by the town's new pool table – and then vamoose with the funds.
But then a certain Miss Marian the librarian/piano instructor has caught his eye and he decides to woo her.  However, they do not see eye to eye.  They are more like Shakespeare's bickering Beatrice and Benedict whom we know will eventually wind up together.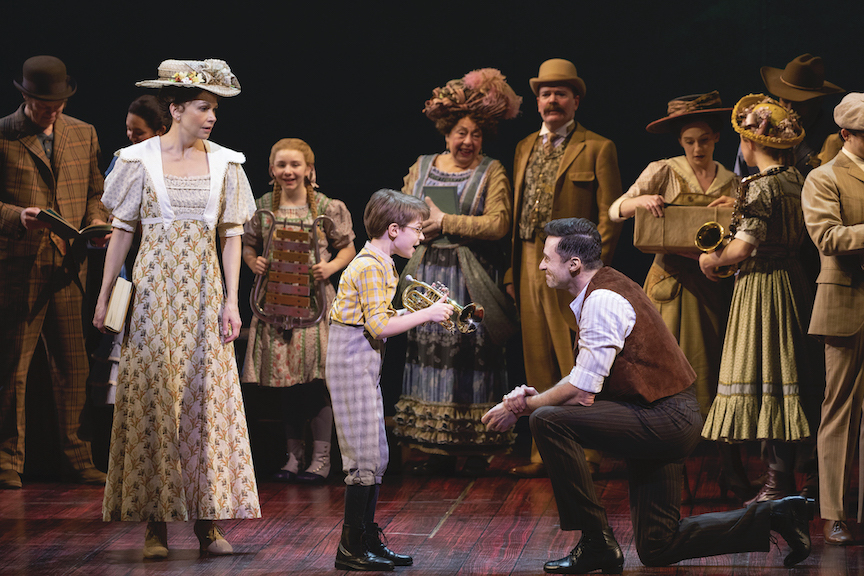 From the Grant Wood Americana inspired scenic backdrops by Santo Loquasto who also designed the many simple down home costumes to the colorful garish gowns worn by certain gossipy ladies fond of elaborate hats, Mid-West America is shown in its best or rather its natural period light.
THE MUSIC MAN is the perfect panacea for these deeply troubled times albeit an expensive one.  Tickets can go for over five hundred buckaroos.  Each.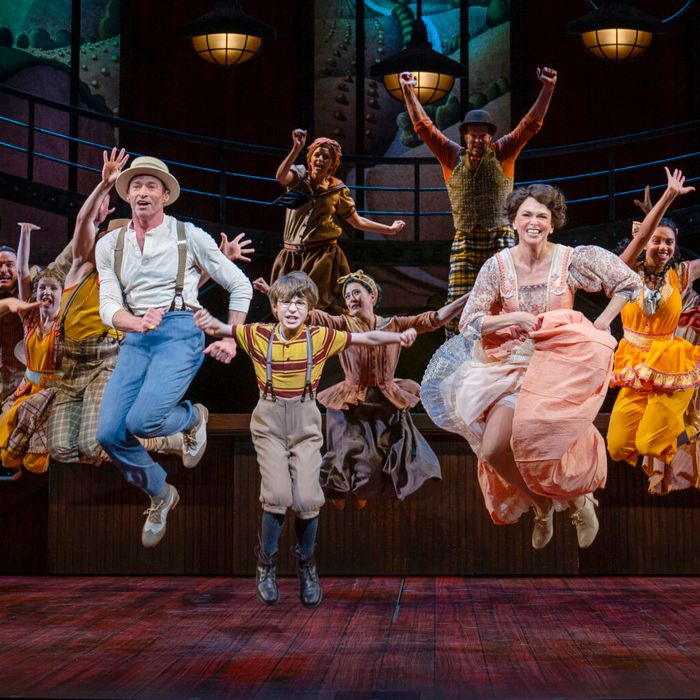 But this splendid, exciting, romantic, beautifully paced and amusing show is chock full of memorable melodic music and athletic eye-popping choreography.  From a simple "Gary, Indiana" to a Barbershop Quartet "Lida Rose" to the tongue twisting "Ya Got Trouble" to the lilting "Till There Was You" to the rousing "Seventy Six Trombones" the large ensemble shines and delivers its best seemingly enjoying every moment on stage alongside its two gracious stars that deliver what the audience has come for.  A grand old fashioned good time.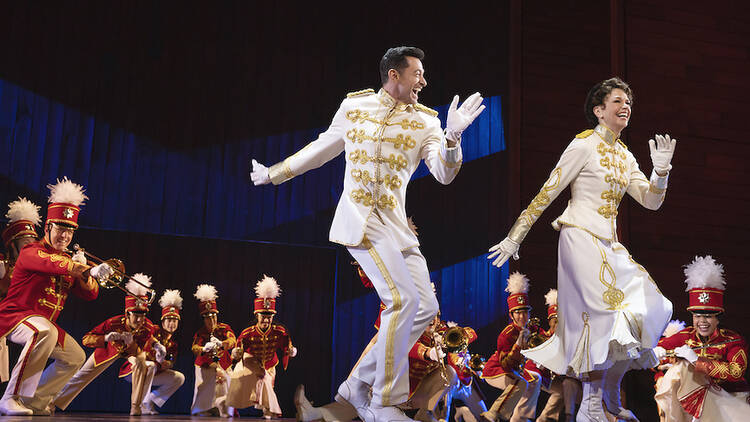 From the onset the audience was literally abuzz with excitement.  And when Hugh Jackman makes his entrance they went wild without him speaking one word.  Shortly after Sutton Foster got the same reaction.  How wonderful to hear all that applause for them.  And they both do deliver the goods.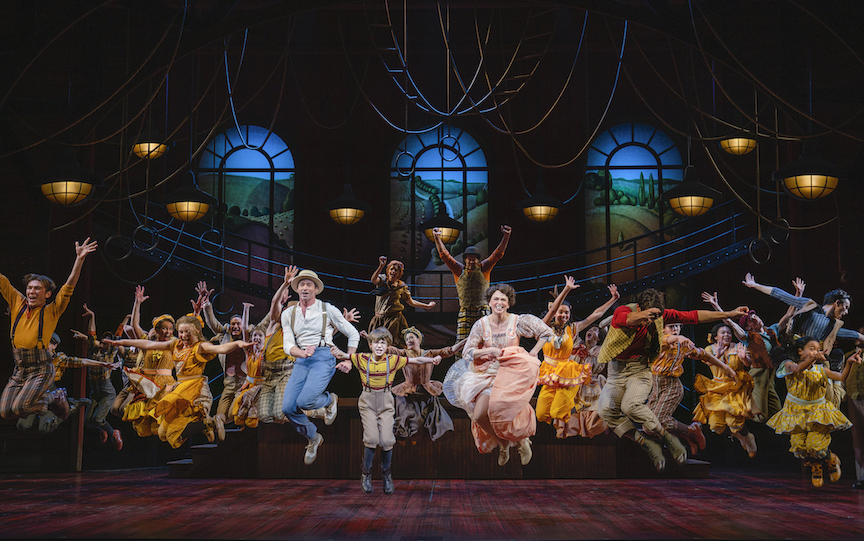 Backing them up are some of Broadway's best:  Jefferson Mays, Jayne Houdyshell, Shuler Hensley, Marie Mullen and newcomer – the adorable Benjamin Pajak who plays Marian's shy ten year old brother.
To my pleasant surprise the name Garrett Long caught my eye.  She had been Bonnie in a MTC workshop production of "The Ballad of Bonnie and Clyde" that I had written with Dana Rowe and Michael Aman.  Seeing her these many years later as Ethel Toffelmier was an extra special pleasure for me.
Try your best to get a ticket to THE MUSIC MAN.  You will see what we've been missing with some of these new-fangled musicals.
At the Winter Garden Theatre.  www.musicmanonbroadway.com
Photo ID.  Proof of vaccination.  MASK UP.
2 hrs. 30 min.  One intermission
Photos:  Bruce Glikas/Getty Images & Julieta Cervantes
Tags: No Comments