Cue:  Ominous melancholy music.  Cue:  Soft light through kitchen window after last night's storm – outside of Paris.  Cue:  Andre standing alone at the window; looking out.  Immobile.  Cue:  Daughter Anne enters speaking to her dad who is seemingly lost in his own thoughts.
Thus begins THE HEIGHT OF THE STORM by French playwright Florian Zeller – English translation by Christopher Hampton.
Starring Jonathan Pryce as Andre a renowned writer and Eileen Atkins as his wife Madeleine, who after 50 years of marriage has finally broken her vow and died before he did.  Or has she?  Unfortunately Andre is suffering from dementia and hand tremors.  Responses from Andre range from childlike laughter to anger to rage to tenderness to simple confusion to complete bafflement.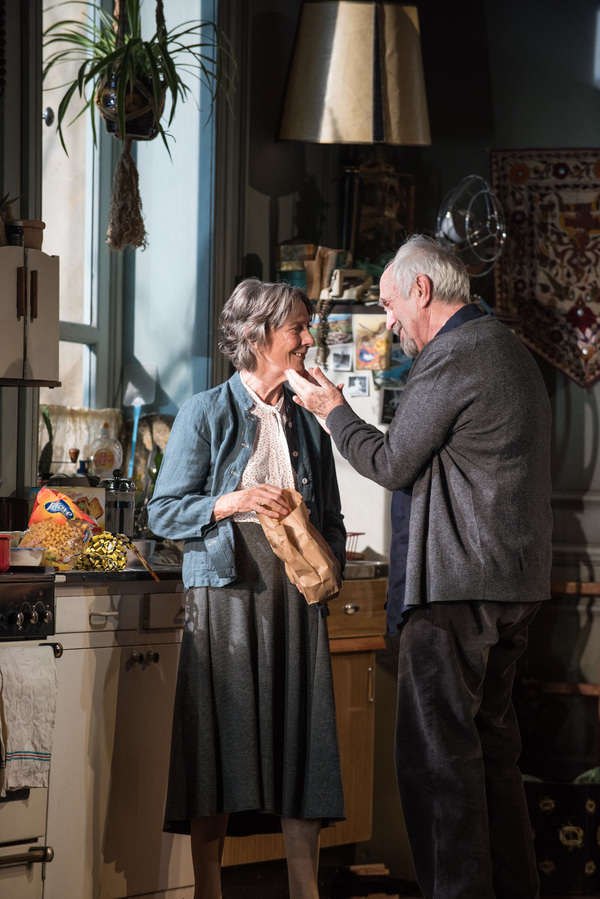 As one might very well be as the play continues back and forth from past to present revealing old relationships and secrets and some hard truths in its four segments totaling 80 intriguing minutes to its compassionate conclusion in the beautifully appointed French countryside kitchen by Anthony Ward who also supplied the appropriate costumes.  Somber music by Gary Yershon separates scenes.
Even the great detective Hercule Poirot might have had to use his grey cells overtime to figure out what actually is happening in this sometimes difficult to interpret, mysterious memory play.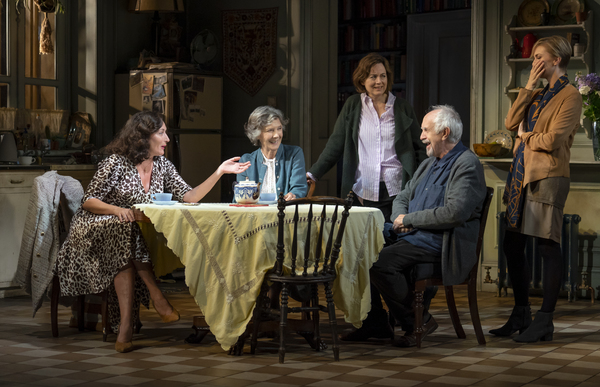 They have two daughters that have come for the funeral and deal with the future.  Perhaps putting Andre in a home as he cannot take care of himself without his wife who could do so without any problem.
The favorite Anne (Amanda Drew) to organize Papa's papers and locate his very private unpublished diary and the other one Elise (Lisa O'Hare) bouncing from beau to beau – the latest a Real Estate agent The Man (James Hillier) whose name is Paul.  The sister's relationship is strained to say the least.
Mother is quite relieved when they have all gone.
Director Jonathan Kent along with Lighting Designer Hugh Vanstone have done an excellent job in helping to clarify the proceedings.  The past suddenly in our present and then back again.  New characters introduced – The Man (see above) and The Woman (Lucy Cohu) an old friend that Madeleine has met in the market and invited back for tea and a chat with Andre.  Unexpected results ensue.  With talk of poisonous mushrooms and the suicide of an old couple facing similar problems.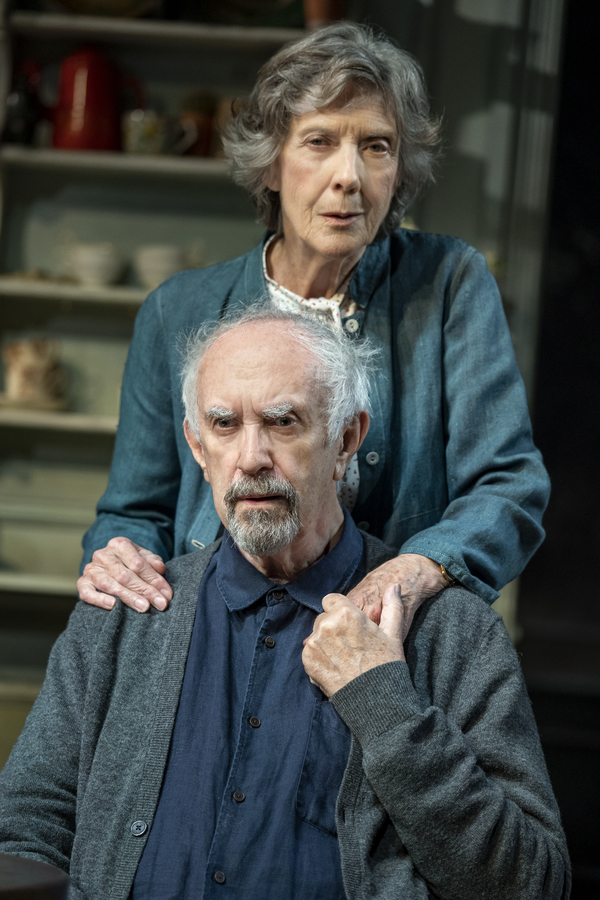 Dementia is difficult to deal with.  So is death.  But one must be prepared to deal with such things and to be strong enough to continue with the help of children and or friends.  It is strange what one discovers when a loved one dies and what secrets are revealed.  It's not easy to digest.  Or understand.  Life is complicated.  Death, more so.  Florian Zeller explains in a most unusual and unconventional way.
Runs through November 17th.  Manhattan Theater Club at the Samuel J. Friedman Theatre 261 West 47th Street.  No intermission.
Photos:  Joan Marcus
Visit www.TalkEntertainment.com
Tags: No Comments