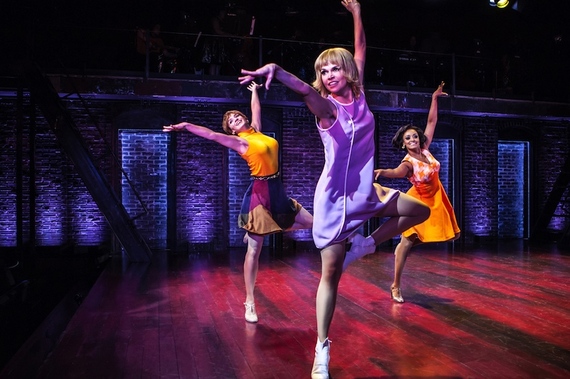 I should start by advising you to hasten down to The Pershing Square Signature Center to see SWEET CHARITY running through January 8th 2017.   However I am a bit late.  It's a very hard ticket to come by.  The space is indeed intimate.
However care has been given in the staging to make every seat have an equal opportunity view.  The production is sensational.
This Neil Simon, Cy Coleman, Dorothy Fields 1966 musical has been brilliantly scaled down and reexamined and reimagined by director Leigh Silverman to slip into the intimate three quarters round seating – adding a deeper dimension to Charily Hope Valentine's search for the perfect man – without sacrificing the super entertainment factor and exciting score one iota.
A smaller cast.  Doubling and tripling in roles.  They are all wonderful.  Especially Joel Perez, Asmeret Ghebremichael and Emily Padgett.
 Spearheaded by the incomparable Sutton Foster.  May she never be out of the spotlight.   She has it all.  Her effortless dancing.  Her comic timing.  Her sandwich making.  Her mega-watt smile.  And a vulnerability that makes this Charity one whom you just want to hug and tell her it will all turn out OK.  Eventually.
When Charity shouts out "Somebody Loves Me!" it is not just a cue for a production number but a newly found realization that her life finally has some meaning.  And we want to celebrate along with her.
She's been in denial for so long but still hopeful, wearing her heart on her sleeve as one man after another takes advantage of her and wearing her hurt in her heart.  Sutton Foster allows us to glimpse that hurt.
A sextet of women above the stage replaces a full orchestra.  And yet the now famous songs sound as fresh as ever.  The excellent choreography by Joshua Bergasse make memories of the Bob Fosse original fade into the wings of the past.
The bare bones set by Derek McLane seems perfectly seedy for the dance hall and other locations that have props whisk in and out speedily.  Lighting by Jeff Croiter helps tremendously to depict the Central Park Lake, the stuck Parachute Jump of Coney Island and claustrophobic elevator where Charity meets the man of her dreams Oscar – a bedraggled and shy nebbish of a guy – played honestly and surprisingly sympathetically by Shuler Hensley.
The idea to place the heartbreaking "Where Am I Going?" at the end of the show makes an emotionally valid and bittersweet finale to all that has occurred making Charity face the music, wondering what went wrong and what is going to happen next.  Will she ever learn?  We hope so – for without love life has no purpose.
A production of THE NEW GROUP.  www.thenewgroup.org
Photos:  Monique Carboni
Visit www.TalkEntertainment.com
Tags: No Comments