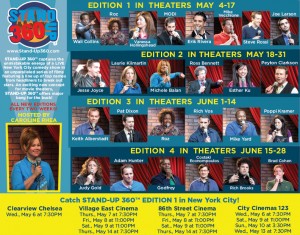 The Experience & Excitement of a Night of "LIVE" New York City Stand-Up Comedy Brought to the BIG SCREEN
 
STAND-UP 360TM Series of Seven Original Feature Presentations
To Appear in Theaters Across the U.S. Beginning May 2009
 
Screenvision partners with waggingtail entertainment (Bryan Bantry in association with Eric Hanson & Michael S. Rosenberg) to present the premiere of STAND-UP 360TM.  A series of stand-up comedy features filmed live, STAND-UP 360TM delivers an alternative kind of entertainment to cinemas across the country via Screenvision's Programming Network Division.  With Caroline Rhea featured as lead host, STAND-UP 360TM offers seven distinct presentations aimed at a wide variety of audiences.  Kicking off in May 2009, STAND-UP 360TM will appear in Screenvision theaters nationwide.
 
STAND-UP 360TM captures the unmistakeable energy of a Live New York comedy show in an unparalleled program, presenting a line-up of top names from headliners to break-out stars.  Serving up a new style of entertainment at cinemas, STAND-UP 360TM offers major bang for the buck; it would take months of repeat visits to a variety of comedy venues to experience the calibre and range of talent assembled for the films. 
 
STAND-UP 360TM's debut series of feature presentations boasts seven original films jam-packed with laughs and never-before-seen footage of behind-the-scenes action and antics, each with an exclusive line-up of performers.  Each film features a diverse roster of acts, while special edition STAND-UP 360: Muy CalienteTM is devoted to Latino talent and STAND-UP 360: Inside OutTM is headlined by popular LGBT comics and friends.                                                                                       
 
With Caroline Rhea as host, STAND-UP 360TM features many of today's hottest comics including Roz G, Judy Gold, Godfrey, MODI, Poppi Kramer, Wali Collins and many others.  Rising Hispanic star Erik Rivera
hosts two STAND-UP 360: Muy CalienteTM films with sets from Angelo Lozada, Cristela Alonzo, Sara Contreras and more.  Finally, Caroline Rhea hosts STAND-UP 360: Inside OutTM with a line-up of LGBT stand-outs such as Judy Gold, Jackie Hoffman, Frank DeCaro, Jaffe Cohen, Hedda Lettuce and Michele Balan in thought-provoking performances.
For more information on dates, schedules and locations for STAND-UP 360TM, please visit: www.STAND-UP360.com. 
NYC cinema locations below
Clearview Chelsea 23rd street
Wed., May 6 at 7:30PM 
Village East Cinema at 12th street
Thurs., May 7 at 7:30PM
Fri., May 8 at 11:00PM
Sat., May 9 at 11:00PM
Thurs., May 14 at 7:30PM
86th Street Cinema
Thurs., May 7 at 7:30PM
 Fri., May 8 at 11:00PM
 Sat., May 9 at 11:00PM
Thurs., May 14 at 7:30PM
City Cinemas 123 at 60th street
Wed., May 6 at 7:30PM
Sat., May 9 at 11:00PM
Sun., May 10 at 3:30PM
Wed., May 13 at 7:30PM
Tags: No Comments