Imagine Romeo (a spectacular Nikita Burshteyn) if you will (as in William Shakespeare) finding himself in 1960's Brooklyn chasing a girl he believes to be his beloved Juliet.  Actually the girl he thinks is Juliet is dead ringer Bernadette Penza (Anna Kostakis) – a spoiled rotten, potty-mouthed, always late albeit beautiful shopaholic daughter of crime boss Sal Penza (Carlos Lopez) who along with his trying to be more sophisticated wife Camille (Judy McLane) are vacationing in Verona with body guard Lips (Viet Vo) when Romeo first lays eyes on her after he awakens from the famous double death potion scene that wasn't a double death scene at all – it just put him to sleep – for centuries.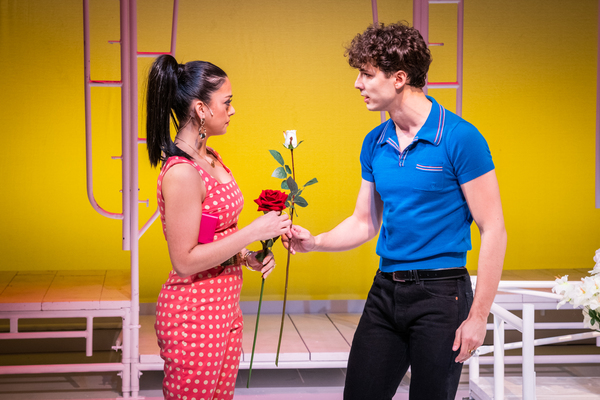 This is hilariously explained by Brooklyn Guy (Michael Notardonato) to his date Brooklyn Girl (Ari Raskin) at a performance of Romeo & Juliet by the Brooklyn Community Players as he tries to stop her from crying over the very elongated demise of Romeo (he just wants to get her in bed) so he comes up with this nutty version that Romeo didn't die and continues to sporadically narrate their saga throughout.
Actually this nutty and very funny mashup – which is like a breath of fresh air – a smart, melodic breath of fresh air is the brainchild of Mark Saltzman who wrote the book and lyrics.  The character driven and plot driven (oh, what a plot!) lyrics have been brilliantly fitted into some of the most lovely pre-existing Italian melodies – a little Rossini, a little Bellini and lots of Francesco Paolo Tosti – all brought up to date by Steve Orich (arrangements and orchestrations) and sung to the hilt by the entire ten member cast.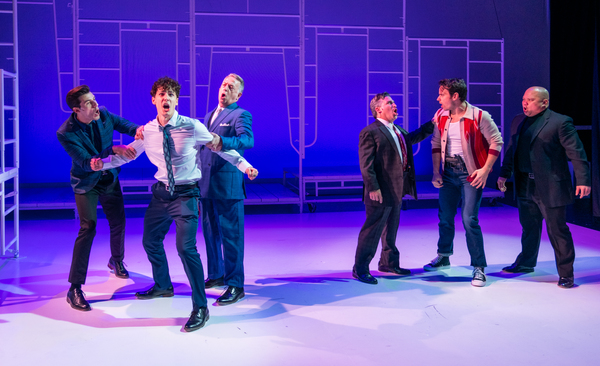 All this fast paced tomfoolery is exceedingly well directed and choreographed by Justin Ross Cohen who somehow makes this unbelievable love story with gangsters – believable.
And that's just for starters. There's more.  Lots more.
Romeo saves the life of Dino Del Canto (Michael Notardonato aka Brooklyn Guy) son of Don Del Canto (Michael Marotta) – a dapper John Gotti type.  Dino is attacked by Tito Titone (Zach Schanne) who is engaged to Bernadette whom he treats like a doormat.
Dino and Romeo become buddies and I won't spoil this delicious show by explaining it any further you have to go see it for yourself.  Probably twice so that you catch all the jokes and details you might have missed the first time around.
One more thing Bernadette's best friend Donna Dubachek aka Brooklyn Girl is a riot.  She and Dino might remind you of Andy Karl and Orfeh!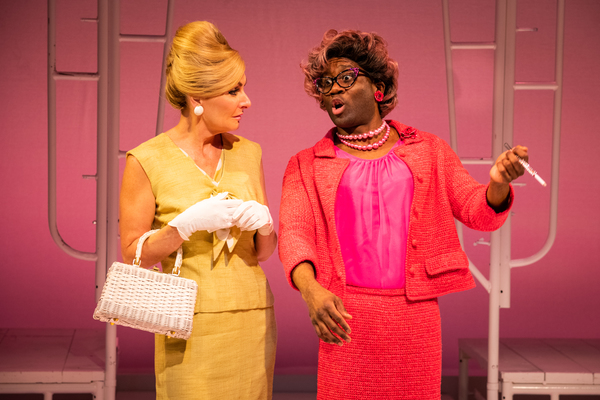 One last item.  Troy Valjean Rucker plays Usher, Bellhop, Enzo Aliria, Father Keneely, Arden (a florist) Viola (wedding gown designer) and Roz – cha cha cha instructor.  Each one a master cameo.  What a find he is!
Your face will ache with smiles and laughter.  And that's a good thing.
Another terrific discovery is Nikita as Romeo.  He is handsome with a strong lyrical voice.  He speaks his Shakespearean lines trippingly on the tongue with a European charm and is very amusing as he tries to incorporate a Brooklyn accent into his comic delivery.  His regal bow is quite memorable as is his codpiece.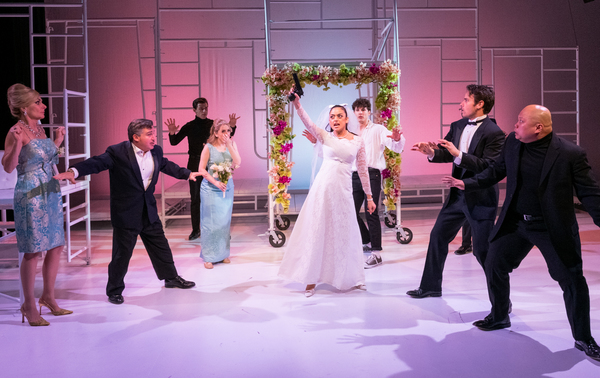 The pitch perfect vintage period costumes are by Fabio Toblini & Joseph Shrope.  Lighting by Ken Billington and set by Walt Spangler are first rate.  All in all it's a wonderful entertaining evening where you don't have to know any Italian – just enjoy the Brooklyn accents and Romeo & Bernadette.  In a word, delightful!
2 hours.  One Intermission.
At A.R.T./New York Theatres 502 West 53rd Street through February 16th.  For tickets 212 352 3101 OR www.amasmusical.org. Produced by Amas Musical Theatre in association with Eric Krebs.
Photos:  Russ Rowland
Visit www.TalkEntertainment.com
Tags: No Comments