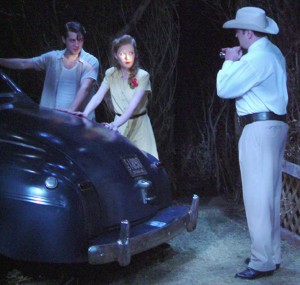 At the very intimate fifty three seat Dorothy Strelsin Theatre located at 312 West 36th Street "Phantom Killer" is having its world premiere, running through February 14th.  I strongly suggest you see this fine production.
Playwright Jan Buttram goes for the gold and just about reaches her goal with an extremely up close and personal story involving a young married couple, Luke (Jon McCormick) and Jessie (Wrenn Schmidt) out for a ride having stopped on a deserted country road to escape her mother who has murdered her husband and the brutal Texas heat circa 1946.  Only problem is that there is a serial killer lurking in the vicinity.
"Phantom Killer" is a well written eighty minute, extremely well acted and beautifully executed study of three people whose lives intersect on this suspenseful and tense evening.  The third character is Randy, a Texas Ranger (Denny Bess) who is searching for the killer when he chances upon Luke and Jessie.  Nothing is as it seems and Ms. Buttram keeps you riveted on the fate of all three characters.
The small space has been transformed into this spooky dirt road, replete with a 1940 Dodge Coupe.  The design team has enhanced the play by providing the necessary atmosphere.  Set designer David B. Ogle, costume designer Kimberly Matela, lighting designer Travis McHale and sound designer David Margolin Lawson must be commended for providing all the right touches to make this a must see show.
But it is the superb acting (particularly that of Wrenn Schmidt who has that intangible star quality) that brings this story based on true events to vivid life.  And the sensitive direction by Jules Ochoa.  Every nuance of character has been carefully extracted from his actors.  He keeps us guessing, wondering what will happen next.
"Phantom Killer" is taut, sexy and suspenseful done Texas style.  You may be reminded of another Texas couple – Clyde Barrow and Bonnie Parker who were also young, on the run and had their own memorable run in with the law.
Tickets $25.00  www.abingtontheatre.org  212 868-2055
Tags: Denny Bess · Jan Buttram · Jon McCormick · Jules Ochoa · Wrenn SchmidtNo Comments