For those of you who missed it and for those of you who want to see it again
NOIR is back for four additional performances!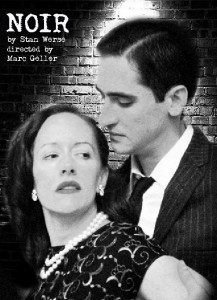 this time they're at
The Players Theatre
115 MacDougal Street
performance dates and times are:
Sunday, 9/18 @ 4:00 pm
Monday, 9/19 @ 7:00 pm
Tuesday, 9/20 @ 7:00 pm
Thursday,  9/22 @ 7:00pm
NOIR
watch as four actors
with absolutely no set or props
create an entire film noir in 70 minutes!
Here are the facts, just the facts …
New York City, 1950 …
Andrews has left town ….
Klein is dead …
Lydecker is dead …
Betty … well she's still alive  …  but someone's beat the pretty off her
Detective Clay Holden has his first big chance … but this is one case that he may not want to solve.
Here's what the critics are saying about Noir:
"Noir, written by Stan Werse and sublimely directed by Marc Gellertransports the audience back to New York City, 1950 … the actorsMichael McCoy, Andrew Dawson, Darrell Glasgow and Abby Royle do a terrific job … characterizations are sharp and richly layered. They take what could be stock characters and turn them into true individuals … Geller's direction and staging breathe fresh life into a familiar morality tale of loyalty and betrayal … Ashley Rose Horton's costume design is sumptuous and hits the bulls-eye in honoring the genre …. do not miss this play."
NYTheatre.com
"… delightfully nasty … Audience members who've watched such films as The Maltese Falcon or Out of the Past — this is the crowd at whom Werse and shrewd director Marc Geller are pitching the sinister tale (with sinister Daniel Dungan lighting) — will think they've figured this one out. The beauty part is they may decipher some of it but not all."
Theatremania.com
CRITIC'S PICK "… spoken with the right snap by the four-person cast …along with director Marc Geller, they take the material as seriously as a handgun pointed in their faces … Daniel Dungan's lighting, Jack Kennedy's sound, and Ashley Rose Horton's costumes create the appropriate dark and dangerous atmosphere."
Backstage
"Director Marc Geller has done a skillful job evoking the dark, cynical, melodramatic and sometimes humorous atmosphere aided by a wonderful sound-scape by Jack Kennedy and lighting design by Daniel Dungan with some spot on costumes by Ashley Rose Horton … Geller knows the style and his gift for dead pan comedy pays off in spades here ."
Talk Entertainment
"Director Marc Geller gets fine performances from Michael McCoy(McQue), Andrew Dawson (Grimes), Darrell Glasgow (Holden) and Abby Royle as vamp Helen Lydecker. This old-style crime drama[dy] is funny, features fine actors, a solid plot and waves and waves of old noir atmosphere at every turn in the story. Playwright Werse has done a fine job of crafting a witty tribute to noir- style stories while, at the same time, writing a pretty good one himself."
History News Network
Named a top fringe pick by NYC Fringe Guide
and now a part of the Fringe Encores Series
NOIR
as new play
by Stan Werse
directed by Marc Geller
with
Andrew Dawson
Darrell Glasgow
Michael McCoy
and
Abby Royle
as Helen Lydecker
lighting design Daniel Dungan
sound design Jack Kennedy
costume design Ashley Rose Horton
stage manager Adrianna Nicolé Perlman
Tags: No Comments