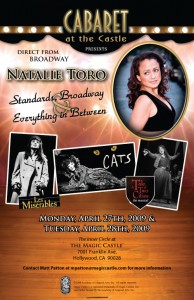 YOU'VE HEARD OF EL NINO, BE PREPARED FOR LA TORO
UPRIGHT CABARET PRESENTS
NATALIE TORO
SATURDAY APRIL 25TH 9 PM
'STANDARDS, BROADWAY and EVERYTHING IN-BETWEEN"
 Direct from her sold out performances in New York City
Tickets range from $15-$25. For Tickets, click below:
Mark's Restaurant
861 N. LaCienega Blvd.
West Hollywood, CA 90069
(310) 652-5252 
Cabaret at the Castle
Presents
Natalie Toro
Standards, Broadway and Everything in Between
Monday, April 27th, 2009 &
Tuesday, April 28th, 2009
At 8:00pm
 The Inner Circle at the Magic Castle®
7001 Franklin Ave., Hollywood, CA 90028
 Contact Matt Patton at mpatton@magiccastle.com for ticket information.
A portion of the proceeds will benefit the Physically Challenged Irish and American Youth Team
Direct from her sold out performances in NYC.
"With her powerful voice, with her expressive eyes and hands, with her extraordinary range, with her wonderful flair for comedy, with her ability to touch your heart, Natalie Toro took the Metropolitan Room by storm in her new cabaret show."      — Oscar E Moore  www.TalkEntertainment.com
"Toro displayed her vocal range in a set that included soft ballads, Broadway classics, and rousing numbers that had the audience on its feet."     — Charlene Gianetti from Woman Around Town
Tags: No Comments