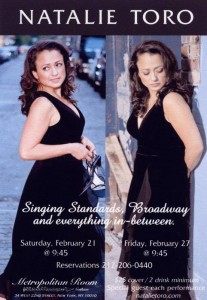 Natalie Toro who has made a name for herself on Broadway in "A Tale of Two Cities" and Off-B'way in "Zombie Prom" will be making her cabaret debut at the Metropolitan Room 34 West 22 Street 212 206 0440. www.metropolitanroom.com  
Saturday February 21 and Friday February 27th.  Both shows at 9:45.
Make your reservations now to hear this exciting performer who also has a new CD – aptly titled NATALIE TORO – and I quote " It's rare that one listens to a new CD and the voice that you hear captures your attention immediately. "  Natalie Toro does.  I can't wait to see her new cabaret show. 
Tags: No Comments