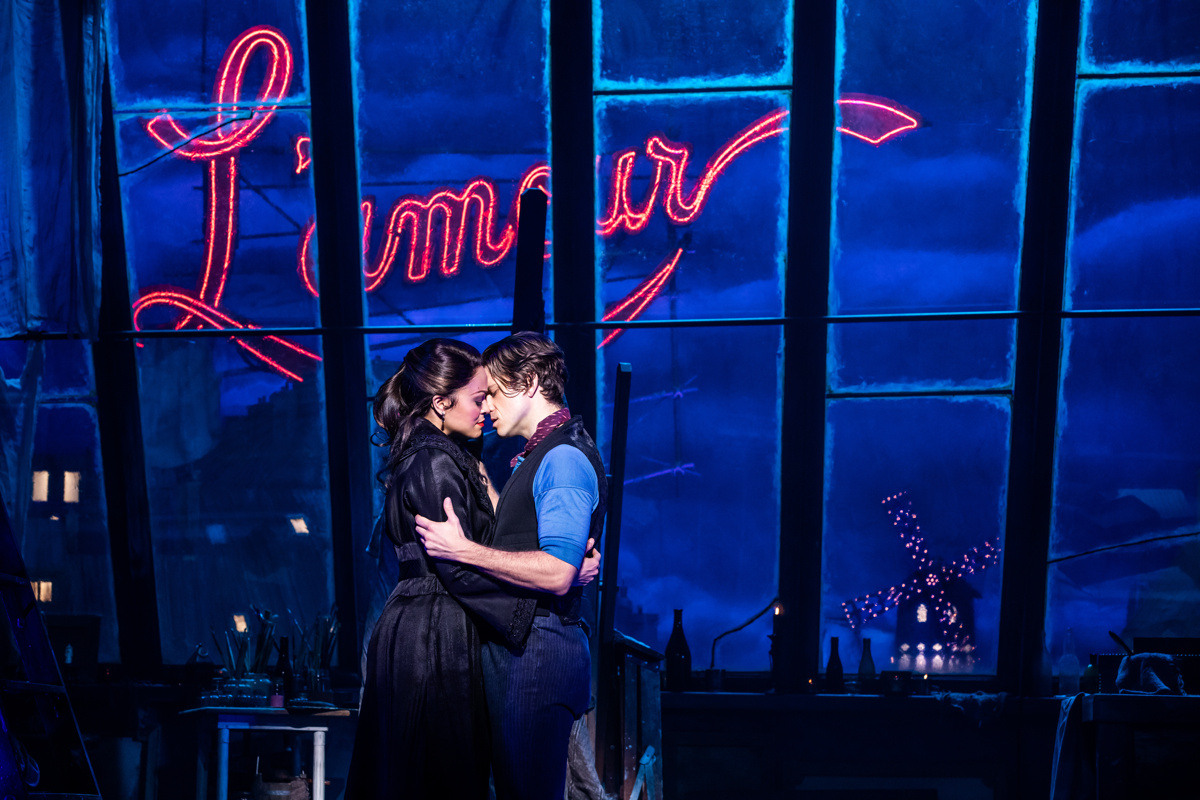 Based on the 2001 controversial Baz Luhrmann music video styled movie MOULIN ROUGE! a new creative team has brought back its Bohemians of Montmartre circa 1899 with a vengeance – and mammoth budget – on stage – at the Al Hirschfeld Theatre – for two and a half plus pulsating, relentless hours searching for its own distinct style with over seventy, count 'em seventy songs (of various length and importance) that the slew of over thirty five producers has seen fit to share with us.
There is a smorgasbord of styles for us to digest.  MOULIN ROUGE! is totally inconsistent under the direction of Alex Timbers.  Is it a true love story?  Is it a farce?  A tragedy?  Is it a tale told with tongue in highly rouged cheek or is it just a glitzy and glamorous extravaganza?  The answer is all of the above – with a wink!
The audience is allowed to take videos and photos pre-show.  And they all do.  To bring back as a souvenir, I suppose for the show itself will evaporate from one's mind tout de suite.
The story is quite simple.  After all, all those songs have to fit in, in the allotted time frame.
An American would be composer, Christian (the handsome Aaron Tveit with his radiant smile and glorious voice albeit lackluster charisma) arrives in Paris.  As an outcast, he soon finds fellowship with Toulouse-Lautrec (Sahr Ngaujah – an extremely odd choice of casting) and a dancer from Argentina, Santiago (Ricky Rojas) – Les Trois Musketeers, sort of.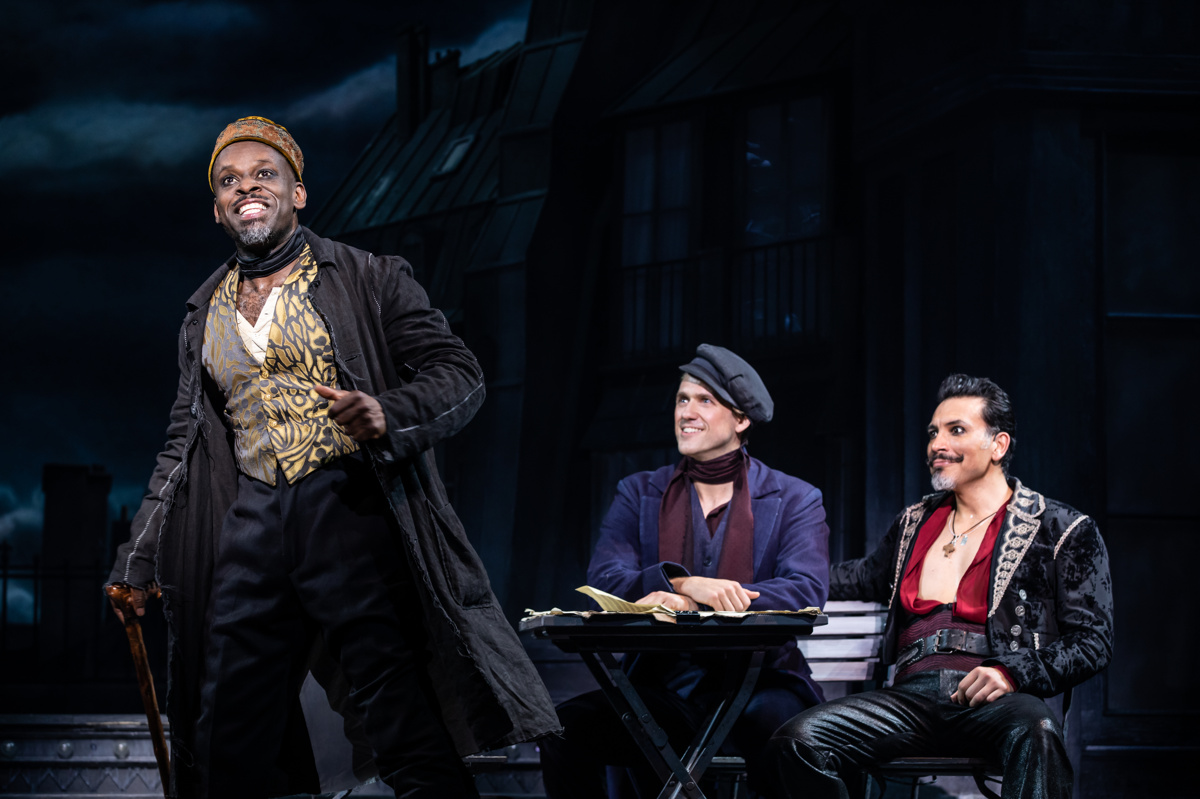 Lautrec is involved with a show at the MOULIN ROUGE run by a gay Master of Ceremony Harold Zidler (a hard working Danny Burstein with brightly painted fingernails) who has run out of francs and is looking for a new backer to back his star Satine (Karen Olivo – whose opening song brings down the house and lots of silver confetti and then rapidly loses her sizzle.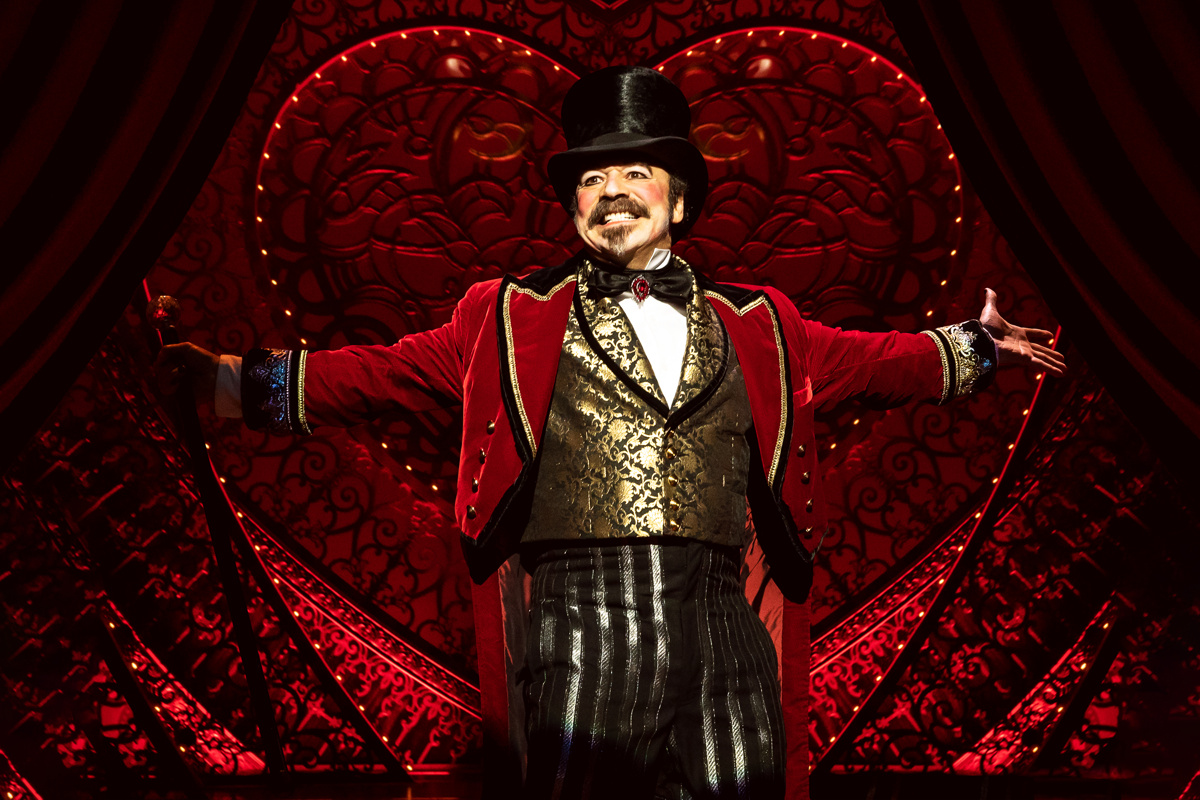 Christian falls hard for Satine.  Satine falls hard for the evil villain of the piece the wealthy Duke of Monroth (Tam Mutu – the only believable and sexy one of the group) who after seeing a rough run-through of a new show starring Satine, decides to own the show and Satine.  This is known as the romantic triangle.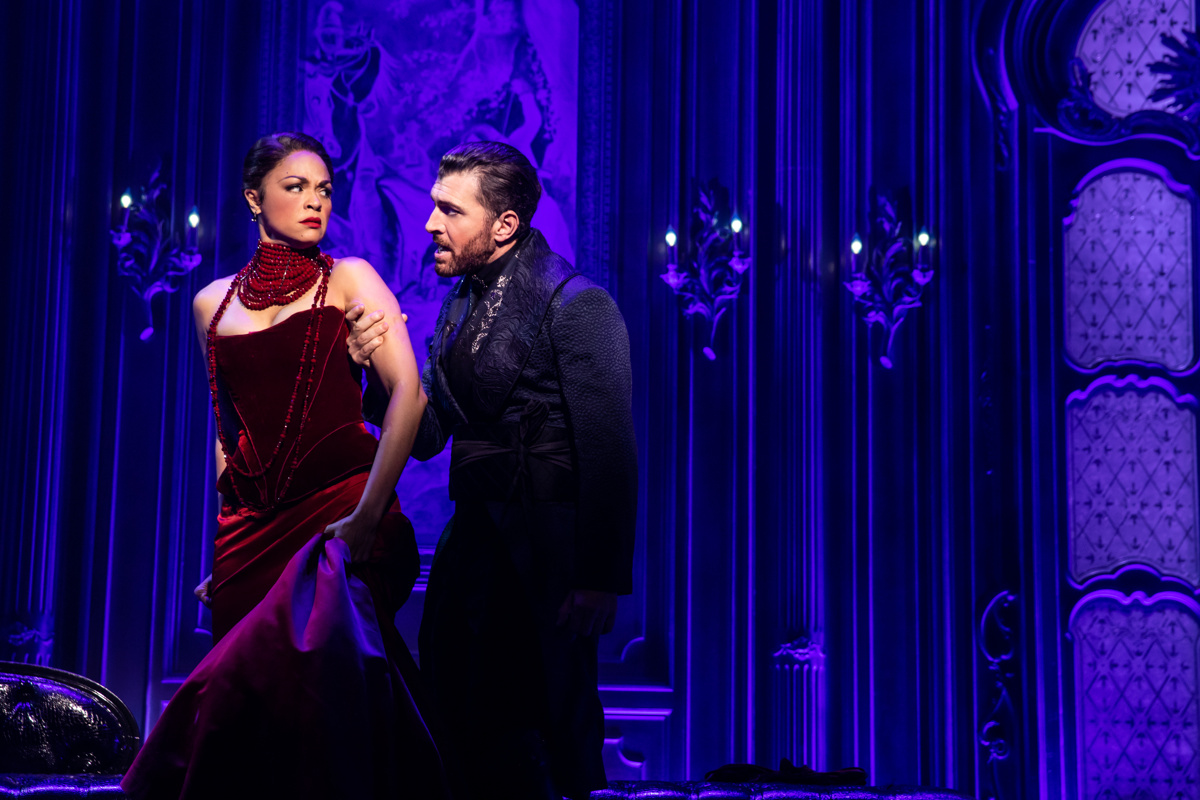 For what it's worth there is little to no chemistry between the two star-crossed lovers.  Perhaps because of the frenetic pacing (Where am I supposed to be now?)  or (having to focus on what part of which song byte am I singing?) both Tveit and Olivo appear to be concentrating on anything but each other.  Where is the smoldering, sexy, romantic love affair promised?
With "L'Amour" in bright red letters featured on the incredible Coney Island surround-set by Derek McLane and the elaborate/opulent costumes by Catherine Zuber with great lighting by Justin Townsend.
The ho-hum choreography is by Sonya Tayeh.
There are references to many other well-worn musicals:  CABARET, FOLLIES, RENT, LA BOHEME and PRETTY WOMAN.  With a dose of FOLIES BERGERE, AMERICAN IDOL and MY FAIR LADY.
Act II develops the show within this show through its tragic ending.  And finally ends with a coda of a Can-Can which brought me out of my stupor and had the audience standing for the curtain call and another song!
The real star of this production is Justin Levine – who has done a masterful job of incorporating all the songs and tidbits thereof.  Music supervisor, orchestrations, arrangements and additional lyrics.
Recently a man proposed to his lady after the show – which might very well start a trend like those love locks on one of the bridges of Paris.  Let's hope that couple fares much better than our two alleged lovers of MOULIN ROUGE!  Bonne chance!
2 hrs. 45 minutes one intermission
Photos:  Matt Murphy
Visit www.TalkEntertainment.com
Tags: No Comments