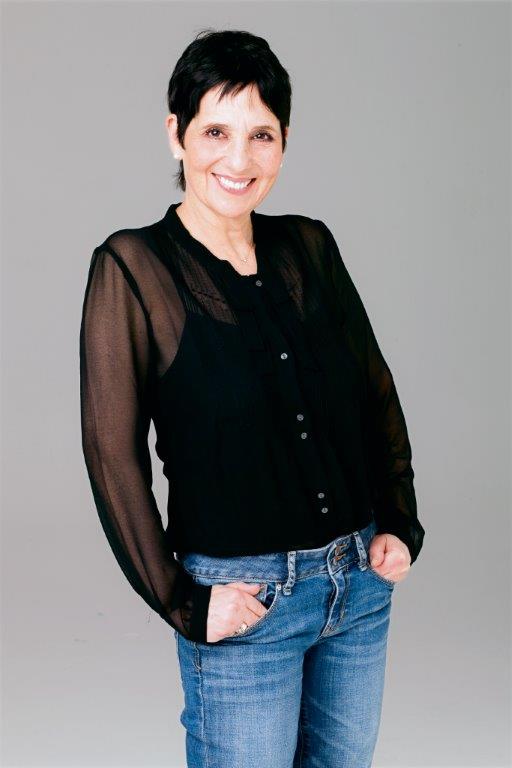 LONI ACKERMAN
IN
"NEXT TO AB-NORMAL"
FEBRUARY 25TH 2014
AT 54 BELOW, BROADWAY'S SUPPER CLUB
­­­­­­­­­­_______________________________________________________________________________________________________________________________________
54 BELOW, Broadway's Supper Club, presents.
Ebullient Broadway veteran Loni Ackerman brings her cabaret show, "Next to Ab-Normal," to 54 Below on February 25th at 7 pm.  In this charming and thoughtful musical evening, Ms. Ackerman recalls personal stories of her unusual New York upbringing (including her childhood associations with such "family friends" as Bob Fosse and Gwen Verdon,) as well as revisiting songs she sang in New York hits like "Starting Here, Starting Now" or in one of her lengthy associations with the shows of Andrew Lloyd Webber.  Directed by Barry Kleinbort, with musical direction by Paul Greenwood, Ms. Ackerman's repertoire also includes golden standards, contemporary songs, even one of her own compositions which became the theme song for a "very special" French film made during her time in Paris.  Another prime example of her life as something just "Next to Ab-Normal." Loni Ackerman in Next to ab-Normal plays 54 Below (254 West 54th Street)on February 25th at 7 pm. There is a $35 cover charge and $25 food and beverage minimum. Tickets and information are available at www.54Below.com. Tickets on the day of performance after 4:00 are only available by calling (646) 476-3551.
MORE ABOUT LONI ACKERMAN
Loni Ackerman's magnetism and dynamic vocal prowess as a Broadway musical theater star, has made her a longtime favorite of Broadway theatergoers.  She captivated New York audiences in such coveted roles as Eva in Evita  and Grizabella in Cats.
Other Broadway credits include leading roles in The Magic Show,  So Long, 174th Street,  No, No, Nanette, and George M! . She was in the original cast of Starting Here, Starting Now   and appeared Off-Broadway in Diamonds, The Petrified Prince  (both under the direction of Hal Prince), Brownstone  and Dames At Sea.
Her one woman show,Next to Abnormal,was most recently seen at The Metropolitan Room in NYC and at The O'Neil Center in Conn.
She is married to Broadway Sound Designer Steve Kennedy and has two sons, Jack and George.
MORE ABOUT 54 BELOW
54 BELOW, Broadway's Supper Club, is the new performance venue in the grand tradition of New York City nightlife.  A few blocks from the heart of Times Square and just below the legendary Studio 54, 54 BELOW is a classically designed state-of-the art nightclub in the theatre district that hosts audiences with warmth and style.  The venue provides a food and beverage menu from early evening through the wee hours of the morning that is worthy of the world-class entertainment on the stage.  In their description of 54 BELOW, The New York Times writes "the club has the intimacy of a large living room with unimpeded views and impeccable sound; there is not a bad seat. Its sultry after-hours ambience is enhanced by brocade-patterned wall panels planted with orange-shaded lanterns. And the atmosphere is warmer and sexier than in Manhattan's other major supper clubs."   Located at 254 West 54th Street, 54 BELOW features up to three shows nightly with cover charges ranging from $15-$95.
Here is my original review of her act at The Metropolitan Room
NEXT TO AB-NORMAL – PITCH PERFECT CABARET – February 27, 2012
At the close of Loni Ackerman's most engaging and entertaining new cabaret act – "Next to Ab-Normal" she sings James Taylor's "The Secret O' Life" after sharing her life and her philosophy of life with us for the past ninety minutes.  Ninety minutes that you do not want to miss.
Beautifully scripted and directed (Barry Kleinbort) and sung to perfection you'll discover what makes Loni tick and talk and sing with heartfelt passion and humor.  It's an original and totally charming evening.  A class act!  And you have three more Fridays to see her.  March 2nd, 23rd and 30th at The Metropolitan Room, at 7PM.
Taking a deep breath, looking lovely in her black pants and slightly sparkly top (who needs sparkles when you naturally glow) Loni Ackerman with a calm and a confidence and a giggle sings "A Shine on Your Shoes" which is a wonderful way to begin.  Sharing her optimism and openness she then takes us on a journey of her life – so far.
A life that has included growing up on Central Park West hobnobbing with the very rich and famous – Bob Fosse, Gwen Verdon, Leopold Stokowski, the Black Panthers, Bagels and Bongos, Ted Kennedy and Nureyev (she still holds on to a piece of his intimate apparel) – and her family and not so famous friends where love and home are valued above all else.
A life told seamlessly with recollections that are funny, confidential and cozy with a wide variety of songs (great arrangements) under the incredibly smooth musical direction of Paul Greenwood on piano with Jeremy Clayton (Sax, Clarinet, Flute) and Tom Hubbard on bass resulting in a fresh new sound.
Just one of the highlights is her foray into songwriting while in Paris, "Come Back, My Love".  Another, her New York Medley (I love medleys) and her salute to Andrew Lloyd Webber (She's starred in Cats, Evita and Sunset Boulevard).
Remembering her good life with "Sentimental Journey"/"Journey to the Past".  Remembering her first time "Blame It on My Youth" and remembering love above all with "All TheThings You Are"/"My Romance" and a gorgeous "Toys in the Attic".
"Next to Ab-Normal" is truly a romanticists dream come true.  Loni's dream.  Hopefully they'll make a live recording of the show.  Mistakenly identifying her as Loni Anderson at curtain call Loni Ackerman, trouper that she is, handled the blip with great aplomb.
Photo: Alex Hering
www.metropolitanroom.com 34 West 22nd Street 212 206 0440
$20.00 cover/two drink minimum
Tags: No Comments