Tuesday, January 12th, 2010 – "A lot important things became unimportant today"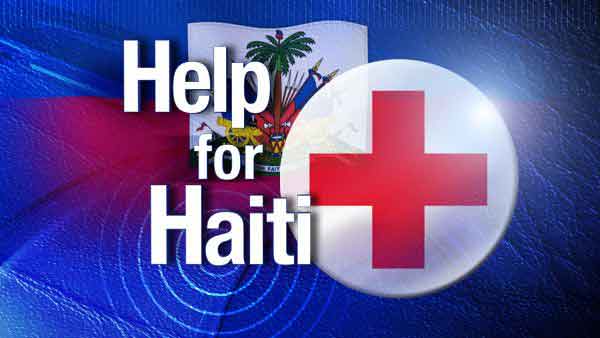 Help for Haiti: Watch live hourly updates starting at 9:00 a.m on Channel 7 and 7online.com on Friday. Click here.
Here's a list of organizations accepting donations to help Haiti:
AMERICAN RED CROSS
Text "HAITI" to "90999" to make a $10 donation. The amount will be added to your next phone bill. The organization is also accepting donations through its International Response Fund.
2025 E Street, NW
Washington, DC 20006
(800) REDCROSS (800-257-7575)
INTERACTIONInterAction, a coalition of U.S.-based international non-governmental organizations, has a list of agencies responding and how to donate to them. Find it here: http://www.interaction.org/crisis-list/earthquake-haiti
WYCLEF JEAN'S HAITIAN YELETo donate $5 to Wyclef Jean's Haitian Yele charity, text 501501. The money will be added to your next phone bill.
To find out how to help the International Rescue Committee, visit www.theIRC.org or call toll free, 1-877-REFUGEE.
US DEPARTMENT OF STATE
The State Department has set up a toll-free number to call for information about family members in Haiti: 1-888-407-4747. www.state.govSecretary of State Clinton has set up an aid line that people can use to send money to support Haiti relief similar to what was set up to support refugees in Pakistan earlier this year. Cell phone users can text "haiti" to 90999 and $10 will go to relief efforts in Haiti. The $10 will show up on your phone bill.
AMERICARES
88 Hamilton Avenue
Stamford, Conn. 06902
(800) 486-4357
www.americares.org
MERCY CORPS
Dept. W
P.O. Box 2669
Portland, Ore., 97208-2669
(888) 256-1900
donate.mercycorps.org
OXFAM AMERICA
226 Causeway St., 5th Floor
Boston, MA 02114-2206
(800) 77-OXFAM (776-9326)
THE SALVATION ARMY
615 Slaters Lane
P.O. Box 269
Alexandria, VA 22313
SAVE THE CHILDREN
Haiti Earthquake Children in Emergency Fund
54 Wilton Road
Westport, Conn. 06880
(800) 728-3843
WORLD VISION
Haiti Earthquake Relief
P.O. Box 9716
Federal Way, Wash. 98063-9716
(888) 511-6548
CARE
151 Ellis Street
Atlanta, Ga. 30303
(800) 521-CARE (521-2273)
DOCTORS WITHOUT BORDERS USA/MEDECINS SANS FRONTIERES (MSF)
333 7th Avenue, 2nd Floor
New York, NY 10001-5004
(888) 392-0392
INTERNATIONAL ORTHODOX CHRISTIAN CHARITIES
P.O. Box 630225
Baltimore, Md. 21263-0225
(877) 803-4622
U.S. FUND FOR UNICEF
125 Maiden Lane
New York, N.Y. 10038
(800) FOR-KIDS (367-5437)
FOOD FOR THE POOR
www.foodforthepoor.org
CONCERN
Donation Phone #: 800 59-CONCERN
Donation Address:
104 East 40th Street, Room 903
New York, NY, 10016
www.concern-worldwide.orgConcern Worlwide US calls on the public for urgent support to allow the agency to provide food, water, shelter and medicine as the immediate priority for those that have survived the catastrophe.
CATHOLIC MEDICAL MISSION BOARD
Monetary contributions can be made by sending checks, payable to CMMB-Haiti, to CMMB, 10 West 17th Street, New York City, New York 10011, or by calling 1 800 678 5659. Pledges can also be made via the CMMB website, where an ad appears, cmmb.org, or by a direct web link: http://support.cmmb.org/Haiti.
Donated medicines and medical supplies are also being accepted by CMMB. To make these donations, please contact Kathy Tebbett, at 1 212 242 7757.
For information on how to support or donate to the relief effort, please visit www.nj4haiti.org or call Jefferson Park Ministries at 908-629-0041. Jefferson Park Ministries will also be holding grief counseling every night starting Thursday, January 14 from 6-10 p.m. at Madison Avenue in Elizabeth, New Jersey.
UNICEFCall 1-800-4UNICEF or visit secure.unicefusa.org
OPERATION USAOperation USA is appealing for donations of funds from the public and corporate donations in bulk of health care materials, water purification supplies and food supplements, which it will ship to the region from its base in the Port of Los Angeles.

To make a donation, by phone call 1-800-678-7255 or online at www.opusa.org.

Send a check to:
Operation USA
3617 Hayden Ave, Suite A
Culver City, CA 90232

STILLERSTRONGBen Stiller's Stillerstrong campaign will temporarily diverting all donations to support the Haiti relief effort.

To make a donation, www.stillerstrong.org

MERCY CORPSMercy Corps is sending a team of emergency responders to assess damage, and seek to fulfill immediate needs of quake survivors.

To make a donation, visit www.mercycorps.org/haiti. To donate by phone call 1-888-256-1900

Send a check to:
Mercy Corps Haiti Earthquake Fund; Dept NR
P.O. Box 2669
Portland, OR 97208

DIRECT RELIEFDirect Relief is committing up to $1 million in aid for the response and is coordinating with its other in-country partners and colleague organizations. Their partners in Haiti include Partners in Health, St. Damien Children's Hospital, and the Visitation Hospital, which are particularly active in emergency response.

To make a donation, click here.

INTERNATIONAL MEDICAL CORPSTo make a donation, please visit www.imcworldwide.org.
Tags: American Red Cross · HaitiNo Comments