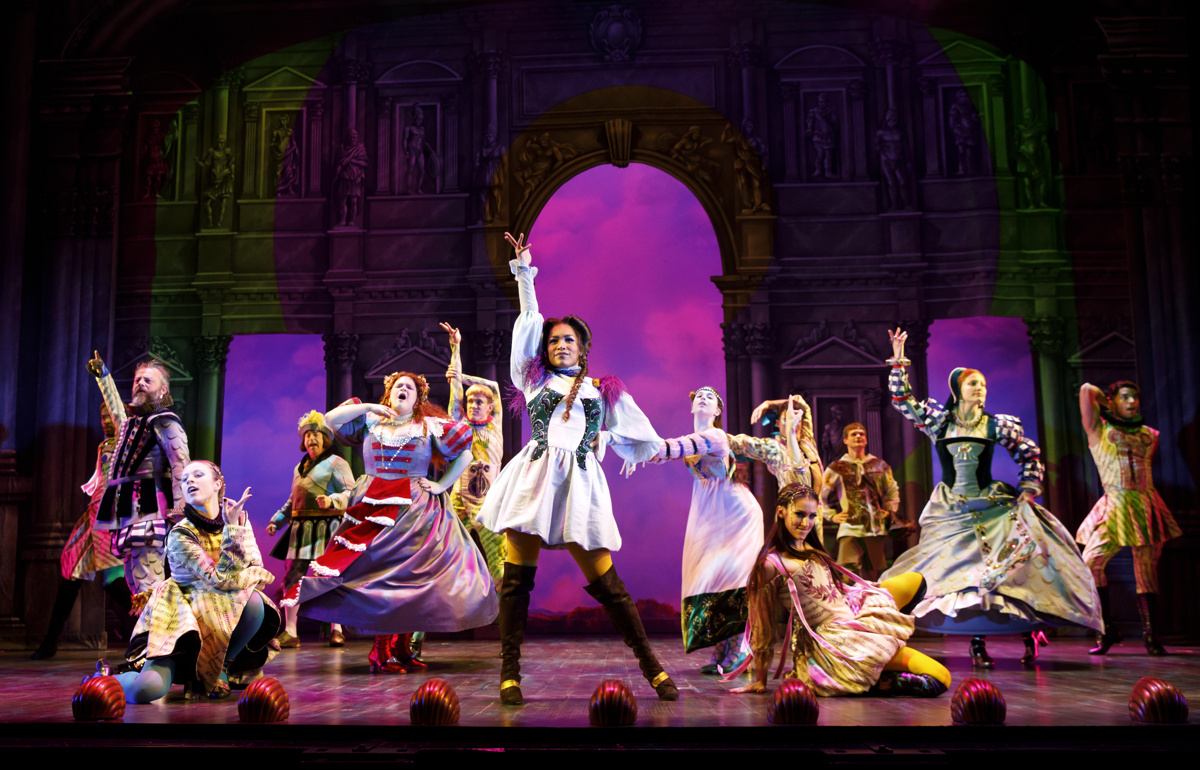 Ah!  Love!  What is love but a four letter word?  A word much used and oft abused.  It can mean a multitude of things and comes in all kinds of combinations and varieties.  Everyone at one time or another has been in or out of this simple yet terribly complicated word.
It can lead to bliss or a serious case of the blahs.  It can be quite expensive.  Demeaning.  Demented.  In tennis "love" means zero.  Something to think about…
And so, dear reader, we arrive to experience love in all its magnificent and all-inclusive glory.  Bursting forth at the Hudson Theatre in a most enjoyable new musical HEAD OVER HEELS in the Kingdom of Arcadia.  Get thee hence quickly to see this boisterous, bawdy and beautiful production.  In plain English GO!
Fear not the archaic Elizabethan language that has been updated to easily understandable witticisms by Jeff Whitty (original book) and James Magruder (adapter).  I hesitate to mention that it is based on an Elizabethan "pastoral romance" The Countess of Pembroke's Arcadia by Sir Philip Sidney as it might further make you hesitate to see this inspired, most perfect blend-ship of the Elizabethan age and our age of total acceptance impeccably directed by Michael Mayer.
No detail, of which there are too many to count, is glossed over.  All the details – verbal and visual (Costumes by Arianne Phillips and Set Design by Julian Crouch are magnificent) – add up to an evening of mad-cap lunacy that beguiles.
HEAD OVER HEELS is balanced exquisitely by the songs of the GO-GO's.  Lest you be unfamiliar as I was, dear reader, fear not again as the songs somehow fit the plot as easily as the foot of Cinderella eased into that infamous glass slipper.  Written by an all-female pop band in the 1980's:  Charlotte Caffey, Belinda Carlisle, Gina Schock, Kathy Valentine and Jane Wiedlin, these songs will certainly get your heart pumping.
Do I dare say that HOH is a Valentine to all lovers?  Especially "We Got the Beat" that picks up the throbbing heartbeat of all those lovers on stage with the terrific arrangements and orchestrations of Tom Kitt.
The choreography by Spencer Liff is totally original and perfect for the intermingling of the two distinct periods.  For once we do not see the ubiquitous tap/show stopping number.  His unique movements, executed by expert dancers are all eye popping WOW inducing show stoppers.   All brilliantly lit by Kevin Adams.
Now, dear reader I have not yet spoken of the plot as it is a bit convoluted.  But I have faith that you will fully grasp all the humor presented by this group of excellent thespians.
There is the stubborn King (a charming Jeremy Kushnier) and his equally headstrong Queen (a radiant Rachel York).  Their marriage is on the rocks and so is their Kingdom due to a doomsday prophesy by Pythio (The Oracle of Delphi – a viper – brilliantly portrayed by Peppermint, who just happens to be the first transgendered woman to create a principal role on Broadway.
Two daughters:  Pamela the Vain in a star making performance by Bonnie Milligan who all but stops the show twice (once with a recitation of some poetry and then with a jealous hissy diva fit in song) and Philoclea the Plain (Alexandra Socha) who is in love with a lowly shepherd Musidorus (Andrew Durand – another standout) as he is with her.  And this is where things can become complicated as in all relationships.
The shepherd is banished and returns as an Amazon woman to woo his love, the Plain sister.  The Vain falls for him/her as do the Queen and the King.  Act II has a brilliant shadow play of a jolly simulated sex scene in silhouette…it has to be seen.
To complete the court of Arcadia are Dametas (Tom Alan Robbins) the King's viceroy and his daughter Mopsa (Taylor Iman Jones) who falls in love with…
Dear reader, I have already said too much.  You must now buy your ticket and bring along a loved one or two.  If what I have described is not to your liking I suggest you try to widen your vistas; embrace and celebrate one another with hearty laughter and the heartbeat of the Go-Go's.
Believe me, you will have one hell of a good time as evidenced by the loud and positive buzz of the audience during intermission.  I myself have seen the show twice and would gladly revisit Arcadia again and again.
www.headoverheelsthemusical.com
Photos:  Joan Marcus
Visit www.TalkEntertainment.com
Tags: No Comments