Are you up to the challenge?  Are you willing to commit both time and that all important commodity, money, into seeing this once in a lifetime theatrical experience?
This is a stunner of a play.  Actually two plays.  Part one, 2 hours and 20 minutes.  Part two, 2 hours and 35 minutes.  Plus 2 twenty minute intermissions.  And if you see them both in one day, as I did, a dinner break.
I have just recovered from "Potter Fatigue" after viewing this British import in all its glory that is still running in London and Melbourne.  Its New York City home, The Lyric Theatre on West 43 Street, has been beautifully refurbished.
HARRY POTTER and the CURSED CHILD is a banquet of words.  You sometimes feel that they are about to sing.  But no.  They talk.  Lots of exposition.  From an original new story from J.K. Rowling, Jack Thorne (who is credited with writing the play) and John Tiffany its director who has done an amazing job along with movement director Steven Hoggett.  Both perfect choices to helm this production.
It's also a feast for the eyes.  Monumental set design (Christine Jones) Costumes (Katrina Lindsay) and brilliant lighting design Neil Austin will leave you feeling stuffed and satisfied and somewhat bewildered at times.  Yet full of wonderment and awe from witnessing some of the most incredible illusions and magic created by Jamie Harrison.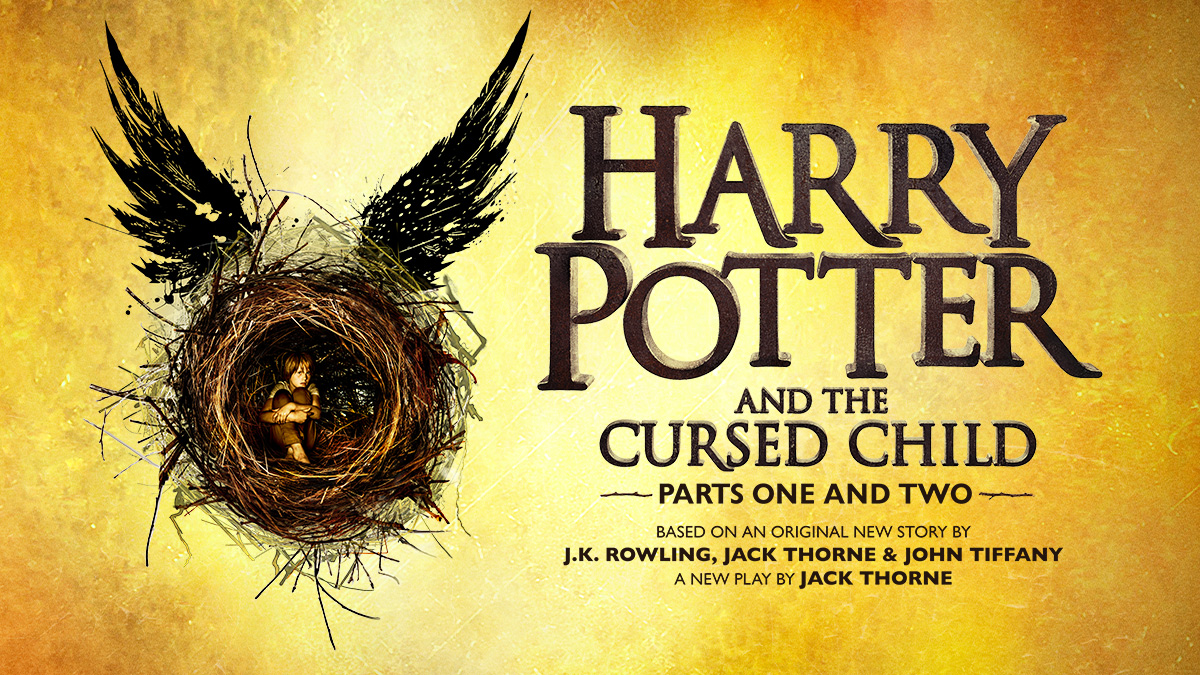 J.K. Rowling is the genius mind behind the Harry Potter franchise.  Seven books, the first published in June 1977 after being rejected numerous times by publisher after publisher, breakthrough cinematic versions, a theme park and numerous other money magnet enterprises connected to her Wizard.
She created not only memorable characters, but universal themes about friendship, parenting, growing up, destiny and the forces of evil.  Most of our favorite characters are present.  They have grown up physically while retaining some of their younger characteristics.
It is nineteen years after the seventh book and Harry is 37.   An amazing performance by Jamie Parker has him back at Platform nine and three quarters as he sets his son Albus (an excellent Sam Clemmett) off to Hogwarts where Harry was considered to be the best wizard there ever was.  A problem that Albus has to contend with which leads to troubling issues between him and his dad.
Harry is married to Ginny – a more than fine Poppy Miller.  Her brother Ron Weasley, still my favorite character, is with the clever Hermione – Noma Dumezweni who is excellent but a rather odd choice to play this character that takes a bit of adjustment for traditional Potter fans.
Having Albus bond with Scorpius, the son of Draco Malfoy (Alex Price) who was the arch enemy of Harry is a brilliant idea that sets us off on this new, lengthy and convoluted journey.  He too has daddy issues.
Anthony Boyle portrays Scorpius with wry humor and occasionally unintelligible speech.  This a combination of the original music by Imogen Heap that can overshadow the dialogue, his British accent and the sound system.
I was seated in the fifth row and had trouble hearing him and others.  The large speakers above flushed the sound out to the auditorium and laughter could be heard behind me at the jokes while the front orchestra section remained silent.  I note this only because the rest of the production is so good that it is a shame that these prime seats have a problem with the sound.
Swirling capes, flights of castle stairs, surprises galore, talking portraits, a back to the future "time turner" – fine video design by Finn Ross & Ash Woodward,  a wonderful cameo by Lauren Nicole Cipoletti as Moaning Myrtle and the sudden friendship between Delphi Diggory (a great Jessie Fisher) and Albus and Scorpius as they try to save…
I have been sworn to "keep the secrets" – so it is up to you to take the challenge to find out what happens.
As I mentioned, this is a once in a lifetime theatrical experience that must be seen to be believed and you may still find it hard to believe what you see!
Photos:  Matthew Murphy
Visit www.TalkEntertainment.com
Tags: No Comments