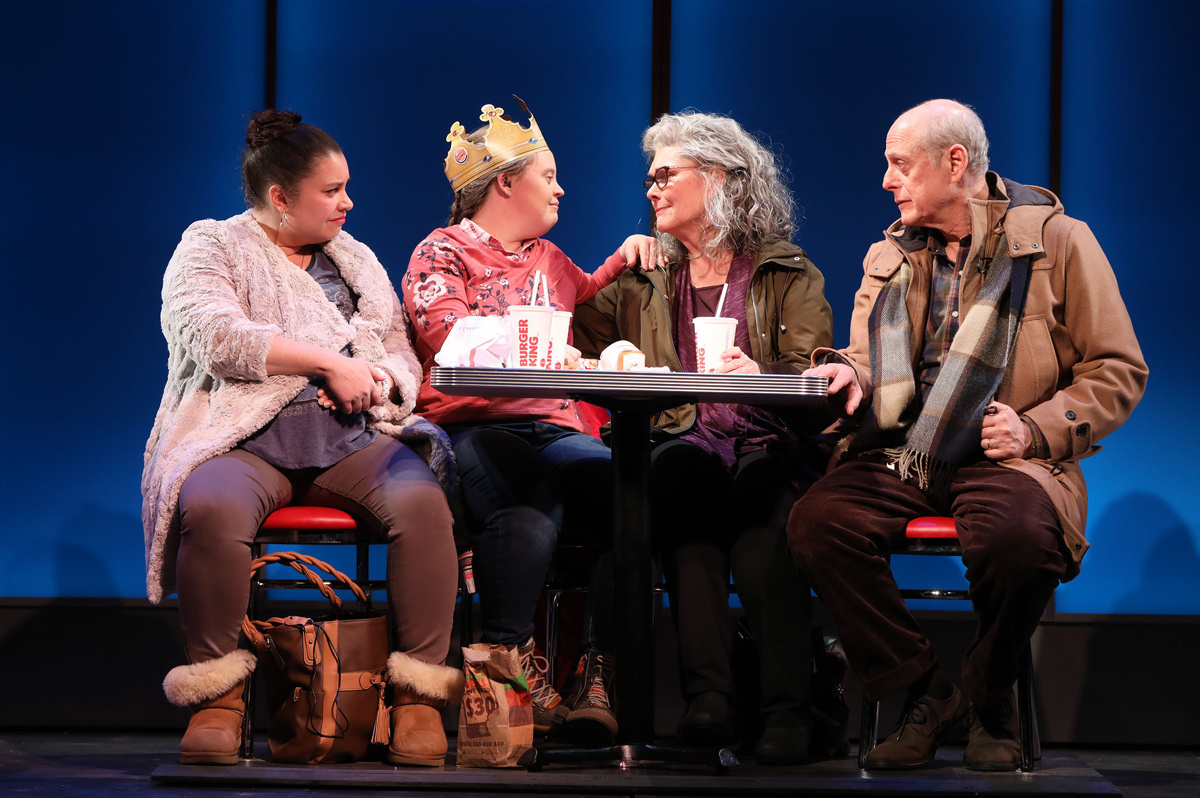 What would you do?  You are happily married with two children (a boy and a girl) and have just given birth to a third – a girl who the doctor has, unfortunately, told you is a "Mongolian idiot" who "will never learn to read, write or possibly even sit up on her own."  A direct quote from playwright Lindsey Ferrentino's notes from the Playbill where her insightful, brave, and quite funny play AMY AND THE ORPHANS is playing at the Laura Pels Theatre – a wonderful Roundabout production through April 22nd.  I advise you to see it.
It is based on the true life events of Lindsey's aunt Amy who was born with Down syndrome and her disconnected siblings here represented by Maggie (a profoundly funny Debra Monk) and Jacob her 61 year old brother (Mark Blum in true sibling rivalry form in trying to out funny his sister).  They have arrived in Queens from Chicago and Los Angeles to see Amy, their hardly ever visited sister who has been relegated to hospitals and state supported institutions after being abandoned by her parents on the advice of her doctors that it would be for the best.   Was it?
They have been reunited on this Thanksgiving holiday weekend because their father has died and they have to break the news to Amy who is now protected and guided by a no nonsense Italian caretaker Kathy (an extremely funny, honest and wise Vanessa Aspillaga) who is pregnant and does not hold back with her views on anything including Thanksgiving stuffing.
Down syndrome is a born with genetic disorder with no cure.  It can effect growth, speech and the ability to lead a fulfilling life.  Just don't tell that to our Amy portrayed by Jamie Brewer who has Down Syndrome.  She gives us insight as to what someone who has the affliction can accomplish.  She is an inspiration to one and all.  To her it is not an affliction, it is just a part of her being.
We first meet Sarah (Diane Davis) and Bobby (Josh McDermitt) as they attend a symposium to help them get through some troubling times.  Married with two children Sarah has given birth to another girl with a troubling future and they have some major decisions to make.  They are excellent and we will meet them again throughout the play and as you might have already guessed they are the parents of Amy.  And it is Bobby's death that reunites the three siblings.
Amy has a job in a movie theater.  She loves movies and watches them on her tablet.  Her boyfriend is Nick Nolte and she is fond of movie quotes and the color red.  She prefers friends over family.  She is sharp and independent which surprises Maggie and Jacob who treat her like a child.
It is on the way to dad's memorial in a car driven by Kathy (at her insistence) out on Long Island that we get to known this foursome a lot better and the history behind Amy and her ordeal in a horrible state institution on Staten Island, Willowbrook also known as "the snake pit."
Rachel Hauck is responsible for the simple and functional set that allows the various locations to quickly appear without the aid of visible cumbersome stagehands in this ninety minute packed with information and darkly funny dialogue with a punch that is clear as a bell and no intermission.  Bravo to one and all, especially to Scott Ellis its director.
The playwright has requested that the part of Amy be portrayed by a person with DS.  Nicely done here by Jamie Brewer.  Her final inspiring monologue of famous quotes from famous movies is a knockout.
In addition, Lindsey Ferrentino has adapted her play to enable Edward Barbanell to partake as ANDY at some performances.  An equal opportunity playwright.  Very nicely done.
Photos:  Joan Marcus
Visit www.TalkEntertainment.com
Tags: No Comments