"Bursting with energy and eagerness"  "Conveys a note of honest emotion underneath the clowning" wrote Howard Taubman, New York Times theatre critic on March 27th 1964 in reviewing Barbra Streisand in Funny Girl. 
These same quotes can also apply to the incandescent performance of Nina Arianda as the mysterious Vanda in David Ives' Venus in Fur.  Not since Streisand have I been so impressed with a talent such as Nina Arianda possesses. 
There are not many parts that seem to be tailor made for the actress playing them.  There are not many parts that can catapult an actress into instant stardom.  Vanda is both for the incredibly talented Ms. Arianda who has to be a 21st century ditz and an 18th century dominatrix, both comic and dramatic changing from one to another in a heartbeat.  Her performance is a wonder to behold.  Not only is she a natural with impeccable instincts but she is smart.
But it takes two to tango.  Enter her co-star Hugh Dancy who also has two characters to portray.  Thomas, the writer/director of the play he is auditioning actresses for and the nobleman made submissive slave in his play-within-a-play that is based on Leopold von Sacher-Masoch's erotic novel Venus in Furs.  Mr. Dancy is the perfect match for Ms. Arianda.  They have explosive, heated chemistry that is a kinky voyeur's dream come true.
Who's on top?  Who has the power?  It's a battle between director and actress.  A struggle between mistress and nobleman.  All done with a bag of props and costumes that Vanda has brought with her to get the part she is perfect for whose character's name is Vanda.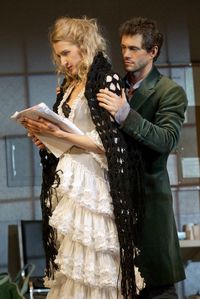 Thomas has gone through 35 incompetent actresses, as he tells his fiancée Stacey on the phone – searching for a sexy, articulate and youngish woman and is about to give up when Vanda bursts into the rehearsal studio during a thunder storm with a seemingly wet umbrella – late – having been stuck on the subway and then finding her name not on the list. Fuck, Fuck fuck fuck fuck has never been so amusing.
She persuades Thomas to let her read for the part.  She has a script.  Impossible.  No one has the script.  She knows the lines.  How?  She knows how to adjust the lights.  She begins to take over, has ideas about the direction and the writing.  Who is she?  Good question.
I feel that the playwright Thomas aka Ives has conjured her up as his ideal woman and she, Vanda, is completely of his imagination.  Sex play and all.  I cannot prove this nor is it implicit in the writing of David Ives.  But he is so smart and so clever – who knows?
The other brilliant person involved in this production is director Walter Bobbie who served the same function for Mr. Ives' School for Lies – which was incredibly witty and produced by the Classic Stage Company where Venus in Fur also started.  Mr. Bobbie knows how to take his time on stage with his actors and knows just the right detail and nuance to make both performances soar.
But the play itself, ummm, I feel it's too long (almost two hours without an intermission) and repetitive and sometimes we wait for the antics of Vanda to perk up the proceedings which she does without a doubt, magnificently.
To quote Sam Lesner, The Chicago Daily News June 6, 1963  regarding Ms. Streisand – "Sparkling and fresh"  "Quite new and exciting."  Ditto for Nina Arianda!
www.venusinfurbroadway.com                            Photo:  Joan Marcus
Produced by Manhattan Theatre Club at the Samuel J. Friedman Theatre
Tags: No Comments