MURDER BALLAD – a lusty rock opera fable for our times
REVIEW will be posted May 23rd, 2013
MURDER BALLAD was originally produced in New Yrok City by the Manhattan Theatre Club
NATASHA, PIERRE AND THE GREAT COMET OF 1812 – from Ars Nova to Kazino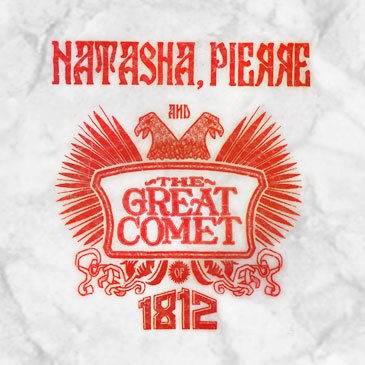 For a truly unique and spectacular theatrical and dining experience head on over to KAZINO – The Meatpacking District "Little Siberia" (13th Street and Washington Street) home to NATASHA, PIERRE and THE GREAT COMET OF 1812 a new musical by the talented Dave Malloy. 
Dinner theater is alive and well and serving up a Russian feast that includes a shot of borsht, perogies, black bread, crudités, shrimp plus dinner and your choice of beverage from an extensive list that is not included in the $125.00 ticket to the extravaganza.
A special tent city has been constructed especially for this Off-Broadway production that had its incubation period at Ars Nova 511 West 54 Street (www.arsnovanyc.com) a tiny little theatre that has housed some unusual productions.  NATASHA, PIERRE and THE GREAT COMET OF 1812 has been super sized, retaining its 19th century Russian supper club atmosphere designed by Mimi Lien.
The audience sits on banquets and chairs around small bistro tables.  We are surrounded by a raised stage that encircles the entire area.  And the actors perform all over the club and may sit down right next to you.  It's somewhat tight and you may be in need of a neck massage at the end of this two and a half hour presentation based in part on Leo Tolstoy's WAR and PEACE but it will be worth it.
Anyone who attempts a sung through musical based in part on WAR and PEACE is either a maniac, an egomaniac or a genius.  You must decide by attending, I can only be your guide.
I had a fantastic time.  The opening number of this "electropop opera" where all the characters are introduced and we are informed to hold onto and consult the program so that we'll know what's going on is hysterical and festive reminding me of The Twelve Days of Christmas.  The program has a full outline of the V parts with an intermission so that you can refill your vodka glass and a Family Tree of the characters involved.  It comes in handy.  But the show is perfectly clear.  And beautiful.  And funny.  And moving, smart and romantic.  The eclectic score is both traditional and modern and Russian with the orchestra scattered around the arena led by a terrific Or Matias.  The performers are all standouts.
The tale is your basic love triangle served Russian style.  Natasha (Phillipa Soo) is torn between her betrothed Andrey (Blake Delong) who is away fighting the war and Anatole (Lucas Steele) a swaggering drunken womanizer whom she meets at the Moscow Opera and immediately has some strange tinglings stirring within.  What will she do?  Will she be betrayed?  Will Andrey ever return?  Will Pierre (Dave Malloy) a scholar and drinker who has little or no sex with his slut of a wife Helene (Amber Gray) be able to console Natasha?
Beautifully directed by Rachael Chavkin and evocatively lit by Bradley King and gorgeously costumed by Paloma Young you will totally enjoy this festive Russian party, leaving impressed, contented, sated and perhaps a little tipsy. 
www.Kazinonyc.com       www.davemalloy.com  Photo:  Chad Batka
FIVE Drama Desk Nominations
HERE LIES LOVE – Imelda Marcos' disco party
The third floor LuEsther Theater at The Public Theater has been transformed into a pulsating neon lit disco where HERE LIES LOVE is performing and you are standing. 
Not a standing ovation mind you but you are literally standing and moving throughout this immersive performance piece/ sung through rock opera about Imelda Marcos and friends by David Byrne (Concept & Lyrics) and Music (David Byrne and Fatboy Slim) – additional music Tom Gandey, J Pardo – unless you request one of the higher box seats.
It's another love triangle of sorts.  Imelda (Ruthie Ann Miles) a poor country girl who sometimes went without shoes wants more out of life – power and money and yes, love.  Her first suitor Aquino (Conrad Ricamora) is quickly replaced by Ferdinand Marcos (Jose Llana) – they remain fierce political opponents while her faithful and best friend Estrella (Melody Butiu) watches from the sidelines.  As does the audience in this high concept, interactive, manipulative musical ingeniously directed by Alex Timbers.  If Imelda and Ferdinand could manipulate the Filipinos why not have a show about them that manipulates the audience?
I can appreciate the production values, the score, the lively choreography by Anne-B Parson, the costumes (Clint Ramos) – that change faster than the years that go flying by covering the highlights and low of Imelda – the terrific lighting (Justin Townsend) and exceptional projections (Peter Nigrini) and the energetic and excellent ensemble of players 
The many moveable platforms (David Korins) have the traffic control crew working hard not to interfere with the actors while herding us around in circles careful that no one trips while boogieing which is encouraged to the catchy music that permeates the action. 
The audience is moved about like a herd of cattle and urged to root for and then despise Mr. and Mrs. Marcos while seeking sympathy for pill popping Imelda who learned too well from her husband.  A philandering husband who treated her as a puppet as their fame and fortunes rose and then fell.
Video cams, actual news footage, photos and songs trace her simple life to the wife of the President and escape to America.  She vows repeatedly that love is all that matters, although to help her people certain ugly sacrifices must be made.
HERE LIES LOVE has been awarded the Outer Critics Circle Award for Outstanding new Off-Broadway musical and has five Drama Desk Nominations.
If you have the stamina and do not mind being led around like a flock of sheep and miss the long gone nights of disco dancing and want to see a unique theatrical presentation by all means go.  Programs are distributed upon exit.  Extended through June 30th.
Visit www.TalkEntertainment.com
Tags: No Comments