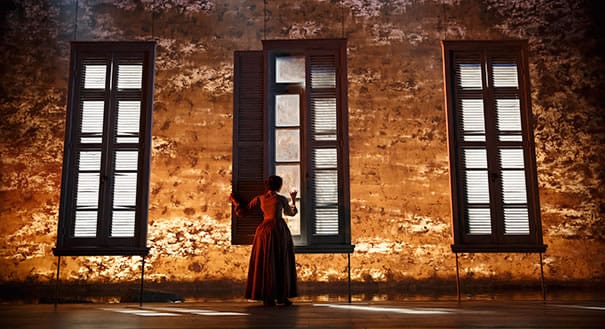 In this dark and sordid saga of a late 19th century French love triangle plus mama the immense sets by Beowulf Boritt – while impressive – all but dwarf the actors in what is in reality an intimate melodrama based on the novel by Emile Zola.  There is even an all-important upstage moat and rowboat for the climatic Act I murder.
After such an elaborate undertaking in the design department it's a pity that the boat doesn't move – even with one of the passengers rowing away – thereby ruining whatever tension had been built up.  What a faux pas by director Evan Cabnet in this latest Roundabout production of ruined love now performing at Studio 54.
On the plus side for Mr. Cabnet he creates some beautiful one dimensional cut-paper silhouette images for the production.  Unfortunately some of the actors are giving one dimensional performances in this new lugubrious adaptation by Helen Edmundson.
As portrayed by Keira Knightley, making her Broadway debut, Therese is a plain woman.  Shy.  Cowering in a corner or staring out of the shutters.  A woman of few words.  Running outdoors towards the sea for some badly needed oxygen – trying to escape the suffocating atmosphere in a household where it has been arranged by the overprotective Madame Raquin (Judith Light) for a terribly repressed Therese to be married to her sickly, petulant and selfish son Camille (an excellent Gabriel Ebert) who happens to be her first cousin.  Not a good idea.
One Thursday night at the weekly domino game with friends – Monsieur Grivet (Jeff Still) Superintendent Michaud (David Patrick Kelly) and his beautifully bonneted niece Suzanne (Mary Wiseman) Camille brings along the handsome and rakish Laurent (Matt Ryan – appearing with the permission of UK Equity)  Another plus.  A childhood friend now an unhappy lawyer and would be painter.
Therese suddenly perks up.  Alone she uses the top of a chair to help alieve her pent up frustrations until she secretly gets the real thing – Laurent in her bedroom between her legs where they mate in a most animalistic way.  They become lovers – although I found it difficult to believe that Laurent would be attracted to such an outwardly unattractive and quiet woman.  Perhaps it was the Raquin family money?
They plot to kill Camille in the infamous moat/boat scene.  What follows is the downward spiral of the affair and the aftermath of what happens when Mama overhears some facts that she shouldn't hear and has a stroke.  Not of luck but one of the paralyzing kind that hurtles us into melodramatic territory and a tragic conclusion.
The production is visually attractive yet dark.  However, the lighting design by Keith Parham saves the day.  Some of the best I've ever seen – beautifully illuminating a show that sorely needs it.  On sale through January 3, 2016.
Photos:  Joan Marcus
Visit www.TalkEntertainment.com
Tags: No Comments