There's no stopping people's wagging, malicious, slanderous tongues.  People love to gossip.  To tear down the reputation of their friends.  To exaggerate.  Isn't it fun?  In the case of the Richard Brinsley Sheridan's 18th century revival of "The School for Scandal" now at the Lucille Lortel Theatre through May 8th the answer is a resounding yes.
We have to thank the Red Bull Theater and director Marc Vietor for breathing fresh and inventive life into this old relic that is still quite contemporary in what it has to say about the human or rather inhuman race – our dealings with one another.  Slander et al.
"Gossip Guy" Perez Hilton would fit in nicely and snugly with Lady Sneerwell (a husky voiced viperous Frances Barber) and her intimate group of harpies – headed by the slithery Mr. Snake (an outrageous lime green bewigged Jacob Dresch giving a nod of reverence to Charles Ludlam and Perez Hilton) – Mrs. Candour (a delicious Dana Ivey) – Sir Benjamin Backbite (Ryan Garbayo) a society poet (ahem!) and Mr. Crabtree his uncle (Derek Smith) – all of whom try to outdo one another in spreading the latest dirt.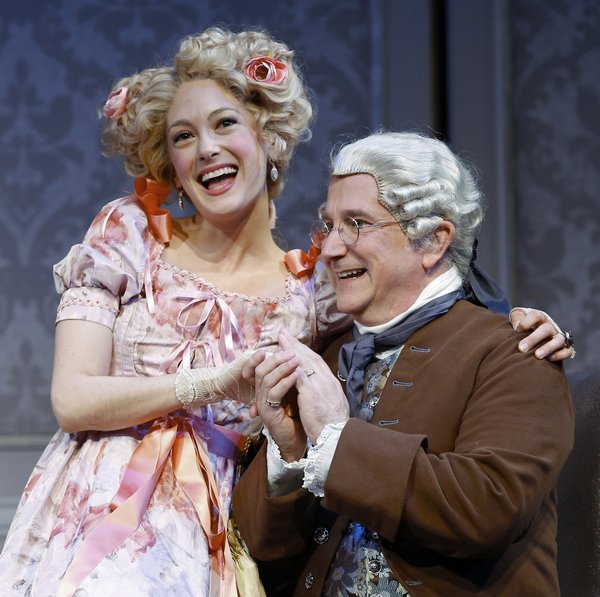 Particularly that which has to do with Sir Peter Teazle (a stellar Mark Linn-Baker – master of the "aside") a wealthy old bachelor who has just married the rather young Lady Teazle (a not so innocent Helen Cespedes.)  She may be from the country but she has a knack for shopping and spending her new husband's money.  And arguing.  And becoming involved with the Surface brothers:  Joseph the elder (Christian Conn) and Charles the libertine (Christian Demarais) both excellent!  Charles has his eyes set on Maria (Nadine Malouf) the serious ward of Sir Peter.  And so the plot thickens…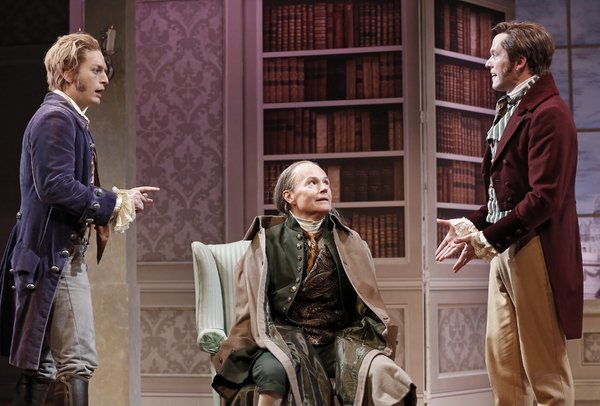 Meanwhile Sir Peter's best friend Sir Oliver Surface (Henry Stram) "lately returned from the Near East" does some identity hiding to determine which of his nephews should inherit – discovering what might be called some surprising traits.
There is also Master Ranji (Ramsey Faragallah) from the Punjab to add some mystique and a trio of servants adding some humor playfully performed by Ben Mehl.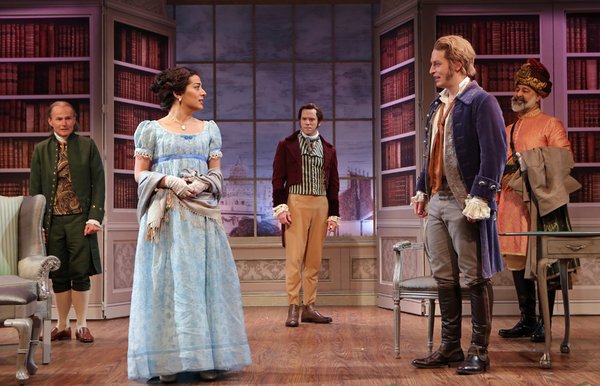 The unit set, sliding screens and folding doors is an extra added attraction by Anna Louizos with first rate costumes by Andrea Lauer and Lighting by Russell H. Champa.  Extra care has been taken in the wig department (Charles G. Lapointe).  The best is that you can hear each and every actor!  No mean feat these days.
Music starts things off splendidly with Mr. Snake writing a nasty letter off to the tune of "I'm Gonna Sit Right Down and Write Myself a Letter" setting the tone immediately.  Other perky music (Greg Pliska) helps with the fluid scene changes calling to mind "The Pink Panther."
All in all they are having a grand time in 18th century London and we are seeing ourselves reflected in 21st century Manhattan warts and all.  What goes around comes around.  Have fun!
Photos:  Carol Rosegg
Visit www.TalkEntertainment.com
Tags: No Comments