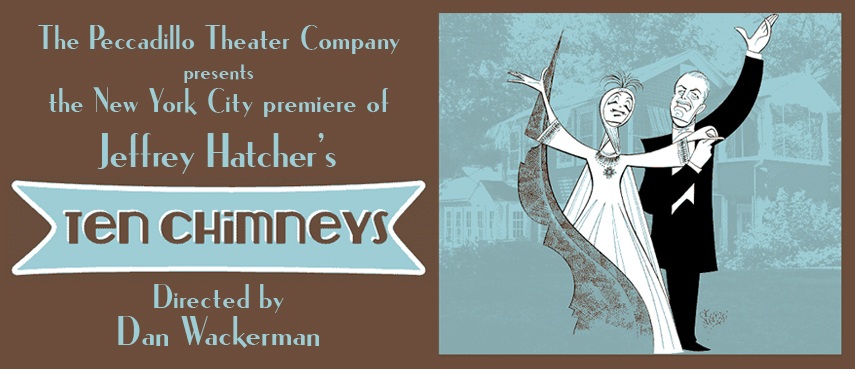 "They don't write them like that anymore," is a comment that is usually heard after seeing a revival of an old chestnut at The Mint, The Actors Company Theatre or The Peccadillo Theater Company.  And it can either be taken as good or bad.
But lo and behold, at the Theatre at St. Clement's, Jeffrey Hatcher has written a very pleasant new play fashioned in the grand manner and in the best tradition of the comedies of Kaufman and Hart called TEN CHIMNEYS – a Peccadillo Theatre Company production under the astute direction of Dan Wackerman. 
Bravo! – for keeping the well made play tradition alive with a fresh and funny production that takes us into the private lives of that dynamic theatrical duo – Alfred Lunt and Lynn Fontanne – married and acting side by side as are the actors portraying them – Byron Jennings and Carolyn McCormick filling their shoes superbly giving exceptional performances.
At home on their estate in bucolic Genesee Depot, Wisconsin, Ten Chimneys – where they spent three months a year before heading out on tour in one of the many plays they became famous for.  Here they are preparing "The Seagull" with fellow cast member Sydney Greenstreet (Michael McCarty) whose infirm wife is in a nearby hospital and conniving newcomer Uta Hagen (Julia Bray) who shows up earlier than expected.
It's a busy household.  Alfred's overbearing mother Hattie Sederholm (Lucy Martin) fond of bright dresses and not so fond of Lynn – it's no wonder see lives in a reconverted chicken coop – his frustrated half sister relegated as caretaker Louise Greene (Charlotte Booker) and half brother Carl Sederholm (John Wernke) who is fond of pool and gambling whose job it is to act as chauffeur.
There is an underlying, unsaid and unseen tension in the form of Alfred's former college room mate Ray Weaver who happens to be visiting nearby.  How close were they?  A sore point that neither one wants to fully confront – they would rather rehearse. 
Which they do with hysterical results and some wonderful barbs and sarcastic remarks by the lovely Miss McCormick as the delicate English lady looking ravishing in the gowns supplied by designer Sam Fleming – married to the farm boy who still loves to garden. 
What a perfect pair together despite her jealously of the younger Uta playing Nina – a part that Alfred's mother keeps reminding us she played.  The plot of "Ten Chimneys" mirrors that of "The Seagull".
The handsome, elaborate and detailed set by Harry Feiner is excellent in its rendering of the Act I Pool Area circa 1937 and then the inside of the Studio (that Noel Coward calls home when there) for the second act.  The last scene of the play takes place 8 years later and perhaps they could figure out a way to make that scene change a bit faster?
The dialogue sparkles with wit, becoming quite serious towards the end.  You will learn something about their technique, hats, crying on cue and tips about make-up and timing.  And about how the Lunts stayed together as a team – on stage and off – despite their unconventional lifestyle which is only hinted at here.
Enlightening, charming and thoroughly entertaining.
Photos:  Carol Rosegg
Visit www.TalkEntertainment.com
Tags: No Comments