Romeo and Hamlet.  Doesn't the title say it all?  I mean this play is part of GAYFEST NYC 2010.  And writers R. Jonathan Chapman and Kevin Stefan have concocted a combination of Shakespeare's tragedies Hamlet and Romeo and Juliet, put both scripts into a mix-master and come up with what is supposed to be a clever revisionist story that has Hamlet (Craig Wesley Divino) about to marry Juliet (Ellen Adair) who acts as if she is mad Ophelia and Romeo meeting Juliet at the ball that Claudius (Peter Reznikoff) is throwing in honor of his new marriage to Gertrude (Kate Levy).  Wherein Romeo falls instantly in love with the lovely Juliet.  But that instant has not enough time to take root when Romeo ogles Hamlet and falls as instantly in love with him.  And never the twain shall meet.
Under the direction of Sidney J. Burgoyne, who under normal circumstances and with a better script to work with does an excellent job, seems to be adrift at sea, the same body of water that poor Juliet drowns in because no one can swim to save her life.  He has chosen to liven things up between the many scenes by playing selections from West Side Story and a version of "All The Way" which opens Act II with Hamlet and Romeo awakening after a wild night of who knows what – they don't go all the way in undressing – all the more the pity!
Are we to take this as a tragedy?  Or a comedy?  It seems to want the best of both worlds and winds up somewhere in the murky in between.   The authors' intention to write a story of "marriage equality"  gets lost within the arch faux Shakespearean dialogue, contemporary references and actual words spoken from one of the Bard's characters that is originally spoken by another –  i.e. Hamlet while looking for Romeo "Romeo, Romeo wherefore art thou Romeo?"  There are enough variations on the "to be or not to be" to make your head spin.  There are double entendres flying around like ping pong balls and women playing traditional men's roles.  Quite a mix up in that mix master.
Juliet does fine.  Gertrude, who doubles as Friar Laurence ready to marry the two heroes takes first place in the acting department.  Her bag full of ways to kill Claudius is truly funny and the highlight of an otherwise tepid production.
But the whole point of this festival is that all proceeds go to the Harvey Milk Scholarship Fund – for the Harvey Milk School "a voluntary NYC public high school focused on the educational needs of teenagers who are in crises or at risk of physical violence and/or emotional harm in traditional educational environment."  It's a great cause.  So even if Shakespeare revisited is not your cup of tea you can donate.  Or you could go see the show and prove that this reviewer is all wet.  
Tickets $18.00 at the June Havoc Theatre – Abingdon Theatre Arts Complex through May 16th.  Please check out their other Festival productions.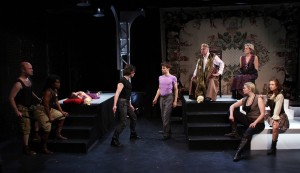 Tags: No Comments