Is this really how the Me-Generation, the I-Generation, the I-Pod, I-Pad Generation thinks and acts to survive and get ahead to achieve what they think they want? 
The answer from young playwright Paul Downs Colaizzo making his New York debut with REALLY REALLY, an MCC production that has been extended through March 30th at the Lucille Lortel Theatre, is a depressing and resounding yes. 
You won't soon forget this group of friends, and I use the term loosely nor will you leave the theatre elated.  As the expression goes, "With friends like these who needs enemies?"
The producers have pulled out all the stops and added bells and whistles to help this effort (it's part of a trilogy "Want, Give, Get") succeed by hiring ace and hot director of the moment David Cromer and Zosia Mamet (dad is David Mamet) to portray Leigh (the ruthless catalyst) and set designer David Korins who has supplied a dizzying set that is reformatted for each scene to show the two apartments with different perspectives (plus other locations) that allow the audience not a moment to be bored.   
Added into the mixture are the rest of the attractive young cast with a couple of guys with enviable well defined muscles and abs on display throughout.
After a night of wild partying where everyone was drunk it's questionable what really went on as Leigh – who wants it all (an excellent Zosia Mamet) accuses rich and studly Davis (Matt Lauria) of taking advantage of her (read rape).  She's had the hots for him forever and her boyfriend Jimmy (Evan Jonigkeit) is away for the weekend.   He said.  She said.  With unexpected surprises and revelations.  Really.
Cooper (David Hull) Davis' roommate dispenses his theories on how to succeed in today's world as does Grace (Lauren Culpepper) Leigh's roommate (who Jimmy detests) with her speeches to her fellow Future Leaders of America.
Johnson (Kobi Libii) is not as well off as the others and so he treads more carefully with his allegiances.  Haley (Aleque Reid) arrives in Act II – to help her sister Leigh with her insane manipulation of her friends and evil machinations in tones so soft most of her words are lost (Mr. Cromer please take note).
Well that's the lot off them.  Act I holds our interest but comes to a jarring close that leaves the audience in stunned silence wondering what happened.  Act II fares less well and perhaps the play would benefit with some cuts that make it into a one act with no intermission.  Really?  Honestly.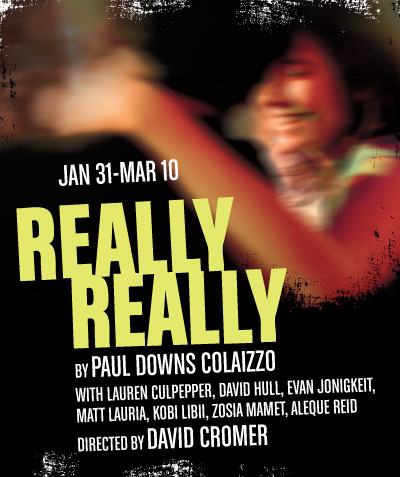 www.mcctheater.org  Photos:  Janna Giacoppo
Visit www.TalkEntertainment.com
Tags: No Comments