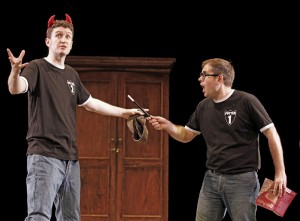 Two funny chaps from London – Daniel Clarkson (the tall one) and Jefferson Turner (the other) have taken on the monumental challenge of presenting all seven Harry Potter novels in a seventy minute children's show for all ages at the unlucky Little Shubert Theatre subtitled – "The Unauthorized Harry Experience A Parody by Dan and Jeff."
Perhaps the hex that hovers in the wings of The Little Shubert has finally been chased away with Harry's magic wand and collection of wigs and puppets and speed speaking that consolidates the massive outpouring of J. K. Rowling's words and three hundred characters that make up the series.
Dan is Harry.  And the Snitch.  Jeff all the others – concentrating on Ron, Voldemort, Snape, the snake, the House Elf, Dumbledore, Draco Malfoy, Hagrid et al – and the Dragon with a very active red tongue from Book four that Jeff has spent most of the budget on.
Potted Potter uses the seven Harry Potter books as its hook – a veritable springboard to display the cleverness and schtick of Dan and Jeff who are at odds with one another from the get go. You need not know the books to enjoy the slapstick antics of these two comics.  In fact Jeff hasn't read number seven and gives us updates during the seventy odd minutes that the show runs.
Akin to another larger show on Broadway – One Man, Two Guvnors – Potted Potter is lots of silly improvisational fun, particularly for the kids.  Some of the lines might fly high over their heads but if they are lucky enough to be chosen to join Dan & Jeff on stage in the highlight of the show – a Quidditch Match – it will be well worth the entrance fee.
Dividing the audience into the opposing teams – the good Gryffindor and the evil Slytherin and using a transparent plastic globe beach ball that bounces back and forth with audience members vying to become part of the action while the on stage young volunteers look for, finally find and chase the Golden Snitch is a hoot and hard to top.
References to Broadway shows (War Horse, Mary Poppins, Wicked and Shrek) add to the frivolity as well as the odd props and speedy patter, amusing projections and magical lighting effects make Potted Potter's Cliffs Notes Off-Broadway version of Rowling's series rapid fire fun.
It may not be what you expect but the unexpected pays off with lots of laughs.  Mayhem, courtesy of director Richard Hurst.
Through August 12th.  www.PottedPotter.com   Photo:  Carol Rosegg
Tags: No Comments