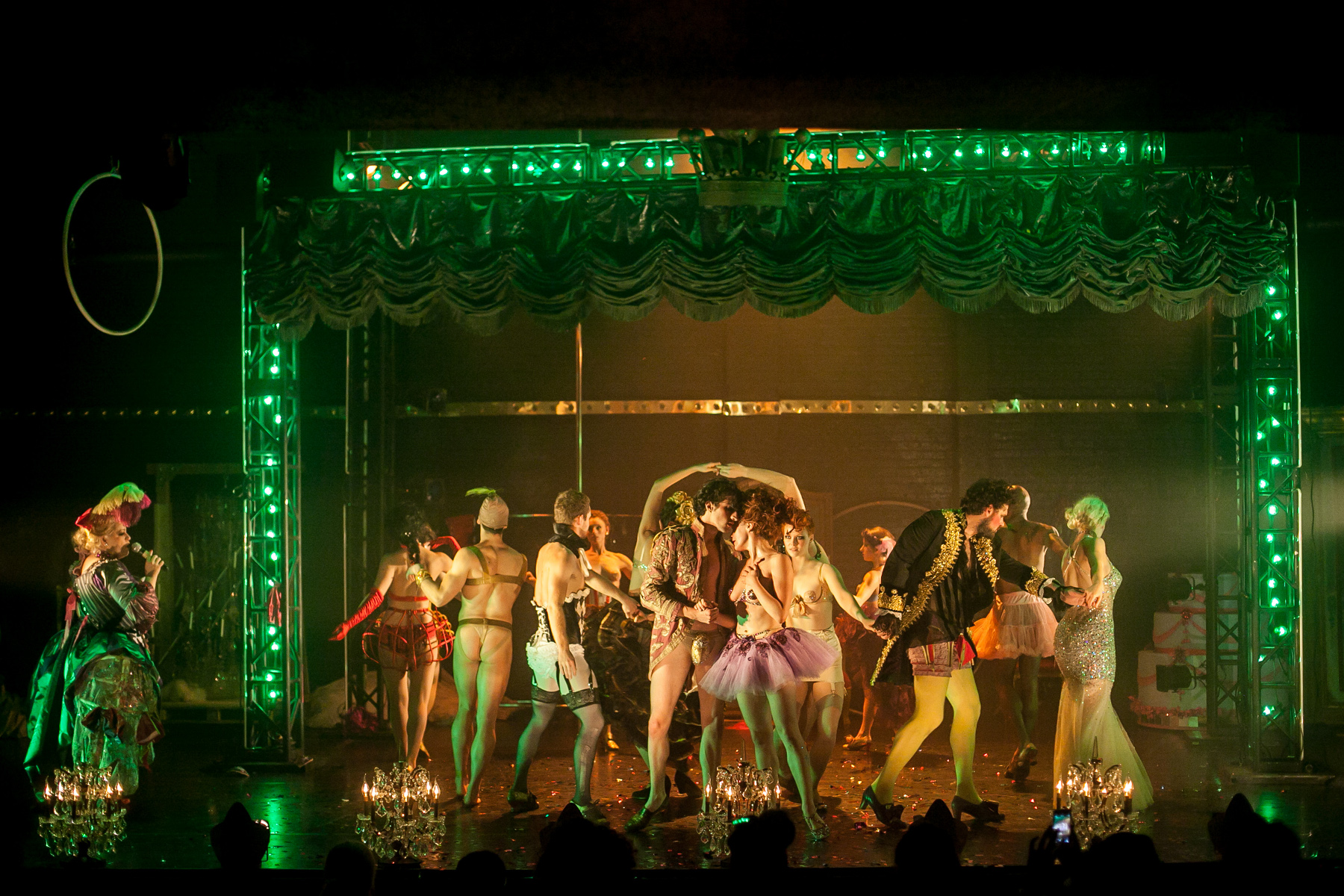 A cornucopia of festive holiday delights "hard, sticky and sweet" are awaiting to tempt you into submission when you attend (and I strongly suggest that you do) this delicious concoction called NUTCRACKER ROUGE at the Minetta Lane Theatre – a voyeur's fantasy come true created by the multi-talented Austin McCormick who has conceived, choreographed and directed his troupe of versatile actors/dancer/acrobats – COMPANY XIV.
In this riff on Tchaikovsky's Nutcracker that is unlike any Nutcracker I've ever seen there isn't an enormous Mouse King but an enormous faux penis decorating the lower limbs of Mr. Takacs, the narrator, who also wrote the script loosely inspired by E.T.A. Hoffman.
Part Burlesque, part Baroque and part Nutcracker this entertainment starts the minute you arrive at the theatre.  There is a holiday spirit alive in the lobby with the aroma of pine wreaths wafting through the air as the patrons of Club Company XIV have a cocktail and await the commencement of this surprising show that allows you a second drink during the break between the acts.
The pre-recorded music ranges from Piaf to Vivaldi to "If I Knew You Were Comin' I'd've Baked a Cake" to the lush music of The Nutcracker.  The fog induced, dream like atmosphere allows us to see what Marie-Claire (a fantastic Laura Careless) sees as she gracefully weaves through the various acts in her Baroque period gown being tempted and seduced by Drosselmeyer (Jeff Takacs – a burly bear of a man) who has given Marie-Claire the infamous nutcracker.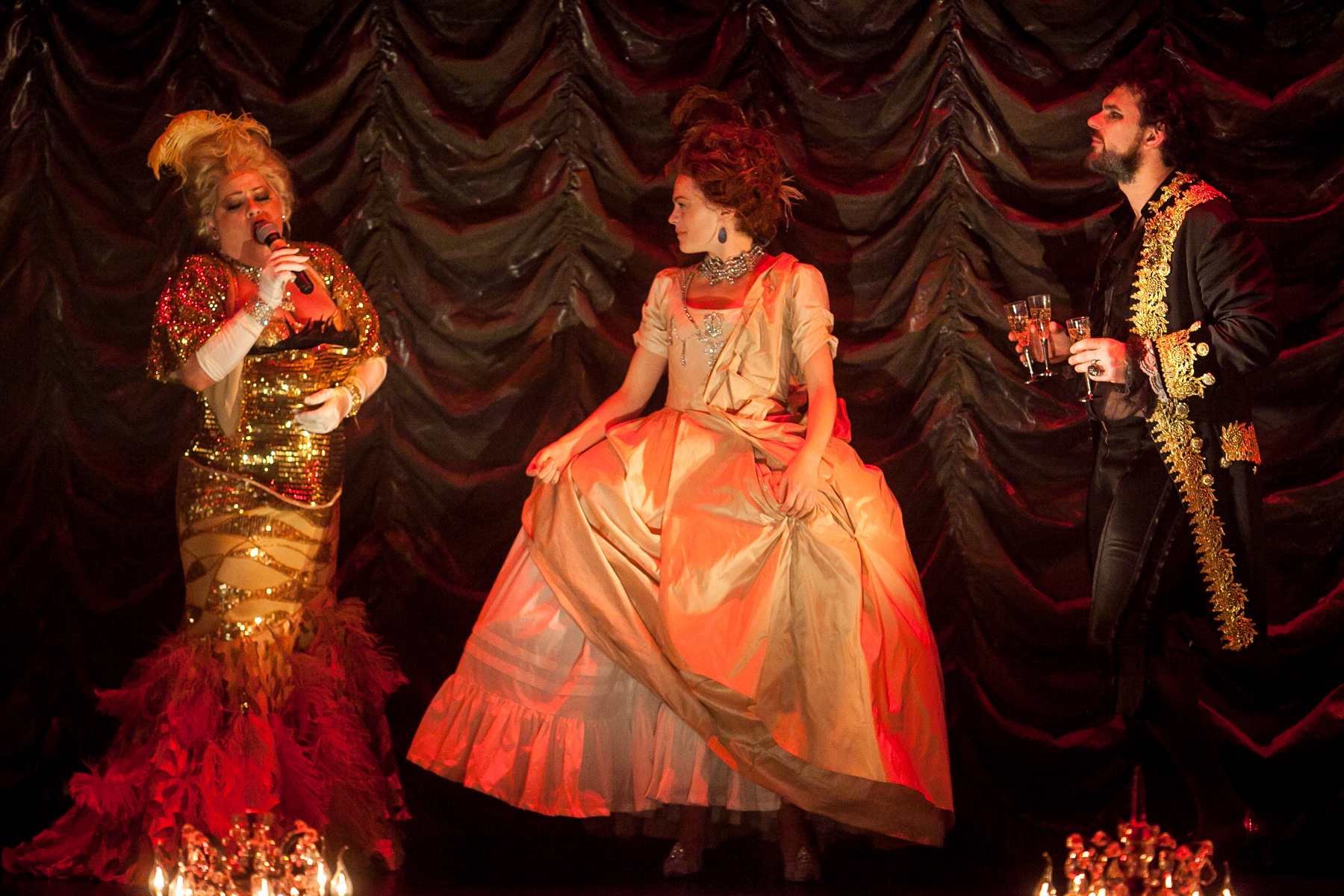 Mrs. Drosselmeyer (Shelly Watson) is the amusing co-host emcee in this extravaganza.  She changes her elaborate costumes (Zane Pihlstrom) often (in the wings) and sings with a strong voice channeling Sophie Tucker and Garland as she introduces such acts as "The Licorice Boys"  "Turkish Delight" (an amazing Nicolas Maffey with an amazing body and amazing gymnastic skills), "Peppermint Candy Cane" (Courtney Giannone – who does wonders with a large hoop twirling herself around and around within it) and the "corps de gorgeous young men" who are cross dressed in corsets, Louis XIV heels and minute bejeweled jock straps exposing their posteriors for full bubble butt effect.
There are strippers too.  Wearing sparkling pasties.  What would burlesque be without strippers and their pasties?  In NUTCRACKER ROUGE they all have a gimmick that will set you a drooling and a twinkling.  A terrific and lovely Katrina Cunningham does just that.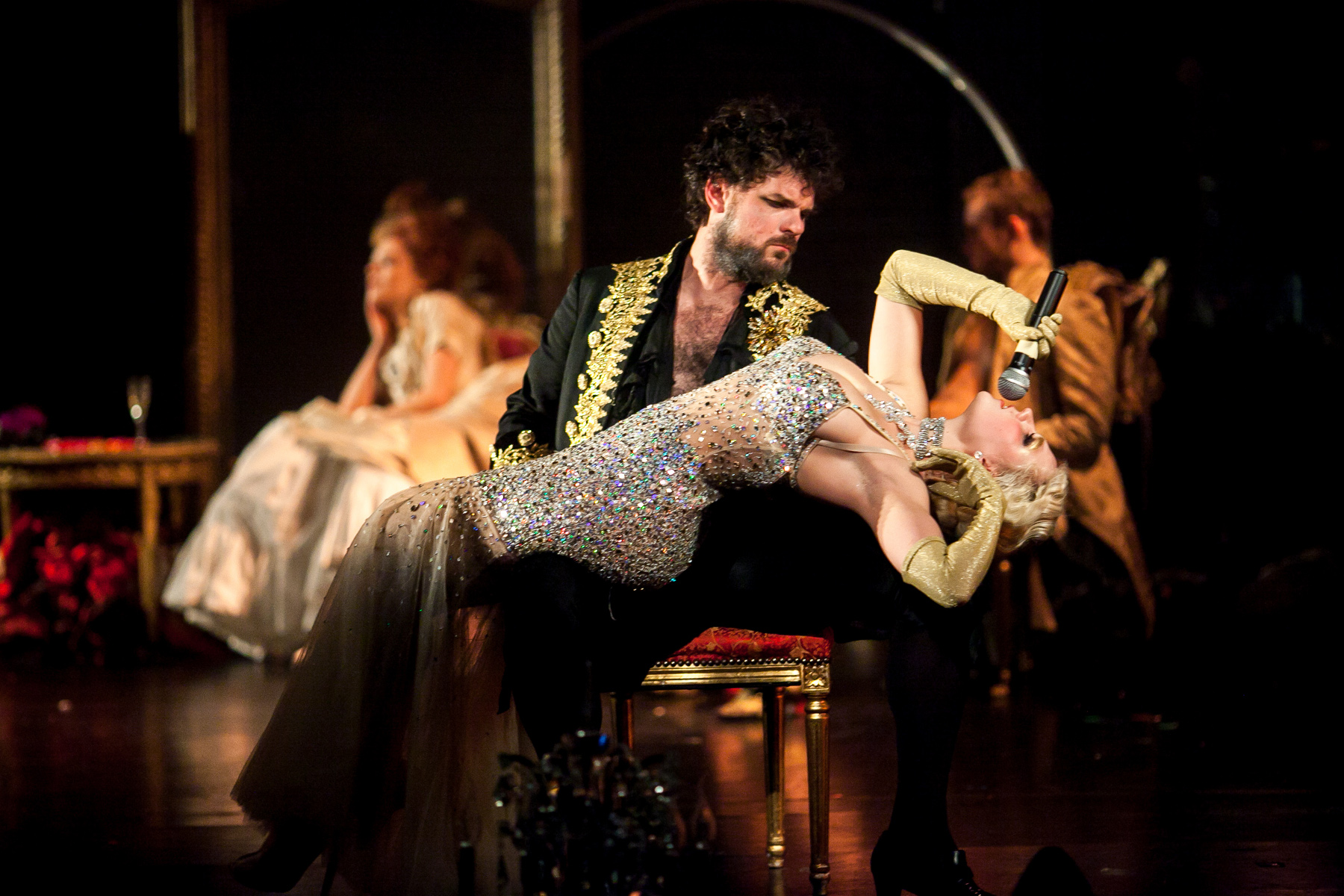 The piece de resistance is a show stopping sexy and scintillating pas de deux danced by the up-to-this-point-demure Marie-Claire and her Prince, Alexander Hille.  Together they are sensational.  Austin McCormick's choreography is at its best here.  He has a distinctive style that is innovative and unusual.  Laura Careless and Alexander Hille deserve the cheers that great them at show's end.  This alone is worth the price of admission ($39.00 – 79.00 Premium 99.00).  No one under 16 will be admitted.
If NUTCRACKER ROUGE doesn't brighten up your holidays and get your jollies jingling nothing will. Tchaikovsky would have loved this naughty and sublime production packed with sugar and spice and so will you.
Through Jan 5th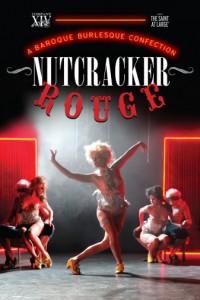 For a sneak preview:  http://vimeo.com/78924041 Photos:  Phillip Van Nostrand
www.companyXIV.com http://www.NutcrackerRouge.com
NOTE:  The cast includes Laura Careless as Marie-Claire, Jeff Takacs as Monsieur Drosselmeyer, Shelly Watson as Madame Drosselmeyer, circus artists Rose Bonjo, Courtney Giannone, Nicolas Maffey and Benn Mendoza, and dancers Marisol Cabrera, Katrina Cunningham, Molly Griffin, Jakob Karr, Nicholas Katen, Kana Kimura, Tyler Philips, Davon Rainey and Alison Ulrich.
Tags: No Comments