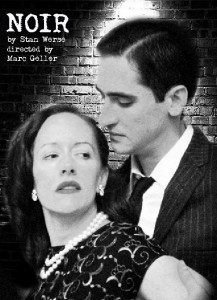 The teaser quote "Love and Murder at First Sight" is a promo from the film "Double Indemnity" but it can aptly apply to a new play by Stan Werse, NOIR, which is being presented as part of the NY Int'l Fringe Fest at the Connelly Theater.  Although of the same genre it is not in the same league.
Director Marc Geller has done a skillful job evoking the dark, cynical, melodramatic and sometimes humorous atmosphere aided by a wonderful sound-scape by Jack Kennedy and lighting design by Daniel Dungan with some spot on costumes by Ashley Rose Horton.
NOIR starts off brilliantly.  Gunshots.  A wailing sax.  Spotlight on McQue (a seriously blunt and wry Michael McCoy who captures just the right balance between cynicism and ironic camp) as he begins his staccato narration in this homage to the detective thrillers of the late forties and early fifties.  A combination of Mickey Spillane's Mike Hammer, Dragnet's Joe Friday and characters found in the period black and white films such as  "Double Indemnity" .
Marc Geller knows the style and his gift for dead pan comedy pays off in spades here despite the failings of the convoluted script which rambles on a bit too much and too long, the playwright not deciding whether NOIR should be serious or serious fun.
Honest to a fault rookie cop Clay Holden (Darrell Glasgow) is the darling protégé of Norbert Grimes (Andrew Dawson) who is there to teach him the ropes for his first big case and tell endless stories that wander far from the plot at hand.
Clay meets up with Helen Lydecker (Abby Royle) a rich widow who sometimes sings and seduces him into rescuing her from a blackmailer who has some racy, incriminating photos.  He falls for her and her story.  Hard.  Smoldering embraces ensue.
According to Helen "You do what you have to do to survive."  You'll just have to see it to believe it.
www.noir-nyc.com www.fringenyc.org
Tags: No Comments