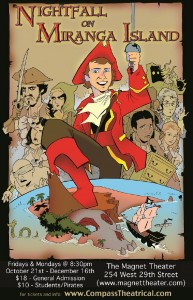 A tale of revenge told by a cast of twelve that sometimes seems to be thirty from the unbridled imagination of Justin Moran and Jonathan Roufaeal (Book & Lyrics) with a tuneful, jaunty score by Adam and Matt Podd make NIGHTFALL ON MIRANGA ISLAND a boisterous, hysterical cross pollination of Gilbert and Sullivan, Saturday Night Live and Monty Python. 
It's the newest most fun to see musical.  Perfect for a Friday night date or a Monday night off trek downtown to The Magnet Theater 254 West 29 Street for all those otherwise engaged on stage during the week.  In short, everyone who loves theatre and each other should see MIRANGA.
The only thing missing is a parrot in this original off beat pirate saga, directed by Mr. Moran, that has Declan Bruntfodder (Travis Nilan) and his faithful to a fault Manservant Balric (Jonathan Roufaeal) on a quest to find the evil LaFoe (Jamie Cummings) who ten years past killed Declan's dad and kidnapped his sister whom he wants to rescue.
King Azahd (Jon Bander) head honcho of Miranga Island is also searching for LaFoe as is the Bandit in Black (Liz Bachman) epee in hand.  There are wenches (Claire Neumann & Robin Rothman) an oat meal eating Guard (Ryan Nelson) a love interest for Declan named Clara (Molly Moran).  A blind, one eyed Colossus (Jon Bander).  The imprisoned Rebecca (Elana Fishbein).  A Gravedigger (Justin Moran) and the horniest, funkiest blacksmith ever conceived Grizwald (Nick Kanellis) who just happens to have a show stopping song entitled aptly enough "The Blacksmith Song".
Mr. Moran seems to have created his own rep company of improvisational actors as many of them have joined him in Pope! An epic musical and The Spidey Project both of which I have seen and loved.  I consider myself a charter member of the Justin Moran/Jonathan Roufaeal fan club.  Not only do they write these fun musicals but they faithfully engage some of the best talent around. 
The opening number "We Sail" sets the tone beautifully and soon has the audience engaged in laughter.  Then the lovely and amusingly touching "It Should Have Been Me" – followed by "I Have Found You" a wonderful silly trio and the rollicking "The Blacksmith Song".  The Finale sort of ties up the story without answering too many left over questions "Story For Another Day" and leaves you smiling and happy to have seen NIGHTFALL ON MIRANGA ISLAND.
Although the entire cast is first rate, Elana Fishbein carting around her jail cell and her characterization of Rebecca is priceless.  There really is an improvisational atmosphere here and it is infectious.  It's great seeing the scene changes and what happens when something happens that isn't supposed to happen and how well it is incorporated.
The incredible swordplay and fight choreography is by Dylan Giannunzio, aided by some nifty dances by Liz Bachman and Diana Yourke and lighting design by Jake DeGroot which does so much with so little. 
Friday and Monday evenings at 8:30 at The Magnet Theater through December 19th.  Tickets General Admission $18.00  Students $10.00 and anyone dressed in full pirate attire.
www.compasstheatrical.com   Artwork:  Mike Short
Tags: No Comments