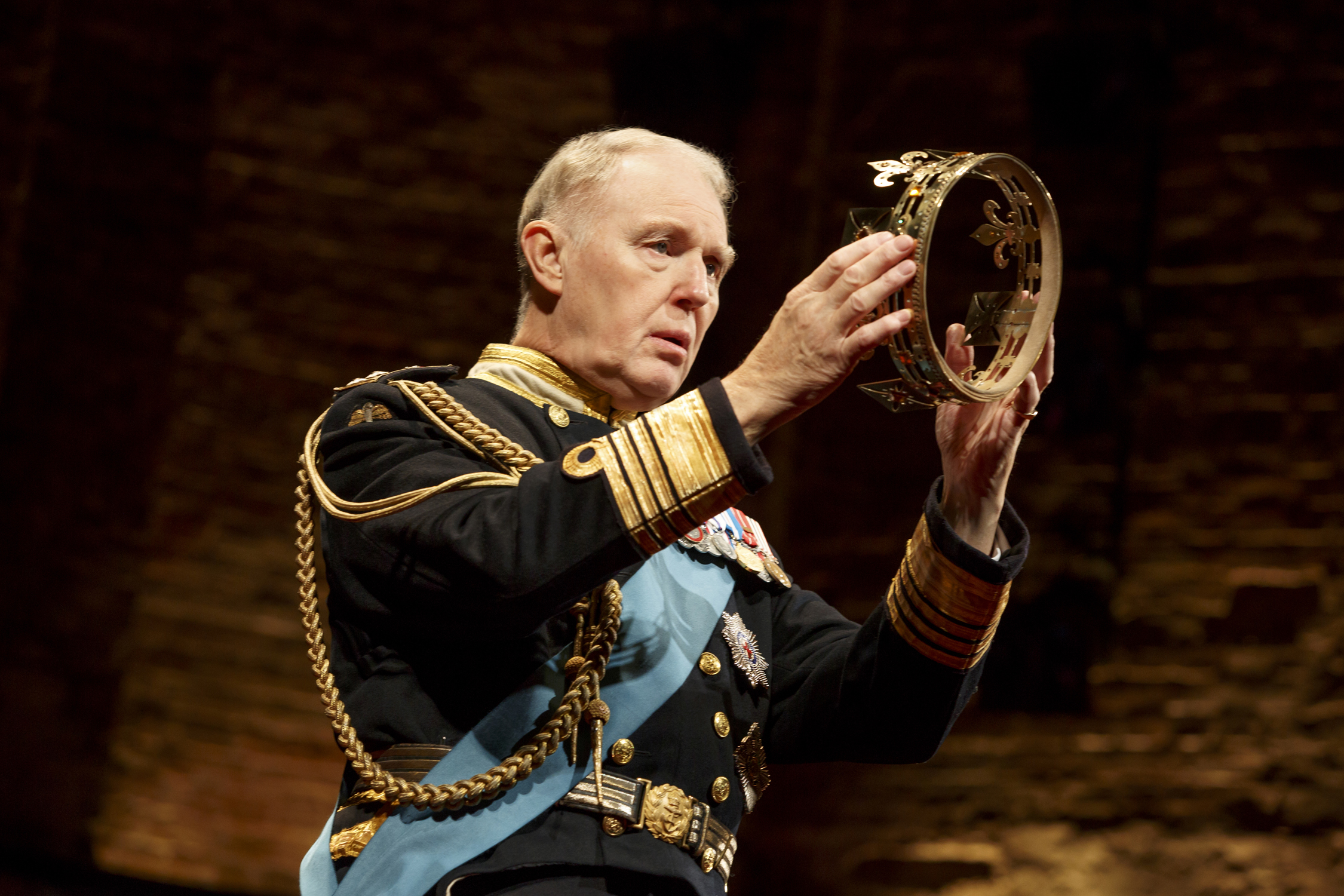 Sometimes one needs to learn to be patient.  Take for example Prince Charles, heir apparent to the throne of England.  He will be KING when and if his mother Queen Elizabeth II ever abdicates or dies.  One event unlikely; the other inevitable.  But how long must he wait?
In this compelling and challenging drama envisioned by Mike Bartlett as "a future history play" – Queen Elizabeth II has just met her demise and Charles (an amazing and majestic Tim Pigott-Smith) and the rest of the gang are dealing with the funeral that has been arranged by the Queen herself and its aftershocks.
Part Shakespeare.  Part "The Lion in Winter."  Totally fabricated.  Written in blank verse.   But don't let that deter you.  Be patient.
On a stark and cold looking stone unit set by Tom Scutt that resembles the interior of The Tower of London with a central red carpeted raised platform of three step levels where the action takes place and lit by four large tapers the gorgeous and majestic requiem composed by Jocelyn Pook begins and the participants of the funeral procession take their places holding candles.  It is a stunning effect that grabs you immediately.  Then the complicated charade begins.
As Charles awaits his coronation he is immediately faced with a new bill "regulating the freedom of the press" from Prime Minister Mr. Evans (Adam James).  The bill has been passed by The House of Commons and The House of Lords and Charles must sign it into law.
But Charles is new to this.  Ill prepared.  Confused and indecisive.  Camilla (Margot Leicester) as is her wont speaks up strongly.  After much discussion with The Prime Minister and the opposition leader Mr. Stevens (Anthony Calf) Charles decides not to sign and all hell breaks loose.  This is where your patience might be sorely tested.
Meanwhile we meet up with the partying Prince Harry (Richard Goulding) – a self-proclaimed "Ginger Joke" and his newest love Jess (Tafline Steen) a socialist art student.  He prefers Burger King to Buckingham Palace and desires to be just a commoner.
Prince William (Oliver Chris) just a regular guy with his shirt sleeves rolled up and stylish and strong willed Kate (Lydia Wilson) both real life lookalikes have their own agenda at stake with surprising results in Act II that really enlivens the plot.  You will be well rewarded for your patience during the long first act.
Charles will again have to make a major decision in Act II that will require him to put his signature on another all important piece of paper.  It's an eerie glimpse into the characters of Will and Kate that is spellbinding.
Diana (Sally Scott) makes a cameo ghost appearance proclaiming that…well, go see the play.
KING CHARLES III is beautifully staged by Rupert Goold with an ensemble of superb British actors that can actually project – a talent and technique that the new crop of Broadway actors should develop.
At The Music Box.  Limited run through January 31 2016
www.KingCharlesiiiBroadway.com
Photos:  Joan Marcus
Visit www.TalkEntertainment.com
Tags: No Comments