The ninth annual New York Musical Theatre Festival is off to a shaky start.  He's Not Himself, after eleven drafts, is just not ready.  Chosen to be part of The Festival's Next Link Project it is missing more than a few links.
It is being produced by NYMF and Aron Lewis Productions – a company that for the past twelve years has produced high school musicals.  He's Not Himself falls right into that amateurish category.
As silly plots go this one is a doozie.  And that's not a compliment.  Gaining ridiculous momentum as it reaches its Pink Panther, Marx Brothers, Three Stooges like climax in Act II – the actual robbery of a "famous diamond" in some museum, in a city like New York that is being robbed by the characters created by Marc Silverberg who is the culprit responsible for the book, lyrics and music and who also portrays Benny the Banker.
Our Walter Mitty/John Ritter type hero Gene (Keith Panzarella) writes parking tickets for a living sharing his bed with his Teddy Bear.  He is nice but inept, living an ordinary life.  He wants to go on an adventure just like his gangster movie heroes – a dream he shares with his love interest – security guard Kay McAdams (Taylor Sorice) who tries unsuccessfully to show him the ropes of being courageous and unafraid.  But it's a knock on his head that does the trick – changing him instantly into Teddy the Bear – tough guy extraordinaire.  Over and over again as he hits his head or has it whacked, his split personality confusing all those around him.
Bonnie James (Carly Voigt) a hot, sexy, ditzy dame is the sister of Benny the Banker and his cohort.  She has a couple of nice specialty songs, wears a terrific red hat and is the highlight of an otherwise unfocused new musical.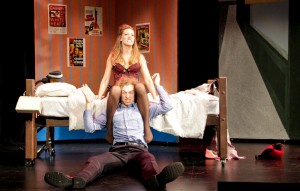 He's Not Himself is set in the 40's and so we have as our narrator Detective Tom Vito (Dexter Thomas-Payne) who speaks in film noir-ish, mangled clichéd dialogue (example:  barking up the wrong bush…).
The jaunty score sounds more like it belongs in 1950's Grease than in this late 1940's show.  There is a lot of physical slapstick humor directed by Michael Pantone.
Mr. Silverberg has lots of ideas – some of which are good – floating around without successfully coming together.  Perhaps some additional drafts will be forthcoming.
Nothing is as painful as seeing excellent actors performing mediocre material as if it were brilliant.  He's Not Himself needs lots of work.
www.nymf.org/hesnothimself PTC Performance Space 555 W 42 St.  Photos:  Dan Wilburn
Tags: No Comments