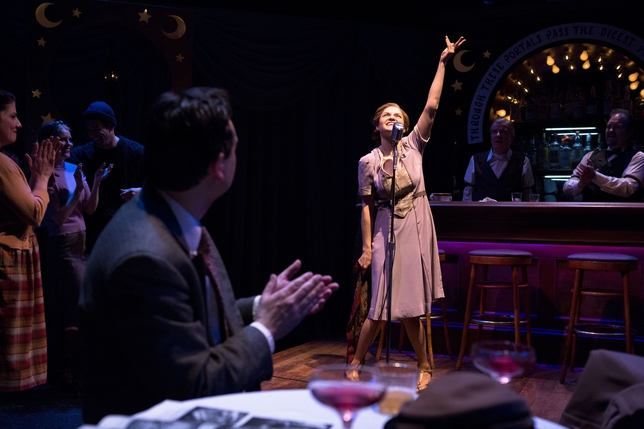 It's not diamonds that are a girl's best friend but booze in this admirable but creaky revival of HAPPY BIRTHDAY by Anita Loos who is most famous for writing "Gentlemen Prefer Blondes".  It is produced by The Actors Company Theater celebrating its 20th Anniversary "dedicated to presenting neglected or rarely produced plays". 
HAPPY BIRTHDAY was written especially for Helen Hayes who was tired of portraying serious, stuffy characters.  She desired to do something different.  Something fun.  She wanted to cut loose up on stage.  Anita Loos obliged and gave her the opportunity to get sloshed every night for 600 performances and winning the Tony Award for Best Actress in 1947.
It truly is a star vehicle with a slew of colorful supporting players – 14 to be exact.  The play is presented without intermission and follows the exploits of one Addie Bermis (Mary Bacon) a shy tea-totaling librarian who is trying to break away from her abusive and drunken father Homer (Anderson Matthews). 
Wearing her finest footwear to attract the attention of her favorite bank clerk Paul Bishop (Todd Gearhart) who is engaged to Maude Carson (Victoria Mack) – the Lorelei Lee type stand in – Addie arrives on a rainy night in April at the Mecca Cocktail Bar, Newark, New Jersey 1946, Mecca for all the local drinkers.  Sort of like CHEERS.  Addie has her very first Pink Lady and imbibes many more which gives her enough gumption to cut loose and to pursue her dream man banker.
She even gets to sing "I Haven't Got a Worry in the World" written by Rodgers and Hammerstein, producers of the original production.  She dances a tango, imagines bottles of liquor talking to her and that the dreary bar has become some kind of wonderland.
As much as I admire the talent of Mary Bacon who makes a gallant and admirable effort she doesn't quite fill the shoes of Miss Helen Hayes who must have been sensational.
Director Scott Alan Evans does his best to perk up the proceedings with a couple of surprising effects which I won't spoil by giving them away.  He has cast the play exceptionally well.
Standouts include:  Darrie Lawrence (Tot) and Nora Chester (Emma) two friends who have arrived after seeing Jane Russell in a movie and egg Addie on, Anderson Matthews as a drunken Judge and Addie's dad Homer, Tom Berklund as Don Hosmer dancing a mean tango – the son of Gail Hosmer owner of the bar – a magnificent Karen Ziemba, an excellent Todd Gearhart as the banker Paul Bishop who gives warmth and charm to his character and the lonely Myrtle (Margot White) whose actual birthday it is.  
Unfortunately her boyfriend's wife and she share the same birthday.  Most men come up short here especially Mr. Nanino (Joseph Masi) who promises with a most exaggerated  accent not heard for some time in this here town to meet with Maude (gal of Paul) after he returns from the hospital where his wife just gave birth.  Bottoms up!
www.Tactnyc.org  Through April 13th 
Talk-Backs with the cast after every Sunday Matinee
Visit www.TalkEntertainment.com  Photos:  Hunter Canning
Tags: No Comments