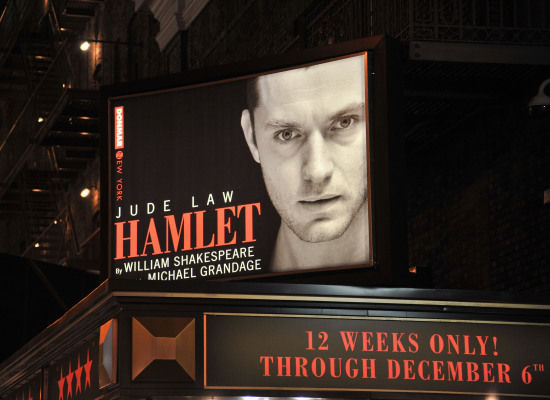 "Denmark is a prison", bemoans Jude Law in his powerful and explosive performance as the melancholy Dane, Hamlet – in this no nonsense approach to Shakespeare's tragedy of the same name directed by Michael Grandage imported from London's Donmar Warehouse in tact.
It is dark and confining and the somber, towering set by Christopher Oram does its best to set the mood and dwarf the actors on stage with its leaden gray tones and brick walls with just enough openings to let in some terrific lighting effects by Neil Austin which adds to the dank and dreary gloom that pervades the stage at the Broadhurst Theatre where Mr. Law is reigning over Broadway in his star turn as the crazy as a fox Prince, who is out for revenge after his Uncle Claudius has murdered his father and married his mother.
It takes a while for the revenge to actually take place – about three hours.  And you may very well begin to agree with Hamlet that Denmark is a prison.  Of course you have the option of leaving.  After all, most of us know the ending.  But with the cost of tickets being what they are and you wouldn't want to admit in public that you had gone to see the snob hit of the present season (the last one being Mary Stuart) only to see Jude Law and so you sit there being numbed by the language only to perk up when an all too familiar soliloquy is emoted "To be or not to be" or some of the many famous quotes pop up – "To thine own self be true"  "Goodnight sweet Prince"  and "The lady doth protest too much."
Despite the tormented, majestic and oft times amusing performance of Jude Law (his crab and gorilla for instance) the evening is rather boring.  It is static.  Except for the wonderful swordplay late in Act II which finally leads to the revenge that we have been waiting for.
I had liked Geraldine James (Gertrude) up until the point where she drinks the poisoned goblet meant for Hamlet and has one of the worst death scenes imagined.  Claudius (Kevin R. McNally) is bereft of any charm or character.  In fact most of the actors follow suit.  With the exception, of course being Mr. Law and Ron Cook who doubles as Polonius and the 1st Gravedigger.  Why Hamlet is madly in love with Ophelia (Gugu Mbatha-Raw) is beyond me.
So, for those of you who are ardent fans of the Bard, or you simply have to see Jude Law in the flesh or can't wait to tell your friends that you saw this particular production of Hamlet and you do not have any ill feeling about being imprisoned then rush to see this show.  If you do not agree with my assessment I plead insanity.
www.hamletbroadway.com   Limited run through December 6th.
Tags: Jude Law · Michael Grandage · The Domar WarehouseNo Comments