Praise God.  Blame God.  Bridging the gap between those who believe in God and those who don't – and the daring of Off-Broadway and the star filled marquees of Broadway a not so new 100 minute play by Craig Wright – GRACE has finally opened at the Cort Theatre, after  productions in Washington D.C., Chicago and Los Angeles.  Thank God.
GRACE is one of Broadway's most interesting, theatrical and well put together productions.  It is thought provoking, funny, extremely well acted by its four member cast, tightly directed by Dexter Bullard and beautiful to look at thanks to the unique, inventive and ingenious Magritte-inspired set by Beowulf Boritt that ever so slowly turns – going forward and then backwards as does the plot of the play which opens where the play ends and then reveals the how and why of its outcome.
The set is the living quarters of both the Evangelical Christian couple (Steve – Paul Rudd & Sara – Kate Arrington) who have come from Minnesota to gun happy Florida to finalize a deal that will be the first in a chain of Gospel-Hotels awaiting the nine million dollars that is to arrive from a Swiss Bank and their computer expert neighbor Sam (Michael Shannon) who has lost all faith after a fatal car accident that has killed his fiancée and left him with half a scarred face that is covered by a plastic Phantom-like mask.  His face isn't the only thing that is scarred.  It's his soul.
Mr. Wright's world of heightened reality allows this fantastical Twilight Zone plot (which is beautifully staged – almost choreographed; sometimes in reverse) and gives him the opportunity to humorously skewer guns, health insurance, Florida, religious fanatics, computer tech support and exterminators, all the while examining the serious religious beliefs of his characters.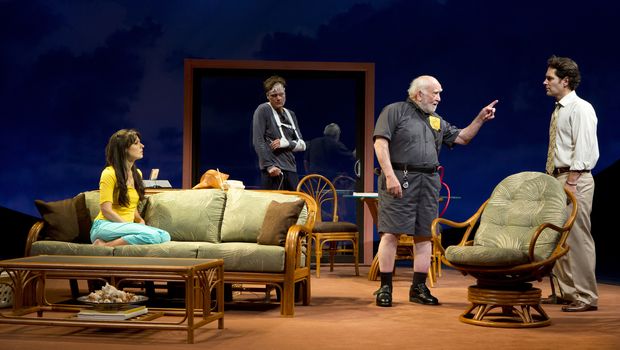 Mr. Ed Asner is the scene stealing Karl – a German exterminator of pesky Floridian bugs who is a true atheist referring to Steve and Sara as "Jesus freaks" and supplying most of the humor with his sad stories.
Paul Rudd is a charming believer in the extreme with his Elmer Gantry like fervor and talkative ways that could make you change your mind in an instant if you were not careful.  But he is so intent on his new scheme that his wife, who wants a baby desperately, seeks conversation and comfort with the withdrawn NASA scientist Sam next door which is in this reality the same apartment – sharing the same space.
Kate Arrington is the beautiful foil between these two men.  They are all on the same wave length thanks to director Dexter Bullard (who also directed LADY by Mr. Wright that I really liked at the Rattlestick Playwrights Theater – but I digress).
Mr. Shannon gives a controlled, understated and altogether moving performance.  He is a very special actor.  His scenes with Sara are spellbinding. 
The lighting design by David Weiner and sound design by Darron L West complete this intriguing production that I would urge you to see.
www.GraceOnBroadway.com  Through January 6th.  Photo:  Joan Marcus
Visit www.TalkEntertainment.com
Tags: No Comments