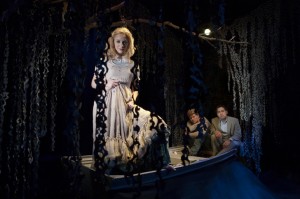 As I left the preview performance of Gaugleprixtown, a three character, 60 minute exercise of over the top, makes little or no sense theatrical writing in the spirit of an avant garde play inspired by the kidnapping and murder of a 4year-old British chap who was targeted for random death by two ten year-old boys which has just opened at the Kirk Theatre at Theatre Row for a limited run of 21 performances through April 4th, I commented to no one in particular "Well, that's a bizarre one!"  
The author, Andrew Muir, in his program notes explains that he wanted to explore what an imaginary meeting of these two murderers would be like, years after they were released from jail and into society once again – to try to understand the why behind the horrendous killing.  That he was interested in what makes the minds of the child killers tick.  That would have made a great play.
Instead, he has the two "invincible" murderers – Adrian (Tony Roach) and Richard (Kurt Uy) sitting on a row boat without motor or visible oars out on a lake in Western Massachusetts that is used for funerals surrounded by some lovely swamp grass and hanging trees that make it appear more like a Louisiana bayou.  Set design by Martin Andrew.  We then hesitatingly begin.  Short scenes with some odd lighting effects and even odder music set the tone.  Explaining little.  Without the program notes you would not know that these two had killed someone and were meeting for the first time in years.
The audience, becoming restless, starts a nervous giggle.  Are we to laugh?  "What's going on?" – a character asks as we are asking ourselves the same question.  They talk of fishing and baiting and catching the next one.  Looking for answers.  "We're good at this."  It's a fun game for them.  They never actually speak about the reality of what happened.  There is anger still.  Adrian of the angelic face and Richard the wine salesman, now married with a daughter in his ill fitting too tight suit catch a small red shoe, a backpack and then the biggest and best catch of the day – Lucy (Devon Berkshire).  She emerges from the lake and onto their boat dressed for her wedding.  It's like an Ingmar Bergman nightmare.
It is only when Lucy arrives that we begin to see the whole picture.  When told they are sorry for what has occurred she blasts out at them and painstakingly recounts and relives her murder as these two seemingly normal guys look on – detached.  Normal they're not.  Neither is the play.  Like the notes retrieved from her back pack all is smudged.  Nothing is clear.  This is echoed in the acting.  How can they know their intentions if their intentions are so smudged by the author and not enlightened by the director, David F. Chapman?
Gaugleprixtown is a British import, discovered by Bradford Louryk while he was in Edinburgh appearing in Christine Jorgensen Reveals – in which he gives an incredible and indelible performance.  Most recently at Theatre Row.  Perhaps British accents would have given Gaugleprixtown the gravitas that is needed to make it work.  Or perhaps a more compelling script.  Tickets $18.00  www.stu42.com