Never underestimate the craftiness of a woman particularly if she has her eyes set on marrying a certain someone, in this case George Bernard Shaw.  In the words of Shaw or is it playwright John Morogiello in his new drawing room battle of Irish wits comedy, Engaging Shaw " No one plots like a woman." 
He sure knows Shaw.  Words.   Words.  Words.  Lots of talk, no action.  But this new production by the Abingdon Theatre Company is engaging and charming, well acted with a dose of Shavian humor thrown in and good craftsmanship displayed in its intelligent writing, especially at the end of each scene where Mr. Morogiello tacks on a tasty exclamation point.
Charlotte Payne Townshend (Claire Warden) is an independently wealthy woman who shares some of the same ideals as Shaw (Warren Kelley).  They are both unconventional in their thoughts about marriage and sex.  They seem to share the same intelligence genes if not the same ideas about socialism that his best friend Sidney Webb (Marc Geller) and his wife Beatrice Webb (Jamee Vance) do.  They have founded a school of economics that isn't very solvent and need a patron to help out.
Charlotte Payne Townshend offers to help Mrs. Webb if she will help in securing the affections of Mr. Shaw.  It's a matter of tit for tat so to speak.  And so we spend an entire evening seeing these two battle it out to the finish.  The vegetarian, teetotaler, arrogant playwright, essayist and reviewer meets his match with the crafty, charming, intelligent independent woman of means in this mild mannered talkathon.
Despite the fluctuating Irish brogue of Ms. Warden as Charlotte, she has a lovely presence on stage and holds her own against the charismatic Mr. Kelley as Shaw.  The fact that she is at least a head taller than he adds to the fun of seeing these two trying to outwit each other.  Ms. Vance as Beatrice acts solidly trying to hide her affection for Mr. Shaw who is claiming every five minutes or so that every woman adores him.  As her husband Sidney, Mr. Geller turns in an intelligent and constrained performance.
Jackob G. Hoffman has directed with just the right amount of style and pacing.  But it's a long evening before we get to the I Do's.                Photo:  Kim T. Sharp
www.abingdontheatre.org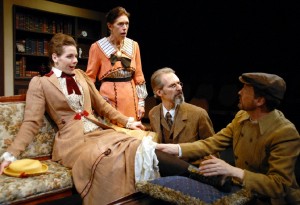 Tags: Claire Warden · Jackob G. Hofmann · Jamee Vance · John Morogiello · Marc Geller · Warren KelleyNo Comments