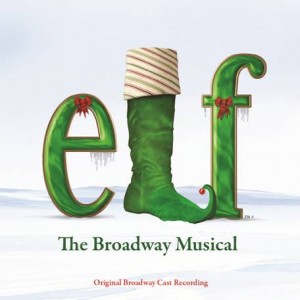 If you liked the show you are going to love the recording of ELF being released November 1st, just in time for the gift giving/receiving holiday season.
The CD, released by SH-K-BOOM/GHOSTLIGHT RECORDS, fully captures the spirit of the Broadway show and the true spirit of Christmas with its bouncy, bubbly, Big Band sounding score by Matthew Sklar (music) and smart, witty lyrics by Chad Beguelin.  The liner notes alone by Sheldon Harnick make this one hot collectible album.
To hear song previews and pre-order the CD, visit http://sh-k-boom.com/elfthemusical.shtml.
Elf will put a smile on your face from overture to tap dancing finale with its heartfelt message and tuneful score that sparkles with its own Christmas glow that will even entertain the most jaded Grinches, Scrooges and Riedels of the world.
I thought for sure like the Rockettes at Radio City, ELF would make a return engagement this season.  It hasn't but you do have the best substitute there can be in this uplifting and "sparklejollytwinklejingley" recording.  Enjoy!  and Merry Christmas to one and all…
Here is my original review of ELF the Broadway show posted 11/18/2010 on Talk Entertainment.com and www.oscaremoore.com
Elf the musical – Holiday Happiness at the Hirschfeld
Oscar E. Moore "from the rear mezzanine" for Talk Entertainment.com
Sometimes even Santa Claus (a droll George Wendt) needs help as is the case in the new family friendly, tuneful, smart and thoroughly enjoyable musical Elf that is here to spread its holiday happiness through January 2nd, 2011 at the Al Hirschfeld Theatre.
Santa's sleigh won't budge after crash landing in Central Park as there are not enough believers in Santa Claus these days in the tri state metropolitan area to help propel his distribution of presents.  There is a discernable lack of true Christmas spirit as well. 
And so Buddy the Elf (Sebastian Arcelus) – who grew up at the North Pole – a misplaced human orphan surrounded by fellow elves does the trick.  But not before he finds his real dad (Mark Jacoby) in New York who is on the naughty list, falls in love with Jovie (Amy Spanger) makes believers of his step mom (Beth Leavel – looking great and nailing every laugh) and half brother (lovable Matthew Gumley) experiences revolving doors, learns about paper shredders and tries to impart what it means to enjoy each other – not only for the holidays but all year long while all the time smiling.
For those cynics and Christmas spirit bashing naysayers, I say Humbug to you all.  Go see this show and rediscover your inner child.  Stop and smell the fir trees and enjoy the glistening snowflakes.  You'll be happier for it.  Yes, Elf is sentimental.  But it is heartfelt sentimentality at work here combined with musical comedy show business expertise that makes Elf so entertaining.
Based on the New Line Cinema film Elf, Bob Martin and Thomas Meehan have delivered quite a humorous book, Chad Beguelin some fun and clever lyrics and Matthew Sklar a jaunty and jingly score that has a few highly memorable songs including "I'll Believe in You" and the show stopping "Nobody Cares About Santa" with a great Benny Goodman sounding arrangement.  If that number doesn't do something for you, you are a lost cause.
Scenic designer David Rockwell takes us on a grand tour to the North Pole, Macy's, Radio City's ice rink, Tavern on the Green and into the home of Buddy's dad and his office in the Empire State building where he is a tyrant, under a deadline to come up with a new children's book idea leaving little time for his family and having to deal with this tall, naïve pest in a green suit with curled up at the toes footwear.  Nice costumes by Gregg Barnes.  But isn't Jovie on Christmas Eve on a bench in Central Park just a bit freezing in her short red dress and light white sweater?
As Buddy, Sebastian Arcelus gives his all but the ghost of Buddy past, Will Ferrell who starred in the movie, lingers in the mind.  As good as Arcelus is and he is very good he is missing that nebbishy/cuddly factor that makes Ferrell so endearing.
The rest of the cast sparkle like stars in the sky and seem to enjoy spreading the good cheer rustled up by director and choreographer Casey Nicholaw.  Michael Mandell and Valerie Wight are two more very special gifts to savor in this holiday show destined to make many theatergoers think twice about what they want for Christmas.
Tags: No Comments