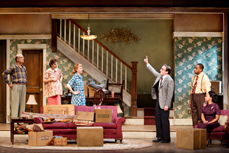 The mostly white and young audience gave a rousing, standing ovation at the end of CLYBOURNE PARK at the Walter Kerr Theatre where it has recently opened after its original incarnation at Playwrights Horizon in 2010 and I sat there politely applauding and wondering why.
Was it because Bruce Norris' play won the Pulitzer Prize?  Was it because of the fine acting by most of the cast playing dual roles as the play progresses from 1959 in Act I to 2009 in the second?  Or where they merely restless?
Mr. Norris wants to annoy us.  He wants to rile us up over what has happened in Clybourne Park over the years.
As we begin Perry Como is singing "Catch a Falling Star" on the radio and we meet Bev and Russ (Christine Kirk & Frank Wood) preparing to move out of their home in the white toast neighborhood of Clybourne Park with the help of their colored/negro/black maid Francine (Crystal A. Dickenson) who seems to be fed up with the pair and biting her tongue until she no longer has to work for them.  After about fifteen minutes of nothing happening and nothing dialogue we finally get to understand why Bev and Russ are so pent up with anger and ready to burst.  It has to do with their son, a letter and a trunk.
Enter fellow Rotarian and bigot Karl (who doesn't know when to shut up) and his deaf and very pregnant wife Betsy (Jeremy Shamos & Annie Parisse) trying to talk them out of selling their home to a black family – The Youngers.  Enter theatrical trivia.  Karl is the same character that tries to pay off The Youngers to not buy this very same house in "A Raisin in the Sun" – the Lorraine Hansberry play.  This is never mentioned nor do we ever see the Youngers and so it's a moot point.  Just interesting as a side bar.  Garnering lots of publicity and word of mouth for this production.
There is also a married minister (Brendan Griffin) who has to leave by four and isn't able to stop the flaring arguments and the noble and quiet and honest husband of Francine, Albert (Damon Gupton) who despite his wife wanting to leave helps bring down the infamous trunk from the second floor.
The second act starts, once again, skirting the real issues with endless real estate lingo as the new white couple Lindsey & Steve – (Annie Parisse & Jeremy Shamos) are buying into the once gone to Ghetto neighborhood.  They want to change its height and to add a koi pond necessitating the excavation of an old tree and the discovery of a hidden something.
An African-American couple Lena & Kevin – (Crystal A. Dickenson & Damon Gupton) are against this, citing historical significance.  Tempers flare, racist jokes and slurs are slung about as we see that both races haven't gained much insight over the years.
Director Pam MacKinnon keeps thing moving along but it's the "beating around the bush" by author Norris that keeps what should be most important sitting on the backburner while he bores us with unnecessary fill until we get to the heart of the matter.  That's what counts.  Once we get there things heat up and we see bigotry in all its glory through the years at Clybourne Park.
Limited 16 week engagement.   www.clybournepark.com  Photo:Nathan Johnson
Tags: No Comments