There are many stars shining ever so brightly at the York Theatre where their revival of the cult Off-Broadway 1989 musical hit CLOSER THAN EVER by David Shire (music) and Richard Maltby, Jr. (lyrics) who also has directed is being given a terrific sounding and sleek looking production that is fresher and more pertinent than ever.
With a collection of twenty four catchy tunes that have smart and true to life lyrics Jenn Colella, George Dvorsky, Christine Noll and Sal Viviano portray a variety of characters that share their mid life adjustments with us.  Songs about marriage, and fathers, and divorce, dating, second chances, babies and that tried and true subject – love.
Each song tells a story.  It's an actor's dream come true to portray the many characters and their nuances with such specific lyrics – that have unexpected twists while being clever and comical and sometimes extremely moving.
The unadorned strong natural voices of the perfect foursome (nary a head wire to be found and totally unnecessary here) blend beautifully in the many smartly staged numbers (Associate Direction & Choreography by Kurt Stamm).
Solos, duets, trios and quartets keep the show moving briskly along.  The pacing is spot on.  Simplicity is the key word here.  A few costume changes, a few props, a grand piano (an amazing Andrew Garble) and bass/guitar (personality plus Danny Weller) terrific arrangements and super vocal technique on a beautifully designed blue set by James Morgan featuring six white doors make CLOSE THAN EVER the ultimate staycation destination for all New Yorkers and tourists alike.
Jenn Colella, pert and spunky gets to exhibit her comic skills with "Miss Byrd" and "Back on Base" – where accompanied by Danny Weller on his bass with his nimble fingering, just about stop the show.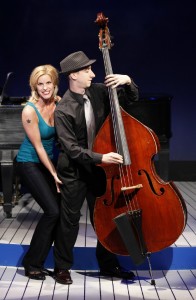 "Fathers of Fathers" featuring George, Sal and pianist Andrew (who has a fine voice and makes his piano sound like a full orchestra) is breathtaking.
With his clear as a bell tenor, Sal has a fun time with "One of the Good Guys" and Christine Noll and Jinn's duet of "It's Never That Easy/"I've Been Here Before" is the best example of having the "wow factor".
The Act I finale is fantastic and that would have been enough and yet the second act breezes by effortlessly, entertaining us with the more serious side of Maltby & Shire.  CLOSER THAN EVER is simply great.  Go.  Immediately.  Limited run through July 14th.
www.yorktheatre.org   Photos:  Carol Rosegg
Tags: No Comments