In 1928, an extremely talented twenty four year old Cecil Beaton "one of London's bright young people" known for their "exaggerated poses and frivolous sensibility" arrived in New York City when a production of Lady Windermere's Fan that he designed and was acting in transferred, enabling him to get his fashionable foot in the door to fashionable New York society.  He never looked back.
Now, at The Museum of the City of New York (Fifth Avenue and 103rd Street) through February 20th, you can and should take a close look at this breathtaking time capsule of art (1928-1969) – a period where the notorious Mr. Beaton focused on mirrors, shadows and himself.  A true Capricorn.  Fortunately he had the talent to backup his bravado.  
Fashion photography for Vogue and Harper's Bazaar, black and white stills of such stars as Astaire – Fred and Adele, Bankhead, Gish, Hepburn – Katherine and Audrey, Callas, Warhol, Albee, Cole Porter, the Duke and Duchess of Windsor, Capote, Monroe and Garbo with whom the homosexual Beaton had a long standing romantic affair and a glamorous photo of Sir Cecil in drag circa 1925.
Not to be missed are Beaton's costume and set designs for ballet, opera (La Traviata famous for all those red gowns – Turandot starring the indomitable Birgit Nilsson (which was the very first opera I saw at the old Met – standing room!) and theatre (Tenderloin, My Fair Lady and Coco) arranged beautifully by Donald Albrecht, the museum's curator of architecture and design.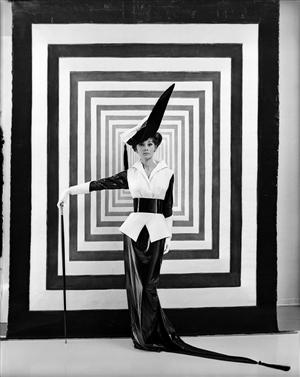 Walking through the exhibit is reliving a part of a bygone chic New York history/society where style was appreciated, women were glamorous, hats were de rigueur, men wore double breasted suits and fine French furniture graced the living quarters of the rich and famous, who judging from these photos, escaped the stock market crash of 1929 living in the high style that Beaton quickly became accustomed to.
It's interesting to note where he lived during this period.  In luxurious, duplex hotel suites at the Sherry Netherland, St. Regis, the Ambassador and the Plaza.  One wonders why he moved around so often.
Perhaps he got bored easily.  As noted by one of his many quotes featured – "Perhaps the worlds second worst crime is boredom; the first is being a bore."  Cecil Beaton could never be accused of being a bore.  And you will certainly want to resolve to follow his modus operandi for the coming year.  Go and enjoy the fruits of this master artisan.
My favorite photo is that of a disembodied woman's head wearing a Panama hat by Suzy popping out of a hat box.  That's just one of the many treats in store for you besides the scrumptious ice cream sandwiches served up in the museum's café.
PHOTO 1:  LIFE MAGAZINE
PHOTO 2:  Audrey Hepburn in a costume for the film version of My Fair Lady, 1963 © Cecil Beaton Studio Archive at Sotheby's Courtesy Cecil Beaton Studio Archive at Sotheby's
PHOTO 3:  Kathleen Blurock – Cecil Beaton Photography as Art 1934
Tags: No Comments